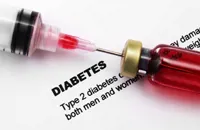 According to a Centers for Disease Control 2014 report, 9.3 percent of Americans have diabetes - almost 1 in 10 people. So, if you have diabetes, you are not alone.
There is a belief that people with chronic illnesses like diabetes can't obtain life insurance. This is a misconception. You can, indeed, get life insurance if you have diabetes.
We want the people affected by diabetes to be able to shop for insurance, have multiple options, and find an affordable policy. This is why we've created a guide for consumers with diabetes to shop for life insurance.
Diabetes 101
Before getting into the questions on how to obtain life insurance, let's first go over what diabetes is. Type I diabetes occurs when the body destroys the cells releasing insulin, to the point where the pancreas stops producing it altogether. Type II diabetes is when the body doesn't know how to make use of the insulin in the body, so it will slowly make less. The latter is much more common and about 90 to 95 percent of diabetics have this type of diabetes.
There is also a third type called gestational diabetes. This is where you have a glucose intolerance during your pregnancy. It usually isn't permanent, but there is a chance it can develop into Type II diabetes.
Q: Can diabetic people get life insurance?
A: It isn't impossible for people with diabetes to get life insurance. However, rates can differ quite a bit depending on several factors. For one thing, the better you can manage the disease, the more inclined a company will be to issue you a policy at a competitive rate.
Negative side effects of the disease can include neuropathy, DKA and ketones, kidney disease, high blood pressure, stroke, HHNS, Gastroparesis, and more. Still, there are ways to maintain these conditions and prevent their onset. A healthy lifestyle and diet can help keep the disease at bay, and your insurer should reward you for it.
The type of diabetes and the age you received a diagnosis can also be a major factor. Type I diabetes will usually result in a more expensive life insurance plan because it's more severe than Type II.
The age of your diagnosis also plays a role because the longer you have been taking blood sugar medication, the greater the chance of a negative impact on your body. Insurers see this as more of a risk and will charge higher rates accordingly.
Q: Can a diabetic find cheap life insurance?
A: While it might seem exhausting looking for a carrier that will take you, don't give up hope. There are options out there, they just might take a little longer to find. The key is to shop around.
Don't just go with the first provider who offers you a policy. You'll want to seek quotes from multiple different companies and compare them to find your best rates.  
Another key to obtaining affordable life insurance is to maintain your health. Maybe you can't cure your diabetes, but you can manage it with proper diet, exercise, and medication. You can also get cheaper rates if you quit smoking, lose weight, and decrease your alcohol intake.
Q: Why is it harder and more expensive for diabetics to get life insurance than non-diabetics?
A: It's harder for diabetics to find life insurance because, at the end of the day, insurance is a business. Insurers want to avoid paying out hefty claims to beneficiaries, and people with chronic illnesses like diabetes are more of an insurance risk than people without chronic illnesses, other things being equal.
If you can prove you are managing the disease well, they might cut you a break. You'll need to send potential insurers your blood sugar tests as well as medical results. It's important to be honest with a prospective insurer because things could go south with them later on if they find out you aren't telling the truth. Your beneficiary might not be paid the full amount of your claim, or your policy could be cancelled, if your insurer can show that you lied about your health.  
Q: How much more expensive is it for diabetics to purchase life insurance?
A: This is hard to gauge because insurance companies don't use exactly the same models. However, there are classification systems that are pretty standard across life insurance companies.
They'll determine which of the following categories you belong in: preferred select, preferred, standard plus, standard, preferred smoker, or standard smoker. They follow a pecking order with preferred select being an ideal candidate, and standard smoker being least desirable.
If you don't fall into any of these categories due to certain health conditions, insurers will use a table rating system. You'll get a letter or number, and based on the rating, will have to pay an additional fee.
Having a chronic illness like diabetes will most likely qualify you for a table rating. How well you manage the disease plays a major factor in your rating and how much more you'll pay.
Don't be afraid to ask questions if an insurer gives you an above average quote. The way to find your best rates is to shop around and seek life insurance quotes from multiple companies.
Q: What's better for a diabetic, term life or whole life insurance?
A: There are many life insurance policy options. However, there are two main types—term life and whole life. Term life insurance covers you for a period of time such as 10, 20, or 30 years. If you don't pass away within the term, your policy ends and you and your beneficiaries won't receive a payout.  
Whole life insurance has the potential to cover you for your entire life, but the premiums will be much higher than term life. When you pass away your family will receive the full amount. Whole life also accumulates a cash value over time, which you can borrow against, if need be.
Term life policies are generally cheaper than whole life ones. The same goes for people with diabetes. If you are looking for an affordable policy, a term life policy is probably the way to go.
However, you'll want to keep your diabetes under control for when your policy expires and you want to renew, or look at other plans. If you don't, your insurer might not issue you a new policy.
Q: Do life insurers treat Type I and Type II diabetes differently?
A: Unfortunately, they do because of the nature of the illnesses. Type II diabetes patients tend to get better rates because its onset is usually later in life, and it's usually easier to maintain through diet and exercise alone.
The idea is that because the majority of people get Type II diabetes at an older age, the disease, hasn't caused all too many unwanted effects yet. The longer you have the disease, the more wear it can put on the body. This isn't the case with everyone, but its more common to get Type II diabetes later in life than it is to get Type I diabetes post-adolescence.   
Q: Will a life insurance medical exam detect diabetes?
A: Yes. When you apply for a term or whole life insurance policy you must provide the underwriters with blood and urine samples. Underwriters specifically look for high blood sugar levels—which is an indication of having diabetes.
If you are trying to hide the fact that you have diabetes—good luck. However, there are ways to avoid the medical examination process if you get life insurance through your employer, or if you have guaranteed issue life insurance. With this type of insurance, you can get a life policy, no matter the medical conditions you have and without a medical exam. The downside is that your premiums will be very expensive.
Q: Can life insurance companies refuse to cover me if I have diabetes?
A: Unfortunately, yes they can. Insurers see people with preexisting chronic conditions as an extra level of risk. This is why it is so important to shop around if you have a chronic illness. This will ensure you will get the most competitive rates.
Feel free to look into the services of an impaired-risk specialist. These are agents who have the inside knowledge on which insurance providers offer affordable rates for people with medical conditions. For more information on this and getting coverage in general, check out our life insurance and preexisting conditions article.
Q: What's the best life insurance company for diabetics?
A: There are many different insurance carriers to choose from when it comes to life insurance. Unfortunately, searching for coverage with a chronic illness like diabetes can be a bit more time consuming.
There is no one best company. The best way to find the company for you is to shop around. Remember that having diabetes and finding a life insurance policy aren't mutually exclusive. You just have to have some patience.
References:
QuoteWizard.com LLC has made every effort to ensure that the information on this site is correct, but we cannot guarantee that it is free of inaccuracies, errors, or omissions. All content and services provided on or through this site are provided "as is" and "as available" for use. QuoteWizard.com LLC makes no representations or warranties of any kind, express or implied, as to the operation of this site or to the information, content, materials, or products included on this site. You expressly agree that your use of this site is at your sole risk.