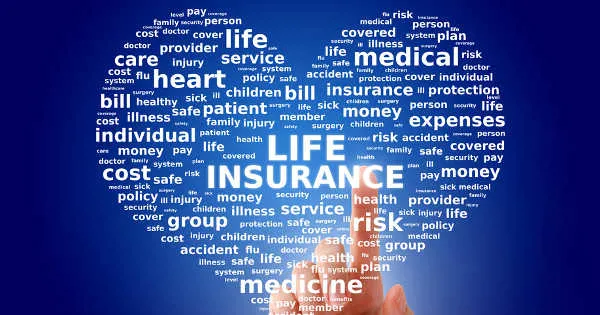 If you don't have children, you might think you don't need life insurance. But coverage isn't limited to being used for replacement income only.
According to LIMRA, around 132 million people in the US use life insurance to protect their finances in some way. That boils down to about six in 10 people owning a policy. Still, 30 percent of Americans (or 70 million people), believe they need more coverage than they have.
So what are they using life insurance for? LIMRA notes that the main reasons people get a policy include:
Paying burial and final expenses (51 percent)
Replacing lost income (34 percent)
Paying off their mortgage (26 percent)
Many people assume life insurance isn't necessary until you're ill or old. But your premium will generally cost less the healthier and younger you are when you first invest in it.
"The earlier you invest in life insurance, the more financially secure you and your family can be," says Life Happens. "For young adults in particular, life insurance will likely never be as affordable for them as it is today."
Here are the top reasons to buy coverage, no matter your age:
Paying for Final Expenses
Let's start with the most popular reason people buy life insurance coverage; to pay for final expenses such as burial costs. After all, Parting.com states that the average funeral service can set you back $8,000 to $10,000.
By buying final expense insurance, a type of life insurance policy, you won't leave your family scrambling to figure out how to pay for your funeral. This way they can mourn without any extra financial stress. Final expense coverage or burial insurance can pay for costs such as a:
Casket
Flowers
Funeral service
Headstone
Cremation
Additional debt like a mortgage
And if you're worried about high premiums because of a pre-existing disease, burial insurance is one type of insurance that generally doesn't require a medical exam.
Taking Care of Loved Ones
If you do have children or other people who depend on your income, then getting coverage is a no brainer. You want to make sure that your dependents are taken care of when you pass away. Otherwise, they may be left with nothing and struggle with finances. Your policy might give them the money to pay for other future expenses such as college.
Parents with young children will likely want to have an insurance policy for this reason. Married couples, siblings, and parents with older kids might consider coverage as well if they're the main financial provider.
Even someone who isn't the breadwinner should think about getting life insurance. For instance, if one spouse stays at home with the kids and passes away, their family will need to pay for additional expenses like childcare.
"Any person who is depended on financially should consider buying life insurance—albeit for different reasons," notes Life Happens. "Whether a millennial with student loan debt, a newlywed with a mortgage, a stay-at-home parent who works full-time taking care of the family—life insurance can help your family and loved cover those costs should you unexpectedly die."
Paying Your Mortgage
Buying a house is expensive, and is often the biggest investment someone makes in their life. Don't saddle your loved ones with your housing debt. You can make sure your house is paid off by buying whole or term life insurance. You might also want to buy mortgage life insurance.
Mortgage life insurance specifically pays off your mortgage costs. No money is given to your family members. Rather, the mortgage company is listed as your beneficiary and the policy is directly paid to them.
Generally though, traditional life insurance is a better option unless you've been denied term or whole coverage because of health issues. Mortgage life insurance, like burial coverage, can be bought without a medical exam. But, it also usually costs more than traditional coverage.
Pay Off Debt
While a mortgage is likely a person's biggest expense, don't forget about other debts you might owe like medical bills, student loans, and credit card expenses. Life insurance can be used to pay off all of these costs so you won't leave behind a pile of bills.
Protecting Your Business
Besides taking care of your family, life insurance can help make sure your business is preserved.
How? Many business owners take out loans backed by personal assets. If the business owner dies, the family can use a life insurance policy to pay for these debts. While you might think the family could just sell the business, they'd likely have to do so at a discount. In the end, the family may wind up with very little.
"One of the first things a business owner should consider is how to protect against events that may threaten the future of the business, like the death or disability of a proprietor, partner, or key employee," Life Happens explains.
Charitable Contributions
Many people believe passionately in a cause, and want to make a difference before they die. You can list a charity as your beneficiary, thereby guaranteeing that your donations are made.
You may also donate a life insurance policy. This means you'll pay for coverage while the policy is set up in the charity's name. If you choose this method, you'll also benefit from tax deductions.
Make Investments in Stocks
Did you know you can use your insurance policy as a way to make investments in stocks, mutual funds, and bonds? To do this, get variable life coverage.
A variable life policy is a type of whole life coverage that allows you to grow your policy quickly through these investments. But, this kind of policy also comes with more risk.
Variable life insurance allows you to increase your policy in a short amount of time. On the other hand, you could lose large sums of money just as easily. To give yourself some peace of mind, limit your risk by including a guaranteed minimum death benefit.
Source of "Forced" Savings
Whole life insurance plans include a cash value. If it isn't used as a death benefit, you'll be able to withdraw or borrow against it. Since you'll already be paying monthly premiums for your life insurance policy, this creates a "forced" savings plan that you can fall back on in the future.
Life Insurance Is Probably More Affordable Than You Think
Many people overestimate the cost of a life insurance policy, often believing coverage costs two times more than the actual price. In fact, 66 percent of Americans say the high cost of this insurance prevents them from buying it. But a policy doesn't have to put you in debt.
You can lower your monthly premiums by quitting smoking, looking for discounts and shopping around with multiple companies for your best rate.
Your Money Is Tax-Free
If you get a permanent life insurance policy, your beneficiaries can collect the money from your policy tax-free. And you'll be able to withdraw from your policy without having to pay taxes.
You Can Sell Your Policy to Pay for Medical Expenses
If you have a terminal disease, you'll likely need extra money to pay for accruing medical bills. You may opt to cash in your policy through a viatical settlement or life settlement.
This agreement means the owner of the policy sells their coverage at a discounted rate and receives cash up front. The buyer gets the full amount the policy is worth when the original owner dies.
Frequently Asked Questions
Q: Who needs life insurance? Why is life insurance important?
A: Almost anyone can benefit from having life insurance. It can give people peace of mind that their finances are in order and their family will be taken care of when they die.
A policy can help pay for funeral costs, a child's college tuition, mortgage payments, and any leftover debt. Beyond that, life insurance can be used as another savings source or as a backup way to pay for medical expenses if you have a terminal illness.
Q: Is there a best time to buy life insurance?
A: When you should buy life insurance varies person to person. Whether or not you're married, have kids, and your general health all factor into when you might want to consider buying a policy.
"I suggest looking into life insurance when you have life changing events happen to you like buying a house, having children, or even getting a promotion at work if you're getting a raise," says Josh Brein, president of Brein Wealth Management.
Brein explains that these life changes have an effect on your finances, often spurring the need for insurance protection. For instance, if you get a raise, you might want to increase your coverage because your family relies on your income more.
"[Life insurance] is a great way to protect your family from the future risk of potentially being without your income later on," Brien says. "More income now should mean more death benefit to replace that income should the need arise. Since most people are accustomed to upgrading their lifestyle when they get more money."
Similarly, if you buy a house, you'll need to think about how your loved ones will pay off your mortgage.
Q: How much life insurance do I need?
A: Unfortunately, figuring out how much life insurance you need isn't always as simple as multiplying your income by a certain number. A great way to find out how much your policy should be is to sit down with an insurance agent or at least use an online calculator.
You'll want to consider things like your age, location, your mortgage (if applicable), how many kids you have, your income, and your assets.
For a more detailed explanation, read our article that breaks down how to find an exact number.
Q: What are some ways to save on life insurance?
A: If you think you're being overcharged for your life insurance policy, shop around! By comparing rates with other companies, you're guaranteed to find the most affordable price for the coverage you need.
Some insurers might also give discounts for being a veteran. In addition, you'll want to keep your agent up to date with any life changes such as getting married or having a baby. This will save you money in the long run. In fact, it's best to review your policy every year.
Another foolproof way to save? Quit smoking.
"Having a tobacco rating on your life insurance policy can double your premiums in some cases," Brein says. "I always tell my clients that if they smoke, they may want to consider quitting smoking before applying."
Besides tobacco use, insurance companies look at other lifestyle habits and health conditions to determine a person's life expectancy.
"Reporting weight loss, beginning a tobacco cessation program, and following prescribed treatment for chronic conditions can all result in savings on monthly premiums," Life Happens says.
Here are a few other suggestions on how to save from Life Happens:
Have a safe driving record
Maintain a good credit score
Purchase life insurance when you're young
Check to see if your insurer offers a discount for paying annually versus monthly
Continue to have a yearly review. This review might result in savings on your premium
References:
QuoteWizard.com LLC has made every effort to ensure that the information on this site is correct, but we cannot guarantee that it is free of inaccuracies, errors, or omissions. All content and services provided on or through this site are provided "as is" and "as available" for use. QuoteWizard.com LLC makes no representations or warranties of any kind, express or implied, as to the operation of this site or to the information, content, materials, or products included on this site. You expressly agree that your use of this site is at your sole risk.