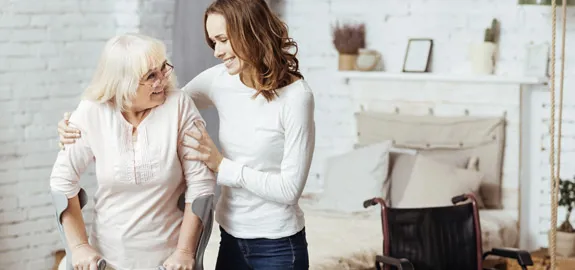 One in eight Americans have a disability according to the most recent data from the U.S. Census Bureau. A 2015 study by the CDC found the same to be true of one out of every five adults in the U.S.
If you're one of the 40 million or so Americans with disabilities, you know first-hand how important good healthcare is. Perhaps you're wondering where and how you can get great health insurance.
Well, you've come to the right place. You'll find answers to that question and many others in this article.
Keep reading even if you don't currently have a disability. The Social Security Administration (SSA) says one in four 20-year-olds will become disabled by age 67.
How Do Insurance Companies Define Disability?
Healthcare.gov defines disability as "a limit in a range of major life activities. This includes activities like seeing, hearing, walking, and tasks like thinking and working."
They add that this "list of activities ... isn't exhaustive." It also recommends checking "the [health insurance] program you're interested in for its disability standards." That's because "different programs may have different disability standards."
Most Americans who have a disability and need health insurance should focus on the SSA's definition of the word. That's because two of that agency's programs assist U.S. citizens with disabilities. These programs are Social Security Disability Insurance, or SSDI, and Supplemental Security Income, or SSI.
These programs don't provide health insurance on their own. But qualifying for them does lead to coverage through Medicaid or Medicare.
So how does the SSA define disability? What does the agency require to consider you disabled? For starters, you must have a condition that "significantly limit(s) your ability to do basic work such as lifting, standing, walking, sitting, and remembering – for at least 12 months." Or you must have a condition that is "so severe it prevents a person from completing substantial gainful activity."
The SSA also considers whether your medical impairment prevents you from performing any of your past work. And if you can't do the work you did in the past, "we look to see if there is other work you could do despite your impairment(s)."
In other words, the SSA only considers a person to have a disability if:
They can't do work they did in the past
They can't adjust to other work because of their medical conditions or impairments
Their disability has lasted or is expected to last at least one year or to result in death
This agency doesn't provide benefits for partial disability or short-term disability. Why? It assumes that "working families have access to other resources to provide support during periods of short-term disabilities. This includes "workers' compensation, insurance, savings, and investments."
As for insurance companies, you don't need to worry about how they define disability. Any disabilities you have shouldn't keep you from getting health coverage. That's true whether your insurance comes from an employer, the health insurance marketplace, Medicaid, or Medicare.
Want to learn more about Medicare and what it does or doesn't cover? Check out our extensive "Guide to Medicare" for everything you need to know about the subject.
Also, read our article, "Understanding the Affordable Care Act," for more information on Obamacare.
Do I Need to Prove My Disability to Insurance Companies?
Fortunately, you don't need to prove to an insurance company that you're disabled. Thanks to the Affordable Care Act (ACA), insurers can't turn you down for coverage because of pre-existing conditions. That includes disabilities. They also can't cancel or refuse to renew coverage due to any disabilities you have.
It's different if you want to get health insurance through Medicaid or Medicare. You will need to prove to the federal government you have a disability.
How do you do this? You start by applying for either SSDI or SSI assistance. Afterward, you provide the SSA with information about your medical condition plus your work and education history. The agency then uses those details to decide if you have a disability that warrants benefits.
Unfortunately, there's a lot more to qualifying for Social Security disability benefits than this article can cover. Everything you need to know is included on ssa.gov's 'How You Qualify' page.
What is Social Security Disability Insurance? What is Supplemental Security Income?  How Do I Qualify?
The SSA administers both these federal programs, known as SSDI and SSI. 
In general, SSDI and SSI help Americans who have 'total' disabilities.
SSDI pays various benefits to people who have disabilities and have worked long enough and paid taxes.
SSI, on the other hand, pays benefits to people who have disabilities and who have limited income and resources.
To qualify for SSDI or SSI, you need to apply and then meet certain requirements. Additional details are available here.
Are Health Insurance Benefits Included with SSDI or SSI?
SSDI or SSI benefits do not include health insurance coverage.
But people who qualify for this form of assistance do get health insurance coverage from the government. They just don't get it through the SSDI or SSI programs.
If you qualify for Social Security Disability Insurance (SSDI), you'll become eligible for Medicaid. Depending on where you live, you may or may not have to sign up for it. If you apply for and qualify for Supplemental Security Income (SSI), you'll be enrolled in Medicare.
However, your Medicare coverage won't start until two years after the SSA approves your SSDI application.
And what about people who get SSI benefits? Their Medicaid coverage kicks in right away. There's no waiting period.
What Are the Health Insurance Coverage Options for People with Disabilities?
You can get any kind of health insurance if you have a disability.
All types of health plans should treat you just like they would if you didn't have any disabilities. That includes plans you get from an employer or the Affordable Care Act marketplace. It also includes off-marketplace plans, or plans you get directly from insurance companies.
If your disability makes it impossible for you to work, apply for Social Security Disability Insurance or Supplemental Security Income. Medicare and Medicaid help cover the healthcare costs of Americans who qualify for these programs.
What Is the Best Kind of Health Insurance for Someone with a Disability? 
The best health insurance plan for someone with a disability is the one that provides the best coverage for the best price.
Depending on your situation, that might be Medicaid. Or it might be Medicare.
If you don't qualify for either of those types of coverage, your best bets may be coverage you get through an employer (or a spouse's employer) or through the government-run marketplace.
Some people with disabilities who qualify for Medicaid choose to buy marketplace coverage instead. Also, many people buy marketplace coverage while they wait for a decision on their disability status, or while they wait for Medicare to start covering them (if they're approved for SSDI benefits).
If you find yourself in any of these situations, read our article 'Which Type of Obamacare Plan is Right for You?'
Do Marketplace Health Insurance Plans Have to Cover People with Disabilities?
Yes, they do. Also, insurance plans from the ACA marketplace can't charge you more due to pre-existing conditions. They also can't put annual or lifetime dollar limits on your coverage.
If you have a disability but aren't sure if you should buy this kind or coverage or seek Medicare or Medicaid assistance, fill out a marketplace application. During that process, you'll learn if you qualify for Medicaid or Medicare. And if you don't, you can go ahead and enroll in a marketplace plan.
Do Off-Marketplace Plans Have to Cover People with Disabilities?
The Affordable Care Act covers these health insurance plans just like plans from the government-run marketplace.
Any health plan you buy away from the marketplace, or directly from an insurance company, must treat you the same as it would if you didn't have a disability. That means it can't charge you higher premiums due to your medical conditions. And it can't put annual or lifetime dollar limits on the coverage it provides.
Also, insurance companies can't turn you down for off-marketplace health coverage because of a pre-existing condition or disability. They also can't cancel or refuse to renew this kind of coverage due to any pre-existing conditions or disabilities you may have.
Before you shop around for a plan, read our article: 'Which Type of Health Insurance Plan is Right for You?' And then read this one, too: 'Everything You Need to Know to Apply for Health Insurance.'
How Does Medicaid Cover People with Disabilities?
According to the Center on Budget and Policy Priorities, "Medicaid provides a broad range of medical and long-term care services to meet the needs of people with disabilities. These services include primary and preventive care, medical treatment for illnesses and chronic conditions, and nursing home care."
Medicaid also supports "personal and attendant care services" that help people with disabilities continue to live in their homes.  
For specific information on how your state's program can help you in this situation, contact your local Medicaid agency.
How Does Medicare Cover People with Disabilities?
The coverage you get from SSDI benefits is the same as the coverage from Medicare.
To put it another way, you get the same Medicare Part A and Part B coverage most Americans over a certain age get.
That's a pretty big deal, as "Original Medicare" (as some call Parts A and B) covers most of the care you receive in a doctor's office or hospital. It also covers things like:
Outpatient hospital care and mental health care
Various kinds of preventive care
Some of the care you receive in a skilled nursing facility
Hospice and certain home health services
To learn more, see our article, 'Is Medicare Enough? What's Covered and What's Not Covered?'
What Is Disability Insurance? How Does It Fit into All of This?
Disability insurance can be a worthwhile expense if you don't yet have a disability. That said, it won't provide you with "free" health insurance if you become disabled and can't work as a result.
It will help you with several other costs, though. That includes your rent or mortgage, car payments, and even grocery bills.
What you spend on a disability insurance policy depends on a number of factors. A few examples:
Length of time you must be disabled before you start receiving benefits
Length of time you receive benefits
Amount of your monthly benefit or payout
Curious to learn more about these policies? Read through the Insurance Information Institute's "What are the Types of Disability Insurance?" article.
References:
QuoteWizard.com LLC has made every effort to ensure that the information on this site is correct, but we cannot guarantee that it is free of inaccuracies, errors, or omissions. All content and services provided on or through this site are provided "as is" and "as available" for use. QuoteWizard.com LLC makes no representations or warranties of any kind, express or implied, as to the operation of this site or to the information, content, materials, or products included on this site. You expressly agree that your use of this site is at your sole risk.