Will my health insurance cover flu shots and vaccinations?
Immunizations do more than keep people healthy. They also keep people alive. That isn't the only reason insurance usually covers them, but it is a big one. Here's all you need to know about health plans, shots, and vaccines.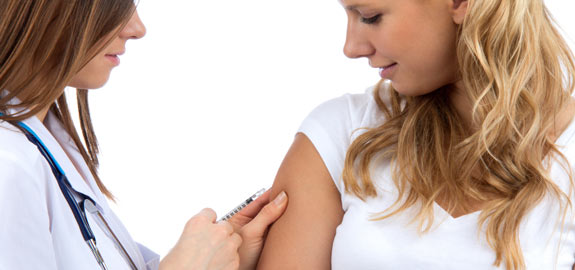 If you have health insurance, you can bet it covers at least a few immunizations or vaccines.
That's true if you get coverage from an employer, an insurance company, the federal or state "marketplace," Medicare, or Medicaid.
Not all health plans cover these shots in the same ways or to the same extent, however. Some cover pretty much any vaccination you might need. Others only cover a handful.
Also, with some health plans, you don't have to pay a dime to get immunized. With others, you're responsible for copayments or co-insurance costs.
Why You Need Shots, Vaccines, and Immunizations
Before we get to how health insurance tends to cover (or not cover) vaccines, though, at least some of you probably are wondering why they're so important. Some of you also may be wondering why health plans tend to cover them.
Actually, one sentence basically tackles both situations. Vaccines like flu shots are important, and health plans often cover them, because they keep people healthy and they keep people from dying.
There's a lot more to it than that, of course.
"Medical professionals encourage vaccinations because vaccinations help prepare our immune systems to fight infections before we get them," said Chirag Shah MD, co-founder of Accesa Labs. "Generally, many insurance providers will cover preventative services like vaccines and routine physicals as a way to reduce the probability of having to pay for more expensive care in the future."
For example, consider the following statistics (from the Center for Medicare & Medicaid Services, or CMS):
Around 50,000 adults die each year in the U.S. from diseases that vaccines could have prevented.
Influenza (the flu) and pneumonia are the fifth-leading cause of death among older Americans.
Also, according to the Centers for Disease Control and Prevention (CDC), 1.25 million people currently are infected with Hepatitis B. This virus attacks the liver and can cause liver cancer, liver failure, and even death.
Given those eye-opening stats, it shouldn't be all that surprising to hear healthfinder.gov (among other sources) recommends that all Americans get:
A flu shot every year.
The "Tdap" shot, which protects against tetanus, diphtheria, and whooping cough. (Note: pregnant women need a dose during every pregnancy.) 
A "Td" shot every 10 years (it'll keep you protected against tetanus and diphtheria).
If you're 60 or older, you should get a few other vaccines, too. A couple of examples: shots that protect against pneumonia and shingles.
Some younger Americans need other immunizations as well. You'll want to talk with a doctor to see if this is the case for you. In general, though, people who need additional shots:
Are pregnant
Have diabetes or heart, lung, or liver disease
Have a health condition that makes it harder for their bodies to fight off infections
Smoke
Work in a school, hospital, prison, or health clinic
Spend time with infants, young children, or older adults
Travel outside the U.S.
Why Health Insurance Plans Cover Most Shots and Vaccines
Is it clear to you now why health insurance usually covers flu shots and other kinds of vaccinations?
If not, consider the Kaiser Family Foundation's comment on these and other forms of preventive services:
"Research has shown [they] can save lives and improve health by identifying illnesses earlier, managing them more effectively, and treating them before they develop into more complicated, debilitating conditions."
That same KFF report points out that some of these services "are also cost-effective." In other words, they help insurance companies save money.
There's nothing wrong with that, of course. Insurance companies are businesses, not charities. To survive, they need to turn a profit.
Well, picking up some or all of the costs of a yearly flu vaccine or a once-every-10-years Td shot helps them do that by preventing illness and disease that would cost them a lot more in the long run.
For more information on the many kinds of preventive care health plans usually cover, read our article, "Health Insurance and Preventive Care."
The Affordable Care Act and Vaccine Coverage
Actually, saving money and saving lives aren't the only reasons most health plans cover flu shots and other vaccines.
Another reason is the Affordable Care Act which many know as Obamacare.
Thanks to that law's passage in 2010, most private insurance plans in the U.S. must cover a slew of immunizations for both children and adults. And they have to do so without any patient cost-sharing. (The deductibles, copayments, and co-insurance fees usually tied to medical care and services are examples of cost-sharing.)
Some of the immunizations or shots private health plans have to cover because of the ACA:
Hepatitis A and B
HPV
Influenza (flu)
Measles
Meningitis
Mumps
Pertussis (whooping cough)
Rubella
Tetanus
Varicella (chickenpox)
The only exceptions to the above are "grandfathered" health plans. These plans existed before March 23, 2010, which is when Obamacare became law. To maintain their grandfathered status, the insurers that back these plans can't make significant changes to their coverage.
How Different Types of Health Plans Cover Vaccines
It probably could go without saying that plans sold on the health insurance marketplace (or "exchange") set up by the ACA cover all of the vaccines listed above.
Actually, the same is true of off-marketplace plans. These are plans you buy away from the marketplace, directly from insurance companies.
How about health insurance you get through an employer? Most of them should cover some or all of the shots and vaccines mentioned here as well. The ACA or Obamacare don't require all of them to do so, however.
For instance, especially large companies don't have to meet the ACA's requirements. Most do anyway, though, so expect coverage you get through a large employer to pay for any vaccines or immunizations you might need.
On a related note, any health plans that fall under the ACA's guidelines also must cover Hepatitis B screenings. That said, they don't have to cover them for everyone.
The ACA only requires plans to cover Hepatitis B screenings for high-risk individuals. That includes people from certain countries and certain U.S.-born people not vaccinated as infants.
How Medicare Covers Flu Shots and Other Vaccines
Medicare Part B, sometimes called "medical insurance," covers a number of preventive services and treatments. Shots and vaccines like the ones discussed so far are among them.
Specifically, Medicare Part B pays for flu, pneumococcal, and Hepatitis B shots.
Before you head to your doctor to get one, though, consider the following:
For most people, one pneumococcal vaccine at age 65 protects them for a lifetime. Some people are at high risk for pneumonia, however, and so need a booster vaccine. Thankfully, Medicare also covers booster vaccines for high-risk enrollees if they're given one year (or later) after the first shot.
Medicare only pays for Hepatitis B vaccinations if you're considered to be at high risk for the disease. (Your Hepatitis B risk rises if you have diabetes, End-Stage Renal Disease (ESRD), or hemophilia. It also rises if you live with someone who has Hepatitis B, or if you're a healthcare worker or you're in frequent contact with blood or bodily fluids.)
You'll likely pay nothing for any of these shots if the doctor or other healthcare provider who gives them accepts assignment. If they don't, you may have to pay some or all of the cost.
You also may have to pay all or some of the cost of these shots if your physician or provider suggests you have them done more frequently than Medicare recommends or covers.
To avoid being surprised by an unexpected bill, talk with your doctor or insurer before you agree to or schedule anything. In particular, ask them if Medicare will pay for the shots or vaccines you need.
To learn more about Original Medicare (Medicare Parts A and B) and what it does and doesn't cover, read our article, "Is Medicare Enough? What's Covered and What's Not Covered?" Check out our "Ultimate Guide to Medicare: Everything You Need to Know," too.
If you need other vaccines and want Medicare to pay for them, look at your Part D coverage. Some Medicare Part D plans cover the shingles vaccine or the Tdap vaccine (which protects against tetanus, diphtheria, and whooping cough), for instance.
For more information, see our article, "Medicare Part D: Prescription drug benefits to people over the age of 65."
How Medicaid and CHIP Cover Flu Shots and Other Vaccines
Medicaid covers all recommended vaccines for children and some vaccines for adults.
It's difficult to say which vaccines Medicaid covers for adults because every state handles Medicaid differently. That said, most state Medicaid agencies help pay for flu, Hepatitis B, and pneumococcal shots in certain circumstances.
Unlike Medicare, Medicaid doesn't always cover vaccines in full. Depending on where you live and where you get your shot, you may be responsible for a copayment or similar fee.
To find out if Medicaid covers any of the shots of vaccines you need, contact your local agency.
Also, if your state Medicaid agency doesn't currently cover the shots you need, don't give up. The Center for Medicare & Medicaid Services is working with other U.S. Department of Health and Human Services officials to improve vaccination rates in adults.
As for children, Medicaid mainly covers their shots and vaccines through the Children's Health Insurance Program (CHIP). For more information on the specific immunizations CHIP covers, contact your local agency.
There's another way to get kids free or low-cost vaccines if your local Medicaid or CHIP program don't cover them, by the way. The Vaccines for Children (VFC) program provides vaccines to children whose parents or guardians can't afford them.
To qualify, the child has to be younger than 19 years of age. He or she also needs to be one of the following:
Medicaid-eligible
Uninsured
Underinsured
American Indian or Alaska Native
In this case, underinsured means your child has health insurance, but it doesn't cover the shots or vaccines he or she needs.
Technically, these shots should be free. That said, doctors can charge a set fee for administering them, so keep that in mind before you seek one. Doctors also can charge a fee for the office visit. And they can charge you for any additional services performed along with the shot (such as an eye exam or blood test).
Do you have a child who needs health insurance coverage? Check out our article, "Health Insurance and Children." You might want to read this one, too: "Everything You Need to Know About Child-Only Health Insurance."
Other Things to Keep in Mind Before You Get a Flu Shot or Other Vaccine
Although most health plans should cover most shots or vaccines you might need, there are times where you may have to pay some of the cost. A few examples, according to kff.org:
Your insurance company may not charge you for the shot, but it may charge you for the office visit.
If you could have an in-network physician administer your shot but you go outside your network instead, you insurer can bill you for the office visit and the vaccine.
If you go out of network because no in-network provider can administer your vaccine, though, you can't be charged for it. 
Frequently Asked Questions
Q: Why do I need a flu shot?
A: The best way to prevent the flu is to get vaccinated every year. (Usually during the fall.) Preventing the flu is important because, as cms.gov points out, the flu puts over 200,000 Americans in the hospital each year. Also, an average of 36,000 Americans die every year due to the flu and related complications.
You especially need a flu shot if you have a high risk of developing serious complications should you get sick. This includes:
People who are 65 or older
People of any age with chronic medical conditions like asthma, diabetes, or heart disease
Pregnant women
Young children
Q: Why do I need the pneumococcal vaccine?
A: You probably only need to get this shot if you're 65 or older. If that describes you, though, don't ignore this vaccine. Get it even if your health plan won't pay for it. More than 5,000 Americans die from invasive pneumococcal disease every year, and over half of those people are 65 or older.
Q: Why do I need the Hepatitis B vaccine?
A: Again, you probably only need to worry about this shot if you're at a high risk for Hepatitis B. That usually means having renal disease or hemophilia. If your doctor recommends this vaccine, though, get it. Hepatitis B can cause lifelong infection, cirrhosis of the liver, liver cancer, liver failure, and even death.
Q: Does health insurance pay for flu shots?
A: Yes, most health plans cover flu shots. Not sure if yours does? Contact your insurance company. Or contact Medicare or your local Medicaid agency (if either of those programs provides your health coverage).
Q: Does health insurance pay for other vaccines?
A: Yes, most health plans cover most of the vaccines a person might need. If looking over your policy doesn't make it clear which vaccines or shots it covers, contact your insurer. Or contact Medicare or your local Medicaid agency.
Q: Does Medicare pay for flu shots?
A: Yes, Medicare should cover flu, pneumococcal, and Hepatitis B shots. It doesn't always cover those shots, though, or it doesn't always cover them in full. Talk with your physician and make sure you know if you'll be billed for any part of the procedure before you agree to anything.
Q: Does Medicaid pay for flu shots?
A: Yes, Medicaid often covers flu shots as well as some other common vaccines. Talk with someone at your local Medicaid agency if you have any questions about the shots and vaccines you need.
Q: Does CHIP pay for flu shots?
A: Yes, CHIP, aka the Children's Health Insurance Program, covers flu shots for children in need. It also pays for other common vaccinations and immunizations.
Another option for children whose parents or guardians can't afford flu shots or other vaccines: the Vaccines for Children program.
Q: Does health insurance pay for travel vaccines?
A: In many cases, no, it won't. Most health plans don't cover vaccines needed for traveling outside the U.S. This is true even though these vaccines may be "medically necessary." And insurance usually covers medically necessary care.
Health insurance doesn't cover as much as you might think while you travel, by the way. Learn more about this in our article, "Does Health Insurance Cover Your Medical Care When You Travel Abroad?"
Q: My health plan won't pay for the shot or vaccine I need. What can I do?
A: If you don't have health insurance, or if your plan doesn't cover certain vaccines or shots, do the following:
Q: Why does health insurance pay for vaccines?
A: Two of the main reasons health plans often pay for some or all of the costs tied to immunizations are they save lives and they save money. Specifically, they save insurance companies money by keeping people from developing illnesses and diseases that could cost them a lot more in the long run.
QuoteWizard.com LLC has made every effort to ensure that the information on this site is correct, but we cannot guarantee that it is free of inaccuracies, errors, or omissions. All content and services provided on or through this site are provided "as is" and "as available" for use. QuoteWizard.com LLC makes no representations or warranties of any kind, express or implied, as to the operation of this site or to the information, content, materials, or products included on this site. You expressly agree that your use of this site is at your sole risk.