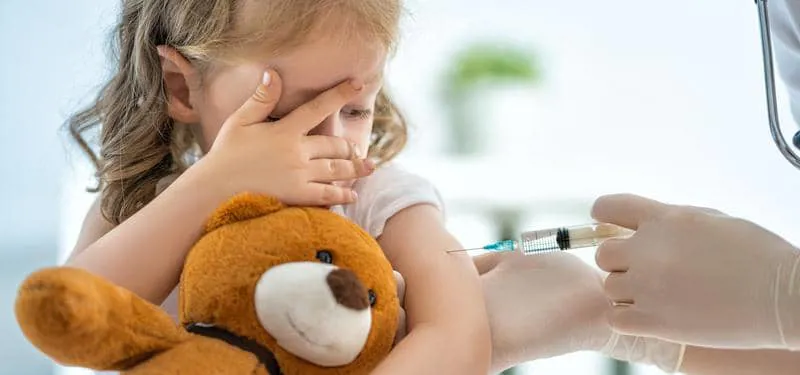 If you have health insurance, it likely covers at least a few immunizations or vaccines.
This is true if you get your health coverage from an employer, an insurance company directly, the federal or state "marketplace," Medicare or Medicaid. And QuoteWizard research found that having health insurance increases vaccination rates.
Not all health plans cover these shots in the same way or to the same extent, however. Some cover any vaccination you might need. Others only cover a handful.
Also, you don't have to pay a dime to get immunized with some health plans. With others, you're responsible for copayments or coinsurance costs.
In this article, you'll learn all about:
How health insurance covers flu shots and other vaccinations
How child flu vaccine rates relate to lack of health insurance
We conducted a study on flu vaccination rates and how they relate to health insurance coverage. We found that states with a high percentage of uninsured people have low flu vaccine rates. The inverse is also true: states where more residents have health insurance coverage have higher flu vaccine rates.
Key findings:
Kaiser Family Foundation estimates nearly 1.5 million teachers (one in four) are at greater risk of serious illness from COVID-19.
Child influenza vaccination rates have declined during the COVID-19 pandemic by an estimated 21.5% from January to April 2020.
Anticipating the "double whammy" of influenza season and COVID-19, the CDC is giving $140 million to immunization programs.
The national average rate of vaccinated children in the United States is 58%.
During the coronavirus pandemic, New York City saw vaccination rates drop 63% — 91% for kids older than two.
Rhode Island, Massachusetts and Connecticut have the highest rates of vaccinated children. Wyoming, Florida and Utah have the lowest rates.
During the month of May, New York City saw all child vaccinations drop 63% overall with a 91% drop for children ages two and over. This massive decline in flu shots and vaccinations was caused by the coronavirus pandemic. The 10% of Americans without health insurance will likely face a challenge to find an inexpensive way to vaccinate their children.
Vaccination rates vary dramatically across the United States. This table ranks all 50 states based on vaccination rates. States with the lowest vaccination rates are ranked closer to, 1 and the highest vaccination rates ranked closer to 50.
State vaccination rates vs. uninsured rates
Rank (worst to best)
State
Vaccination rate
Uninsured rate
1
Wyoming
43%
13%
2
Florida
46%
16%
3
Utah
47%
10%
4
Idaho
48%
13%
5
Alaska
48%
14%
6
Nevada
50%
13%
7
Montana
50%
10%
8
Missouri
51%
11%
9
Mississippi
51%
15%
10
Arizona
51%
13%
11
Georgia
51%
16%
12
Indiana
52%
10%
13
West Virginia
53%
8%
14
Kansas
53%
10%
15
Alabama
54%
12%
16
Michigan
54%
6%
17
Oregon
54%
9%
18
Illinois
55%
8%
19
Oklahoma
55%
16%
20
Kentucky
55%
7%
21
Louisiana
56%
9%
22
Ohio
56%
8%
23
South Carolina
57%
13%
24
California
57%
8%
25
Texas
58%
20%
26
Iowa
59%
6%
27
North Carolina
59%
13%
28
Vermont
60%
5%
29
Maine
60%
10%
30
Wisconsin
60%
7%
31
Hawaii
61%
5%
32
Washington
61%
8%
33
Tennessee
62%
12%
34
Minnesota
62%
5%
35
New Mexico
62%
11%
36
Colorado
62%
9%
37
North Dakota
62%
9%
38
Nebraska
63%
10%
39
Arkansas
64%
10%
40
South Dakota
64%
11%
41
New York
65%
6%
42
Delaware
65%
7%
43
Virginia
65%
10%
44
Pennsylvania
65%
7%
45
New Hampshire
66%
6%
46
Maryland
68%
6%
47
New Jersey
69%
9%
48
Connecticut
71%
6%
49
Massachusetts
74%
3%
50
Rhode Island
76%
5%
Source: American Academy of Pediatrics data on child immunizations and the Kaiser Family Foundation's state data on the rate of uninsured. View our methodology here.
Do health insurance marketplace plans cover flu shots?
All plans sold on the health insurance marketplace or "exchange" set up by the Affordable Care Act, also known as the ACA or Obamacare, must cover flu shots.
That's a big deal, as flu shots do more than keep people healthy; they also keep them alive. So, the more people who get a flu shot, the fewer who will die from the virus.
Marketplace — and many other — plans have to cover more than flu shots. They have to cover several other vaccines and immunizations, too, thanks to the ACA, which became law on March 23, 2010.
Also, they need to cover these shots for both adults and children. And they have to do so without any patient cost-sharing. (The deductibles, copayments and coinsurance fees often tied to medical care and services are examples of cost-sharing.)
Some of the immunizations or vaccines marketplace and other health plans must cover because of Obamacare:
Hepatitis A and B
HPV
Influenza (flu)
Measles
Meningitis
Mumps
Pertussis (whooping cough)
Rubella
Tetanus
Varicella (chickenpox)
Do employer health plans cover flu shots and other vaccines?
Most health insurance plans you get through an employer should cover flu shots and other vaccines, too. That said, the ACA doesn't require all of them to do so.
For instance, especially large companies don't have to meet the ACA's requirements. Most do it anyway, though, so expect coverage you get through a large employer to pay for any vaccines or immunizations you might need.
"Grandfathered" health plans also don't have to meet the ACA's requirements. These plans existed before the ACA became law. To maintain their grandfathered status, the insurers that back these plans can't make significant changes to their coverage.
On a related note, any health plans that fall under the ACA's guidelines also must cover Hepatitis B screenings. But they don't have to cover them for everyone.
The ACA only requires plans to cover Hepatitis B screenings for high-risk individuals. That includes people from certain countries and certain U.S.-born people not vaccinated as infants.
Does Medicare cover flu shots and other vaccines?
Medicare Part B, sometimes called "medical insurance," covers a number of preventive services and treatments — including many of the shots and vaccines discussed here.
Specifically, Medicare Part B pays for flu, pneumococcal and Hepatitis B shots.
Before you head to your doctor to get one, though, consider the following:
For most people, one pneumococcal vaccine at age 65 protects them for a lifetime. Some people are at high risk for pneumonia, however, and so need a booster vaccine. Thankfully, Medicare also covers booster vaccines for high-risk enrollees if they're given at least one year after the first shot.
Medicare only pays for Hepatitis B vaccinations if you're considered to be at high risk for the disease. Your Hepatitis B risk rises if you have diabetes, End-Stage Renal Disease (ESRD) or hemophilia. It also rises if you live with someone who has Hepatitis B, or if you're a healthcare worker or you're in frequent contact with blood or bodily fluids.
You'll likely pay nothing for any of these shots if the doctor or other healthcare provider who gives them accepts the assignment. If they don't, you may have to pay some or all of the cost.
You also may have to pay all or some of the cost of these shots if your physician or provider suggests you have them done more frequently than Medicare recommends or covers.
To avoid being surprised by an unexpected bill, talk with your doctor or insurer before you agree to or schedule anything. In particular, ask them if Medicare will pay for the shots or vaccines you need.
If you need other vaccines and want Medicare to pay for them, look at your Part D coverage. Some Medicare Part D plans cover the shingles vaccine or the Tdap vaccine, which protects against tetanus, diphtheria and whooping cough.
Does Medicaid cover flu shots and other vaccines?
Medicaid covers all recommended vaccines for children and some vaccines for adults.
It's difficult to say which vaccines Medicaid covers for adults because every state handles Medicaid differently. That said, most state Medicaid agencies help pay for flu, Hepatitis B and pneumococcal shots in certain circumstances.
Unlike Medicare, Medicaid doesn't always cover vaccines in full. Depending on where you live and where you get your shot, you may be responsible for a copayment or similar fee.
To find out if Medicaid covers any of the shots of vaccines you need, contact your local agency.
As for children, Medicaid mainly covers their shots and vaccines through the Children's Health Insurance Program (CHIP). For more information on the specific immunizations CHIP covers, contact your local agency.
There's another way to get kids free or low-cost vaccines if your local Medicaid or CHIP program won't cover them. The Vaccines for Children (VFC) program provides vaccines to children whose parents or guardians can't afford them.
To qualify, the child has to be younger than 19 years of age. He or she also needs to be one of the following:
Medicaid-eligible
Uninsured
Underinsured
American Indian or Alaska Native
In this case, underinsured means your child has health insurance, but it doesn't cover the shots or vaccines he or she needs.
These shots should be free. That said, doctors can charge a set fee for administering them, so keep that in mind before you seek one. Doctors can also charge a fee for the office visit. And they can charge you for any additional services performed along with the shot, such as an eye exam or a blood test.
Does health insurance cover travel vaccines?
Most health plans don't cover vaccines needed for traveling outside the U.S. This is true even though these vaccines may be "medically necessary." And insurance usually covers medically necessary care.
On a related note, health insurance doesn't cover much medical care when you travel.
Why does health insurance cover flu shots and other vaccines?
Most health insurance plans cover flu shots and other kinds of vaccinations because they keep people healthy and they keep people from dying.
They also help insurance companies save money. Specifically, vaccines and immunizations save insurers money by keeping people from developing illnesses and diseases that could cost them a lot more in the long run.
Another reason many health plans cover various vaccines and immunizations is that the ACA requires them to do so.
What can I do if my health insurance won't cover flu shots or other vaccines?
If your health insurance plan doesn't cover certain vaccines or shots, or if you don't have health insurance, do the following:
Study methodology
QuoteWizard first compiled American Academy of Pediatrics data on child influenza vaccination rates and ranked each state. We then gathered the rate of uninsured per state from Kaiser Family Foundation and found the difference in both rankings. Final rankings are based on states that have lowest child vaccination rates.
References:
QuoteWizard.com LLC has made every effort to ensure that the information on this site is correct, but we cannot guarantee that it is free of inaccuracies, errors, or omissions. All content and services provided on or through this site are provided "as is" and "as available" for use. QuoteWizard.com LLC makes no representations or warranties of any kind, express or implied, as to the operation of this site or to the information, content, materials, or products included on this site. You expressly agree that your use of this site is at your sole risk.