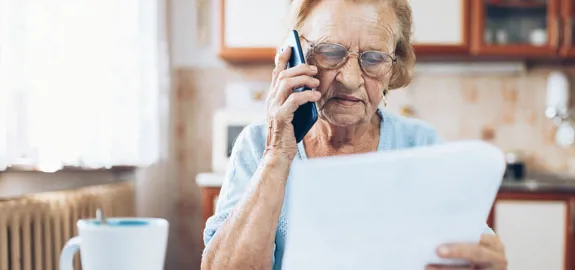 If your medical bill is denied and you want to dispute it, you can file an appeal. You'll learn how to fight health insurance denials here. You'll also learn:
How Do I Dispute and Appeal a Denied Medical Bill?
Find out why your claim was denied or rejected
Before you do anything else, figure out why your insurance company denied your claim. According to HealthCare.gov, to deny a claim an insurer must notify you in writing:
Within 15 days if you're seeking prior authorization for a treatment
Within 30 days for medical services already received
Within 72 hours for urgent care cases
When you receive the denial, look over the explanation of benefits form that comes with it. Insurers send EOB forms to policyholders or customers whenever they seek medical care.
Focus on the section of the EOB form where your insurer explains why it denied your claim or bill. That may be presented as a code. If it is, look for a key that explains what the code means.
Your EOB statement also should tell you how to appeal a claim denial. And it should tell you where you can get help with that appeal, too.
If your claim was rejected because of an error, have it fixed
It isn't unusual for a health insurancecompany to reject a medical bill or claim because of a paperwork or administrative error:
Listing faulty patient information: name, address, date of birth, insurance number, and more
Filing incorrect provider info
Listing the wrong diagnostic or treatment codes
Inputting wrong CPT, point of service, or ICD-9-CM codes
If you spot any of these or other mistakes while looking over your EOB form, contact your health insurance provider and let them know.
In some cases, your doctor or physician has to correct the error. In other cases, your insurer has to correct it. There are even times when you need to contact both to fix the problem.
Pick up the phone if you have questions
If you need help at any point in this process, contact your insurance company. Don't feel bad or embarrassed about it. Contesting medical bills can be confusing. That's especially true when you've got to deal with codes or explanations that don't always make sense.
Another reason to reach out to your insurer in this situation: it'll ensure your appeal has the best chance of ending in success.
You might want to reach out to your healthcare provider, too. Or even someone in your employer's human resources department – if your coverage comes from your job. Both may be able to assist you in ways your insurer can't.
No matter who you contact, keep a record of the resulting conversations. Write down the names and job titles of the people you talk to and make note of the date as well. Ask about deadlines and next steps, too.
Keep a paper trail
Make sure you have everything you need to prove your case to the insurance company.
In other words, make sure you have any and all documents that show your medical treatments or services were necessary and should be covered by your health plan.
This could mean gathering prescriptions or referrals. Or it could mean tracking down and collecting policy bulletins from your insurance company that address the medical care you received.
It also could mean following up with your doctor or physician and asking for a bit of help. A letter or call explaining why you needed the disputed medical care can go a long way toward getting your insurer to reverse its decision.
File your medical bill dispute appeal
Some people appeal health insurance claims by sending a medical bill dispute letter to their insurer. This is called an internal appeal.
That's not always the most effective way to fight a denied medical bill. What is? Following your insurer's appeal process. This differs from company to company, so check your EOB form for more information.
And if your EOB form doesn't make it clear how to dispute a hospital bill, visit your insurance company's website or call customer service.
Some insurance companies require you to appeal claim denials within a certain period. So, pay attention to deadlines during this part of the process.
After you file your appeal, sit tight. You'll hear from your insurer once it's decided to uphold or overturn its denial.
What If My Medical Bill Is Denied a Second Time?
If your health insurer upholds its original decision and denies your claim a second time, ask for an external review.
Companies have to allow this "next step" thanks to the Affordable Care Act. Your insurer has nothing to do with this part of the appeals process. Instead, an independent third party reviews your claim and decides if it should be covered or not.
A few things to keep in mind here:
There's normally a four-month window after your internal appeal for you to ask for an external appeal review.
You may have to go through more than one internal review with your insurance company before you can ask for an external review.
You might need to ask for an external review within a specific window of time after the internal review wraps up.
Why Do Health Insurance Companies Deny Medical Claims?
Insurance companies refuse to cover medical bills for all kinds of reasons. Here are some of the most common:
Your policy doesn't cover the service or procedure.
The procedure is considered cosmetic, experimental, or not medically necessary.
You didn't pre-authorize the service or you didn't get a referral for it.
You received care from an out-of-network provider.
As mentioned earlier, insurers often reject medical claims because of typographical or data-entry errors, too.
How Can I Prevent My Insurance Company from Denying Medical Claims in the Future?
If you want to avoid dealing with denials down the road, do the following:
Look over your plan. Thoroughly. Find out what your policy covers. And be aware of exclusions. If you can't answer those questions after reviewing your policy, contact the insurance company and ask for help.
Make sure you see in-network doctors, physicians, or specialists. And make sure you go to in-network facilities, like hospitals, too.
Get all treatments or services pre-approved. Even if your insurer doesn't require it.
References:
QuoteWizard.com LLC has made every effort to ensure that the information on this site is correct, but we cannot guarantee that it is free of inaccuracies, errors, or omissions. All content and services provided on or through this site are provided "as is" and "as available" for use. QuoteWizard.com LLC makes no representations or warranties of any kind, express or implied, as to the operation of this site or to the information, content, materials, or products included on this site. You expressly agree that your use of this site is at your sole risk.