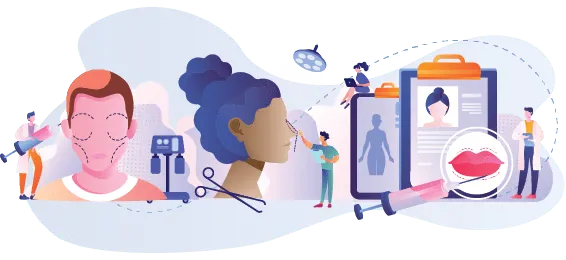 Will your health insurance plan help you pay for that nose job you've always wanted?
Or will it cover an eyelid lift, breast augmentation, tummy tuck, or butt lift?
The answer to these questions depends mostly on what kind of insurance policy. Most cosmetic surgery, however, isn't covered by insurance. There are exceptions:
If the goal of the surgery is to enhance or improve your appearance, don't expect your insurance plan to pay for it.
If its aim is to repair a congenital defect or reconstruct a body part damaged by a burn, disease, or some sort of trauma, your policy may help out.
That's just the gist, though. Keep reading to learn more about:
How various types of health plans treat cosmetic and plastic surgery.
Common exceptions
How to find out if your health insurance will or won't cover a procedure.
Your options if your insurance policy won't the procedure you need or want to have done.
How much you might pay for plastic or cosmetic surgery (whether you do or don't have health coverage).
Cosmetic vs. Plastic Surgery
Before we get into the nitty-gritty details of how the health insurance plans deal with these procedures, let's make one thing clear: cosmetic and plastic surgery are not the same thing.
That may surprise you, especially since many people use the two words interchangeably. Not that you can blame them. When cosmetic procedures first became common, everybody called them "plastic."
Although it's hard to say what caused that confusion, the most likely answer is a number of plastic surgeons at the time decided to focus on helping patients with cosmetic rather than reconstructive issues.
Today, people who work in these fields disciplines consider them very different beasts.
Plastic surgery
According to the American Board of Cosmetic Surgery, "the procedures, techniques, and principles of cosmetic surgery are entirely focused on enhancing a patient's appearance. Improving aesthetic appeal, symmetry, and proportion are the key goals."
That includes the following procedures:
Breast augmentation
Face lift
Laser resurfacing
Liposuction
Nose job
Tummy tuck
Cosmetic surgery
The American Academy of Cosmetic Surgery says plastic surgery is "dedicated to reconstruction of facial and body defects due to birth disorders, trauma, burns, and disease. Plastic surgery is intended to correct dysfunctional areas of the body."
Here are a few of the most common plastic surgery procedures:
Breast reconstruction
Burn repair
Congenital defect repair (such as for a cleft palate)
Lower extremity reconstruction
Scar revision
How Marketplace, Medicaid, Medicare, and Other Plan Types Treat Plastic and Cosmetic Surgery
Here's some more information on how employer-sponsored and "marketplace" policies, as well as the Medicare and Medicaid programs, deal with this situation.
Employer-Sponsored
In general, health insurance only pay for surgeries a doctor or physician considers medically necessary.
That's certainly true of policies you get from an employer. (Some people also call them "job-based" policies.)
In other words, your job-based health policy should cover procedures for legitimate medical issues.
So, if you're ever in an accident and you need reconstructive surgery, your insurance should help pay for it. Expect the same if you're ever burned severely, or if you're scarred by some kind of disease or trauma.
And your plan will cover procedures to correct physical abnormalities or malformations you were born with – like cleft lip or palate.
If the surgical procedure you want only make you look better, prepare to pay for it yourself. That includes facelifts, breast augmentation, and other related procedures.
Marketplace and Off-Marketplace
The Affordable Care Act, also sometimes called the ACA or Obamacare, requires that all marketplace plans cover a number of services. That 2010 law requires the same of all plans sold away from the marketplace, or bought directly from insurers.
Policies must cover at least 10 essential health benefits. Unfortunately, cosmetic surgery is not among them.
Still, like job-based plans, marketplace plans usually cover surgery that aims to repair a birth defect. And they almost always cover procedures to reconstruct a damaged body part, too.
Are you planning to buy marketplace coverage during the next open enrollment period? Or maybe you're thinking of switching from one marketplace plan to another? Before you start shopping, read our article, "Which Type of Obamacare Plan is Right for You?"
Medicare and Medicaid
What does medicare.gov say about cosmetic surgery:
Medicare doesn't cover it unless it's needed for an accidental injury or to improve the function of a malformed body part.
Medicaid works similarly. But the federal government does give individual states some leeway for their Medicaid programs. Yours may cover – or not cover – plastic and cosmetic surgery differently than others.
Whatever the case may be, expect both Medicare and Medicaid to allow some exceptions.
For example, Medicare doesn't cover breast augmentation. But it does cover breast prostheses and reconstruction if you have a mastectomy because of breast cancer. Part A pays for reconstruction surgery if done it's in an inpatient setting. Part B pays for it if it's done in an outpatient setting. Part B also pays for external breast prostheses, including a post-surgical bra.
See our "Guide to Medicare" to learn more about what this national health insurance program covers and doesn't cover, by the way. And consider checking out this article, too: "What's the Difference Between Medicare and Medicaid?"
Other Health Insurance Cosmetic Surgery Exceptions
Medicare and Medicaid aren't the only forms of health insurance that sometimes make exceptions for cosmetic surgeries.
In fact, most health plans cover the following if a doctor says they're medically necessary.
Breast Augmentation
Like Medicaid and Medicare, most health insurance plans help pay for breast augmentation or reconstruction after a mastectomy.
There's a good reason for this, and it's not just that insurers here have big hearts. Instead, it's because the law requires it. Or at least it requires it to an extent.
The Women's Health and Cancer Rights Act, passed in 1998, requires "all group health plans that pay for mastectomy to also cover prostheses and reconstructive procedures," according to breastcancer.org.
Health plans that don't cover mastectomy must be few and far between. It's a good bet that yours covers necessary breast augmentation as well.
By the way, breast augmentation in this case doesn't just mean reconstruction after mastectomy. It also means reconstruction after lumpectomy. And refining a reconstructed one. And even creating symmetry or balance between two breasts after one is reconstructed.
Finally, you don't have to have this surgery done right away after a mastectomy. Your policy should cover it even if you wait a number of years.
Breast Reduction
Most US health insurance policies cover breast reduction as well as reconstruction. If you meet certain criteria, of course.
One example is if you're a woman and the size of your breasts causes pain or discomfort. Another example is if you're a man who has overly or unusually large breasts.
Your health insurer won't just take your word that you're experiencing either of these issues. First you'll need to see your doctor or physician. They will examine you and agree that surgery is needed to correct your problems.
After that, you'll probably have to fill out some forms and get certain pieces of information from your healthcare provider. You may have to see a physical therapist or try prescription drugs, too.
At some point, though, you'll hopefully convince the insurance company that you don't want the surgery for cosmetic reasons. And that's when it'll give the go-ahead to coverage.
Butt Lift
Strangely, you need to have a mastectomy if you want your health insurance to pay for even a portion of a butt lift.
The reason: according to Reader's Digest, some surgeons "create new breasts out of skin, fat, and blood vessels removed from the gluteal area." (The gluteal area is your butt, in case you're confused.)
Yes, the procedure improves the look of your backside, but it's a side effect. Enhancing your appearance isn't its focus, so your health plan is more likely to cover it. Assuming it's done after a mastectomy.
Eyelid Lift
Why would an insurance company ever cover this kind of procedure? After all, it's the definition of cosmetic, right?
Actually, that's not always true. Some people need to have one or both of their eyelids lifted so they can see properly. (If their eyelids are "hooded" and obscure their vision.)
Should you find yourself in that situation, talk with your doctor. And talk with your insurer, too. The latter may cover any surgery that's needed to fix the issue.
You winding up a bit more attractive afterward is just a bonus.
Nose Job
Health insurance normally doesn't cover nose jobs. That's true – for the most part. How so? Well, while you shouldn't look for your plan to pay for the full cost of a nose job, it might pay a portion of it.
This is most likely if your physician or a specialist finds that you have a deviated septum. In such situations, your health plan--no matter what type--may pay for surgical correction.
There's a catch, however. Most health insurance policies only cover that particular procedure. If the surgeon reshapes or enhances the look of your nose, you might have to pay for that out of your own pocket.
To avoid a surprise bill, talk with both your physician and insurer before this kind of surgery. Make sure you know what your health plan will cover and what it won't.
Liposuction or Tummy Tuck
Before you get too excited, health insurance treats both of these procedures like they're cosmetic. In other words, it usually doesn't cover them.
One exception: your health plan may pay for it if you're obese and your weight impacts your quality of life in certain ways.
As with other procedures, though, you'll need to jump through some hoops for yours to cover a tummy tuck or liposuction.
You might have to see a psychiatrist, for example, before your insurer will approve coverage. Or you might have to try various weight-loss programs under your doctor's supervision.
Skin Folds
On the flip side, what if you've already lost a ton of weight and now have excess skin or skin folds?
You might think removing skin folds (known as a panniculectomy) is a cosmetic undertaking. That's not the case.
Skin flaps are more than just unattractive. They can be painful. They can limit mobility or physical activity. And they can lead to infections and other health issues.
Surgery's often the only way to get rid of those risks or relieve those symptoms. Which explains why some health insurance plans pay for it.
Don't be shocked if you have to fight for that coverage.
The most popular kinds of plastic surgery in each state
Many types of plastic surgery were put on hold during the pandemic. But now that lockdowns are ending, more people are looking to have things lifted, nipped or tucked.
We found that over the last year, online searches for liposuction, eyelid surgery (blepharoplasty) and tummy tucks (abdominoplasty) are up 20% to 40%. The most popular plastic surgery in your state could be anything from a butt lift to a nose job (rhinoplasty).
Most popular plastic surgery in each state

| State | Surgery |
| --- | --- |
| Alabama | Butt lift |
| Alaska | Blepharoplasty (eyelids) |
| Arizona | Breast augmentation |
| Arkansas | Breast augmentation |
| California | Breast augmentation |
| Colorado | Rhinoplasty |
| Connecticut | Breast lift |
| Delaware | Butt lift |
| Florida | Breast augmentation |
| Georgia | Butt lift |
| Hawaii | Butt lift |
| Idaho | Breast augmentation |
| Illinois | Butt lift |
| Indiana | Butt lift |
| Iowa | Breast augmentation |
| Kansas | Abdominoplasty (tummy tuck) |
| Kentucky | Butt lift |
| Louisiana | Butt lift |
| Maine | Rhytidectomy (facelift) |
| Maryland | Liposuction |
| Massachusetts | Rhinoplasty (nose) |
| Michigan | Butt lift |
| Minnesota | Blepharoplasty (eyelids) |
| Mississippi | Butt lift |
| Missouri | Liposuction |
| Montana | Lip augmentation |
| Nebraska | Breast augmentation |
| Nevada | Breast augmentation |
| New Hampshire | Liposuction |
| New Jersey | Butt lift |
| New Mexico | Rhinoplasty (nose) |
| New York | Rhinoplasty (nose) |
| North Carolina | Butt lift |
| North Dakota | Lip augmentation |
| Ohio | Butt lift |
| Oklahoma | Butt lift |
| Oregon | Rhinoplasty, Rhytidectomy, Lip augmentation (tie) |
| Pennsylvania | Butt lift |
| Rhode Island | Lip augmentation |
| South Carolina | Butt lift |
| South Dakota | Butt lift |
| Tennessee | Butt lift |
| Texas | Lip augmentation |
| Utah | Breast augmentation |
| Vermont | Butt lift |
| Virginia | Butt lift |
| Washington | Rhinoplasty (nose) |
| West Virginia | Blepharoplasty (eyelids) |
| Wisconsin | Blepharoplasty (eyelids) |
| Wyoming | Butt lift |
Not every type of plastic surgery is as popular as it once was, though. Search demand for procedures like dermabrasion, nose jobs and lip augmentation has dropped by as much as 41% over the last year. Eyelid surgery, tummy tucks and liposuction, however, have risen in popularity by as much as 38%.
Plastic surgery demand

| Surgery | % change in search demand (2020-2021) | Change in number of surgeries since 2000 | # of surgeries in 2020 |
| --- | --- | --- | --- |
| Breast augmentation | -9% | -9% | 193,073 |
| Butt lift | 12% | 112% | 2,872 |
| Dermabrasion | -41% | 231% | 139,933 |
| Eyelid surgery (blepharoplasty) | 38% | -1% | 325,112 |
| Lip augmentation | -16% | 84% | 34,236 |
| Liposuction | 32% | -40% | 211,067 |
| Rhinoplasty (nose) | -10 | -9% | 352,555 |
| Rhytidectomy (facelift) | 8% | 75% | 234,374 |
| Tummy Tuck (abdominoplasty) | 16% | 56% | 97,988 |
Plastic surgery has steadily become more and more popular. The number of plastic surgeries performed each year has risen 22% since 2000. In 2020, American's underwent more than 2.3 million procedures and spent nearly $15.4 billion on plastic surgery. And if demand is any indication, people are likely to spend even more going forward.
What Cosmetic Surgery Costs
If you or a loved one has ever had surgery, you know it tends to be expensive.
That's especially true when it comes to cosmetic or plastic surgery procedures. And it's even more true if when you don't have health insurance.
Don't take our word for it. The Chicago Tribune recently researched how much some of the most popular of these surgeries cost. Here's what it found:
A breast augmentation costs about $3,700 per breast.
A nose job costs around $5,000.
Liposuction comes with a price tag of approximately $3,200.
Tummy tucks are among the priciest of these procedures, at $5,800 a pop.
Reader's Digest has weighed in on this issue, too. Some of that publication's findings:
An eyelid lift costs just over $3,000, on average.
Male breast reduction surgery rings in at around $3,500.
An otoplasty ("ear job") costs $3,150
Cosmetic procedures that are minimally invasive cost less. But even then it's not unusual to pay hundreds of dollars per treatment.
A few examples (again, courtesy of Chicago Tribune):
Chemical peels often cost about $675 each.
Laser treatments tend to be a bit cheaper, at around $450.
Microdermabrasion is even better, costing just under $150 (on average) per visit.
And of course your health plan is more likely to refuse coverage for these kinds of procedures than it is for the more serious ones mentioned earlier. So be prepared to pay out of your own pocket if you go through with them.
How to Find Out if Your Health Plan Will or Won't Cover a Cosmetic or Plastic Surgery Procedure
For starters, look over your health insurance policy. See what it has to say about cosmetic or plastic surgery.
If you can't find a printed copy of your policy, by the way, go on line. Check your insurer's website.
Still unsure? Pick up the phone and call the insurance company. Or send an email. Tell them what's going on and what your doctor says should be done about it. Ask if your plan will cover it.
Don't stop there, though. Even if the person on the other end of the phone (or email) says you're covered, ask for as many details as possible. Will you need a second opinion? Does the insurance company need to pre-authorize the procedure? Ask about possible out-of-pocket costs on your end, too.
The last thing you want to do in this kind of situation is rush through the early part of the process. Do that, and you may wind up paying for the whole thing yourself. So, be patient. Be diligent, too. Try to gather as much information as possible about your procedure and how your health plan will or won't cover it before you get it on the calendar.
And, of course, don't be shy. If you have questions, ask someone for answers. That someone might be your doctor, or it might be a representative of the insurance company. Whatever the case may be, make sure you're clear about your role in this--from a price or payment standpoint, especially--well in advance of your trip to the surgeon's office.
Your Options if Health Insurance Won't Cover the Cost of Your Procedure
If the surgery you want or need has any kind of cosmetic component to it, there's a good chance your health plan will refuse coverage.
What can you do if that happens? Here are a handful of options:
Talk with your doctor or physician. See if they can help in any way.
Contact your insurance company. Tell them your story. Explain why you need the surgery. Focus on how it would improve your health or quality of life.
If neither of the above work, try to save up for the procedure so you can pay for it yourself.
Put it on a credit card.
Look into taking out a loan.
Consider the last two bullet points "last resort" options. Especially if the goal of the procedure you want done is to improve your appearance. As nice as it might be to look better, you may go into debt as a result.
References:
QuoteWizard.com LLC has made every effort to ensure that the information on this site is correct, but we cannot guarantee that it is free of inaccuracies, errors, or omissions. All content and services provided on or through this site are provided "as is" and "as available" for use. QuoteWizard.com LLC makes no representations or warranties of any kind, express or implied, as to the operation of this site or to the information, content, materials, or products included on this site. You expressly agree that your use of this site is at your sole risk.