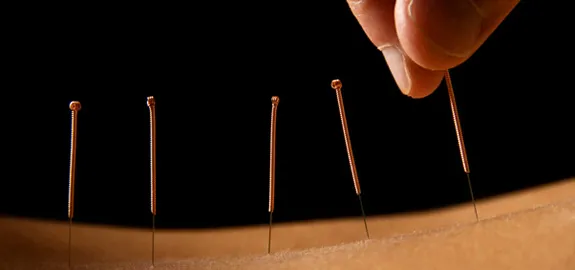 Complementary and alternative medicine (CAM) has become more common in recent years. Naturopathic doctors (NDs) offer treatments that medical doctors may not consider. But getting coverage for your non-traditional treatment is a tough task. Why? Because many types of CAM don't meet strict standards set forth by insurance companies.
The National Center for Complementary and Integrative Health (NCCIH) says that 38 percent of US adults use CAM. If you're one of those people, you need to get the most out of your health insurance. We can help you with that.
What is Complementary and Alternative Medicine?
CAM is an umbrella term for non-conventional medical care. Antibiotics, vaccines, and surgery are modern medicine. Acupuncture, massage therapy, and naturopathy are alternative care.
"The biggest difference between conventional and naturopathic medicine is the basic philosophy," says Heather Flood. She's an ND and resident at Bastyr.
"Naturopathic medicine is about treating the whole person, using lifestyle modifications, believing in our ability to heal, and most importantly, finding the cause for the disease" says Flood. "In conventional medicine, we use palliative treatments, and in some cases that's totally appropriate. But it's not the only option."
Some NDs use only alternative treatments. Others combine naturopathic care with standard medicine. Alternative medicine has many names:
Integrative
Complementary
Functional
Naturopathic
Homeopathic
Natural
Unconventional
Holistic
New age
The Cost of Alternative Medicine
In 2007, the most recent available, Americans spent $33.9 billion out-of-pocket on alternative care. This accounted for over 11 percent of all personal expenses on healthcare. That's a lot.
If you want alternative treatment, do your research to get good care at an affordable cost. The biggest challenge with alternative care is getting it covered.
You can get health insurance coverage for complementary and alternative medicine.
Find low rates with top insurance providers!
Is Alternative Care Covered by my Insurance?
The short answer is maybe. The Affordable Care Act (ACA), or Obamacare, says insurers can't discriminate against licensed health care providers. This includes alternative care providers. However, Obamacare doesn't require insurers to cover that care. Insurers can limit coverage for experimental or unnecessary care.
And many providers do that -- especially with things like music therapy and aromatherapy. Insurers balk at covering treatment that isn't backed by science. Most alternative care isn't backed by science.
The most insured alternative care is chiropractic and acupuncture. But coverage varies depending on your type of plan.
Insurers require that you prove chiropractic care is necessary. For example, Medicare might cover 80 percent of the cost of a chiropractic visit. But only if manipulation of the spine is necessary to correct a subluxation.
That's unfortunate for patients seeking CAM. "What happens when we don't take insurance is we remove a large part of the population that needs help," says Dr. Flood. "In the states that don't have licensure, it's kind of like the wild, wild west."
How to Find Out if Alternative Care is Covered
If you are considering CAM, study your policy. It should outline what kind of treatment your insurance covers.
Most insurance plans only cover 'medically necessary' treatment. Alternative care may not qualify. Some plans exclude naturopaths in their 'definition of a physician.'
If you read your policy and aren't sure what's covered, call your insurer. Ask these questions:
Am I covered for this treatment?
Do I need a referral or prescription from my general practitioner?
Will I have to meet a deductible or pay a copay?
What is my "Out-of-Network" coverage?
Do I have coverage for lab testing?
Am I limited to a certain number of visits?
What are some local providers in my policy network?
What if my Alternative Care Isn't Covered?
If your insurance doesn't cover a treatment you need, find one that does. You can get quotes on different health insurance plans with QuoteWizard.
Sometimes, it's possible to convince your insurer to cover a certain treatment. Have your doctor write a prescription that details your condition and treatment. Some carriers approve care they don't usually cover, if it's doctor prescribed.
You might persuade your insurer to cover a treatment if it saves them money in the long run. Pretend you have back pain, and your insurer won't cover massages or chiropractor visits. If a masseuse or chiropractor is cheaper than surgery and medication, you may have a case for coverage.
If your treatment isn't insured, you may have to pay out of pocket. Ask your doctor for a cash rate. Some alternative care providers have discounts or scaled pricing for patients paying out of pocket.
Medicare, HSA, FSA, and Alternative Medicine
'Experimental' or 'medically unnecessary' treatments aren't covered by Medicare. You need to convince Medicare that alternative care is vital to your health. Since most alternative care isn't backed by science, it's not easy. Medicare offers some coverage for chiropractic care or occupational, speech, and physical therapies.
Using a health savings account (HSA) or flexible spending arrangement (FSA) is a good option to save money on CAM. Contributions to an HSA are tax-deductible, and can be used on alternative care including:
Acupuncture
Aromatherapy
Ayurvedic Medicine
Homeopathy
Nutritional consulting
Traditional Chinese Medicine
An FSA allows you to save tax-free money for health care expenses. HSA and FSAs are common with high-deductible plans. You may need a letter of medical necessity from a doctor to cover CAM with an HSA or FSA.
What kind of Alternative Medicine is Available?
Complementary and alternative medicine (CAM) is a broad term, so many treatments qualify as alternative care:
Massage
Insurance companies may cover massages if physical therapy and medication hasn't helped. About 17 percent of large insurance firms cover massage therapy.
Chiropractic
91 percent of big insurance companies cover prescribed chiropractic care. Most cover between 15 to 25 prescribed visits with a $20 to $30 copay.
Acupuncture
Treatments range between $50 and $150 per session. Only 32 percent of big insurance firms cover acupuncture. Those that do usually limit you to a max of about 20 visits annually.
Biofeedback
Most insurers don't cover biofeedback. The few that do, require a documented condition like migraines or fibromyalgia. Biofeedback sessions cost between $75 and $200. Specific plans with biofeedback coverage do exist.
Naturopathy
NDs have licensure in 19 states. Insurers are more likely to cover a licensed naturopath. Initial visits cost between $150 to $300.
Homeopathy
Homeopathy is only covered by 11 percent of major insurers. Expect to pay for most homeopathic remedies out of pocket.
Hypnosis
Insurers require physician authorization to cover hypnosis. Even then, don't expect your insurance to cover the entire cost. You may have to pay for at least 30 to 50 percent of the cost to see a hypnotist.
More
There are many other examples of complementary alternative care. It's rare to find an insurance plan that covers these treatments:
Herbalism
Tai chi
Yoga
Body movement
Electromagnetic therapy
Aromatherapy
Reiki
Make Sure Your Alternative Medicine Provider is Licensed
Getting healthcare from a licensed professional is crucial for two reasons.
First, you're more likely to get coverage with a licensed ND.
Second, licensed NDs have a naturopathic education and licensing exam. Going to a licensed ND helps ensure you're seeing an expert. Unlicensed naturopaths can make fatal mistakes.
Forty-two states have professional associations for naturopathy. However, that doesn't mean they're licensed. NDs are only licensed in these states and territories:
U.S. Territories: Puerto Rico and U.S. Virgin Islands
Licensed NDs will have attended one of these six accredited institutions:
Boucher Institute of Naturopathic Medicine in Vancouver, British Columbia
Bastyr University in Seattle, Washington
National University of Natural Medicine in Portland, Oregon
Southwest College of Naturopathic Medicine & Health Sciences in Phoenix, Arizona
Canadian College of Naturopathic Medicine in Toronto, Ontario
University of Bridgeport College of Natural Medicine in Bridgeport, Connecticut
National University of Health Sciences in Chicago, Illinois
If you're unsure if your doctor is licensed, call and ask about their licensure.
National Shortage of Physicians
Patients face a shortage of doctors, and it will only get worse. The Association of American Medical Colleges reports that by the year 2025, the need for physicians will have grown by 17 percent. Demand will exceed supply by up to 94,700 doctors.
That's one reason for health insurers to encourage policyholders to see NDs. They can fill the need for primary care providers.
"We have a responsibility to encourage everyone having access to primary care," says Kasra Pournadeali. He's an ND and president of the American Association of Naturopathic Physicians. "With the local, state, and federal shortages we have on primary care physicians, it only makes sense that all physician-level trained providers should be able to administer medical services."
Alternative Care as Primary Care
Dr. Flood says NDs train as primary care providers. This makes them valuable when the demand for doctors outweighs the supply.
Medical doctors spend their first two years learning core subjects. In their third and fourth years they rotate through potential specialties. Students then choose an area of focus and spend three to five years perfecting it in residency.
Primary care, practiced as family or general medicine, isn't a popular choice for residency. Hence, the lack of primary care doctors and impending shortage.
Licensed NDs attend a four-year program at a school like Seattle's Bastyr University. Their first two years focus on basic medical knowledge and alternative medical therapies. Courses include anatomy, physiology, and biochemistry as well as homeopathy, Chinese medicine, and hydrotherapy.
The third and fourth years are more hands on. Students work with patients and learn to conduct physical exams.
Some naturopaths focus on fields like oncology or women's health. But they pursue these areas only after graduation. "There are no specialties in naturopathy," says Dr. Flood. "The whole focus of the degree is on primary care. Students step out the door with primary care and then they can narrow and train."
"We try and spend enough time with a person so that we can tease out the details of a patient's history," says Dr. Pournadeali. "A new patient appointment is an hour. Return patient appointments are typically a half hour. We don't double-book patients. We try to be completely focused on the person sitting across from us."
Criticisms of Complementary and Alternative Medicine
Naturopathy is a contentious practice. Critics argue that naturopathy isn't backed by science and has no benefits beyond placebo.
They also question the extent of educational standards and licensure requirements for NDs. Many naturopathic treatments are not FDA approved. Some NDs oppose traditional medicines such as vaccines.
"Naturopaths are not qualified to provide medical care, despite insisting they are trained in a manner that makes them medically competent," says Britt Marie Hermes. She is a former naturopath turned vocal critic of alternative medicine.
Hermes is the author of Naturopathic Diaries, a watchdog blog focused on naturopathy. "Naturopaths use a variety of disproved, experimental, and pseudoscientific methods in their practices, which have been known to cause harm and wasteful spending," she says.
There are cases where a naturopath's patient has died due to a lack of traditional medical care. When considering naturopathy, experts suggest you do so together with standard care. You should be aware of the risks that can be associated with naturopaths.
"It is essential for patients to understand that naturopaths do not attend medical school and that the naturopathic schooling system operates against the scientific consensus" says Britt. "Naturopathic training is not equivalent to medical training. Despite what they advertise to the public, naturopaths are not primary care providers. Naturopaths receive far less clinical training than PCPs in terms of quantity and quality."
Frequently Asked Questions
Q: What are the benefits of seeing a naturopath?
A: Naturopathic care combines traditional and modern knowledge of medicine. Most NDs draw from many schools of thought to treat people. This gives them a variety of disciplines to treat patients holistically. They may offer treatment options that standard medical doctors won't.
Q: Will my health insurance cover a naturopathic doctor?
A: Some insurers cover naturopathy and some don't. To find out if you're covered, review your policy. If it's not clear, call your insurance company and ask what is and isn't covered. You may have to convince them that your alternative care is necessary.
Insurers are much more likely to cover licensed NDs. Remember that when looking for alternative care.
Q: Should I See a Naturopath?
A: Everyone has different medical needs. Whether or not a naturopath is a good fit depends on what kind of care you're seeking. People choose naturopathic care for many reasons:
Bad experiences with traditional doctors in the past
Finding alternatives to medication with severe side effects
Getting treatments beyond what their medical doctor offers
Hearing a second opinion
Trying a new primary care physician
However, licensed NDs might not be available where you live. NDs aren't licensed in every state, which can impact the quality of their care. Also, naturopathy is not free of controversy. Do your research on prospective NDs before making an appointment.
Q: What if my insurance doesn't cover my alternative care?
A: If your insurance doesn't cover alternative care, consider switching providers. Why pay for health insurance if you can't get the care that you need? You can easily get quotes for a new health insurance plan through QuoteWizard
While searching for insurers, make sure they'll cover your alternative care. Shopping around will help you find insurers that are open to alternative healthcare. You can also find lower rates by comparing quotes.
Q: How can I find out if my health insurance policy covers naturopathic care?
A: Review your policy. If you're still unsure, contact your insurer. Ask these questions:
Am I covered for this treatment?
Do I need a referral or prescription from my general practitioner?
Will I have to meet a deductible or pay a copay?
Am I limited to a certain number of visits?
What are some local providers in my policy network?
What is my "Out-of-Network" coverage?
Do I have coverage for lab testing?
Q: How do naturopathic doctors differ from traditional doctors?
A: Naturopaths believe that disease can be treated without modern medicine. They stress a natural and holistic approach to healing. They search for the cause of the disease, use lifestyle modifications, and prescribe natural remedies.
Some naturopaths believe that MDs focus more on palliative care and treating the symptoms of illness. Others use science-based medical practices alongside their holistic approach. Each naturopath is different.
Q: Do naturopaths need a license to treat patients?
A: No. 19 states plus the District of Columbia, Puerto Rico, and the US Virgin Islands currently license NDs. However, licensure isn't required. In some states unlicensed NDs can still practice as long as they disclose their lack of licensure to patients.
References:
QuoteWizard.com LLC has made every effort to ensure that the information on this site is correct, but we cannot guarantee that it is free of inaccuracies, errors, or omissions. All content and services provided on or through this site are provided "as is" and "as available" for use. QuoteWizard.com LLC makes no representations or warranties of any kind, express or implied, as to the operation of this site or to the information, content, materials, or products included on this site. You expressly agree that your use of this site is at your sole risk.