Key findings:
Health insurance companies report doubling billion-dollar profits during the pandemic in Q2 2020 compared to Q2 2019.
Since 2009, employer health care premiums rose 57%, or an average of $7,459 per year.
United Healthcare reported a medical loss ratio of 70.2%, accounting for its record profits in Q2 2020.
The Affordable Care Act mandates insurance companies return 80% of profits back to policyholders in the form of rebates.
Hospital debt increased from $617 million in 2015 to $56 billion in 2018.
How health insurance companies are making billions during the pandemic
During the pandemic, we've seen millions contract COVID-19 and file for unemployment, and small businesses fight to stay open. With many in the U.S. struggling during the pandemic, it's health insurance companies that are thriving. Top health insurance companies UnitedHealth Group, Humana and Anthem reported billion-dollar second-quarter profits that doubled year over year. How is it that health insurance companies could be raking in massive profit during a pandemic that is seeing hospital capacity overwhelmed, people losing employer health insurance and unpaid health care piling up?
The reasons cited by executives from the largest health insurers is that people avoided expensive elective surgeries and routine medical visits during the pandemic. This led to a significant drop in insurance claims paid out by health insurance companies. Fewer claim payouts means extra profits. The optics on health insurance companies bringing in billions in profit during a pandemic don't look great. However, there is a law under the Affordable Care Act (ACA) that caps an insurance company's profits. The medical loss ratio requirement under the ACA limits insurance companies to spending at least 80% (85% for large employer health plans) of premium income on health care claims. The remaining 20% of income can be used for administrative, marketing and profits.
In Q2 2020, UnitedHealth Group had a medical loss ratio of 70.2%. Under the ACA law, UnitedHealth Group would have to take the 10% difference up to the 80% required loss ratio and reimburse policyholders. Medical loss ratio rebates for individual and group insurance policyholders are common practice. Insurance companies are expected to pay out over $2.7 billion in rebates in 2020, with higher expected rebates in the coming years, as 2020 profits are paid out over a three-year period. Medical loss ratio rebates are projected to amount to $340 per policyholder in 2020.
Even with paying out rebates as a percentage of profits, the high dollar figures in profit mean insurance companies are taking in greater profits than previous years. For insurance companies to continue operating under these profit margins, the cost of health insurance has to keep up. For policyholders, the rebates are a nice give-back to offset health insurance premiums. However, the rebates are mostly offset by increasing costs of health insurance premiums.
Health insurance premiums continue to rise as insurers profit
We here at QuoteWizard analyzed State Health Access Data Assistance Center data on annual average costs of employer health insurance plans. We looked at the average costs of a family insurance plan from a period of 2009 to 2019 to evaluate the growth rate of insurance plan costs. Each state was evaluated over the 10-year time period to see which states saw the largest growth in health insurance premiums. From 2009 to 2019, every state saw at least a 37% increase in health insurance premiums and a 78% increase at the high end. Kaiser Family Foundation projected a $340 medical loss ratio rebate in 2020 on $2.7 billion in total rebate dollars. The 2020 figures are nearly double those of 2019 and exponentially larger than the previous nine years dating back to 2012. These estimated rebate figures are a significantly small percentage of overall health insurance premiums. By rough estimates on the individual market plans, rebates could amount to less than 3% of the total premium. Even by generous compounding figures over a 10-year period, the rebates are offset with increased premiums and then some.
Insurance companies are set up to operate on margins that react to the cost of health care. When hospitals raise their costs of health care to offset their debt margins, insurance companies raise premiums to account for rises in health care. When health care costs rise, so do costs of health insurance premiums. It's estimated that unpaid healthcare debts account for $35 billion annually. These costs then fall back on individual and employer policyholders in the form of higher premiums. Higher health care costs become more burdensome on individuals once a deductible is reached and coinsurance is a shared cost.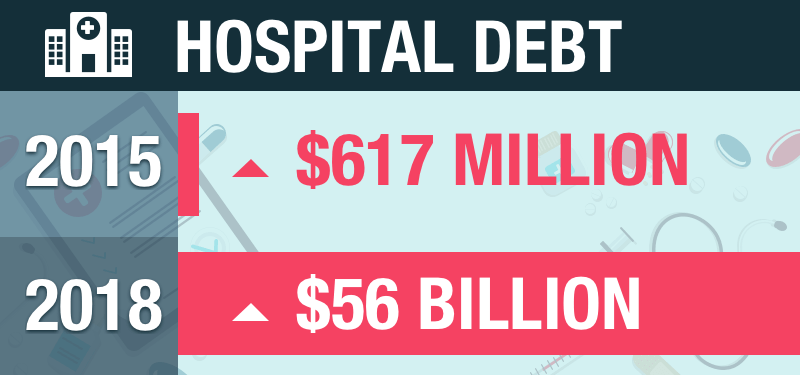 The profits of health insurance are coming at a time where millions are now without insurance and hospital debts were mounting even before unexpected costs of COVID-19. On our current trajectory, health insurance is only going to get more expensive as health care costs continue to rise. The case for "healthcare for all" could resonate more and more as costs continue to burden the policyholder.
States with largest increases in health premiums
Rankings below are based on which states saw the largest increase in employer sponsored family health insurance premiums from 2009 to 2019.
| Rank | State | 2009 Average Cost | 2019 Average Cost | % Increase |
| --- | --- | --- | --- | --- |
| 1 | Montana | $11,365 | $20,193 | 77.7% |
| 2 | South Dakota | $11,596 | $20,265 | 74.8% |
| 3 | Oklahoma | $11,417 | $19,819 | 73.6% |
| 4 | South Carolina | $12,343 | $20,973 | 69.9% |
| 5 | New York | $13,757 | $22,874 | 66.3% |
| 6 | Kentucky | $12,407 | $20,612 | 66.1% |
| 7 | Ohio | $11,870 | $19,621 | 65.3% |
| 8 | California | $12,631 | $20,788 | 64.6% |
| 9 | Indiana | $12,872 | $21,169 | 64.5% |
| 10 | Hawaii | $11,826 | $19,243 | 62.7% |
| 11 | Delaware | $12,682 | $20,628 | 62.7% |
| 12 | West Virginia | $12,554 | $20,403 | 62.5% |
| 13 | Arkansas | $10,969 | $17,773 | 62.0% |
| 14 | Idaho | $11,887 | $19,258 | 62.0% |
| 15 | Alaska | $14,182 | $22,969 | 62.0% |
| 16 | Missouri | $12,353 | $19,900 | 61.1% |
| 17 | New Jersey | $13,750 | $22,060 | 60.4% |
| 18 | Florida | $12,912 | $20,714 | 60.4% |
| 19 | Kansas | $11,829 | $18,867 | 59.5% |
| 20 | North Dakota | $11,590 | $18,400 | 58.8% |
| 21 | Nebraska | $12,227 | $19,398 | 58.6% |
| 22 | Texas | $13,221 | $20,966 | 58.6% |
| 23 | Virginia | $12,622 | $19,865 | 57.4% |
| 24 | Utah | $11,869 | $18,674 | 57.3% |
|   | United States | $13,027 | $20,486 | 57.3% |
| 25 | Minnesota | $13,202 | $20,751 | 57.2% |
| 26 | Washington | $12,758 | $20,033 | 57.0% |
| 27 | Pennsylvania | $13,229 | $20,673 | 56.3% |
| 28 | Arizona | $12,813 | $19,966 | 55.8% |
| 29 | Iowa | $12,036 | $18,752 | 55.8% |
| 30 | Michigan | $13,160 | $20,425 | 55.2% |
| 31 | Tennessee | $12,134 | $18,748 | 54.5% |
| 32 | Georgia | $12,792 | $19,720 | 54.2% |
| 33 | Maine | $13,522 | $20,731 | 53.3% |
| 34 | North Carolina | $13,087 | $19,996 | 52.8% |
| 35 | Connecticut | $14,064 | $21,363 | 51.9% |
| 36 | Oregon | $12,783 | $19,405 | 51.8% |
| 37 | Colorado | $13,360 | $20,171 | 51.0% |
| 38 | Illinois | $13,708 | $20,659 | 50.7% |
| 39 | Rhode Island | $13,608 | $20,481 | 50.5% |
| 40 | New Mexico | $12,848 | $19,185 | 49.3% |
| 41 | Alabama | $11,978 | $17,734 | 48.1% |
| 42 | Nevada | $12,700 | $18,720 | 47.4% |
| 43 | Vermont | $14,558 | $21,419 | 47.1% |
| 44 | Maryland | $13,833 | $20,285 | 46.6% |
| 45 | Massachusetts | $14,723 | $21,424 | 45.5% |
| 46 | New Hampshire | $13,822 | $20,078 | 45.3% |
| 47 | Mississippi | $12,590 | $17,860 | 41.9% |
| 48 | Wyoming | $14,319 | $19,925 | 39.2% |
| 49 | Wisconsin | $14,656 | $20,345 | 38.8% |
| 50 | Louisiana | $13,846 | $19,032 | 37.5% |