The drug epidemic in the United States has been a persistent problem spanning several decades. But it's significantly worsened over the past few years. According to our team of analysts, there has been a staggering 63% increase in overdose deaths since 2018, with the annual toll now exceeding 110,000 deaths.
Key findings:
Nationwide, 110,469 people died of an overdose in the last 12 months.
Washington, Oregon and Nevada have seen the most significant increases in overdose deaths over the last year.
Arkansas, Virginia and Indiana saw the biggest decreases in overdose deaths.
South Dakota, Nebraska and Iowa have the highest rates of overdose deaths.
Combined, opioids account for nearly 70% of overdose deaths.
The change in overdose-related deaths has impacted each state differently. Washington and Oregon have seen overdose deaths increase by more than 20% over the last year, as opposed to 26 states which saw a decrease during that time. Arkansas and Virginia have seen deaths decline by as much as 14% in the last year. South Dakota, Nebraska and Iowa have the highest overall rates of overdose deaths.
Overdose deaths, 2022-2023
State
Number of deaths
% change
Washington
3,024
28%
Oregon
1,470
20%
Nevada
1,222
19%
Alabama
1,558
14%
Oklahoma
1,171
12%
Texas
5,727
12%
Maine
695
12%
Delaware
556
10%
Vermont
271
8%
New York
3,556
7%
Wyoming
123
7%
Kansas
737
4%
Massachusetts
2,673
3%
Alaska
264
3%
California
12,379
3%
Minnesota
1,387
3%
Georgia
2,610
3%
South Carolina
2,320
3%
Hawaii
294
2%
Missouri
2,231
1%
Arizona
2,797
1%
Nebraska
218
1%
North Dakota
139
1%
Tennessee
3,917
0%
West Virginia
1,448
-2%
North Carolina
4,091
-2%
Kentucky
2,323
-2%
Michigan
3,047
-3%
New Hampshire
468
-3%
Idaho
371
-3%
Ohio
5,137
-3%
Pennsylvania
5,237
-4%
Connecticut
1,471
-5%
Illinois
3,863
-5%
Mississippi
692
-5%
Colorado
1,827
-6%
Florida
7,915
-6%
New Jersey
2,913
-6%
Utah
650
-6%
Rhode Island
443
-7%
Wisconsin
1,749
-7%
Maryland
2,488
-9%
Louisiana
2,325
-9%
New Mexico
984
-10%
Iowa
442
-11%
South Dakota
88
-12%
Montana
178
-13%
Indiana
2,495
-13%
Virginia
2,203
-14%
Arkansas
553
-14%
United States
110,469
0%
Methodology: Data was sourced from the Centers for Disease Control and Prevention. Drug overdose deaths over the last 12 months are between the months of April 2022 and March 2023.
Overdose deaths over time
Opioid deaths have increased dramatically since 2015. There were 52,000 overdose-related deaths in 2015, compared to 110,469 in the last 12 months. The most significant increase in overdose deaths came at the height of the coronavirus pandemic. Between 2019 and 2020, overdose deaths increased by 30%.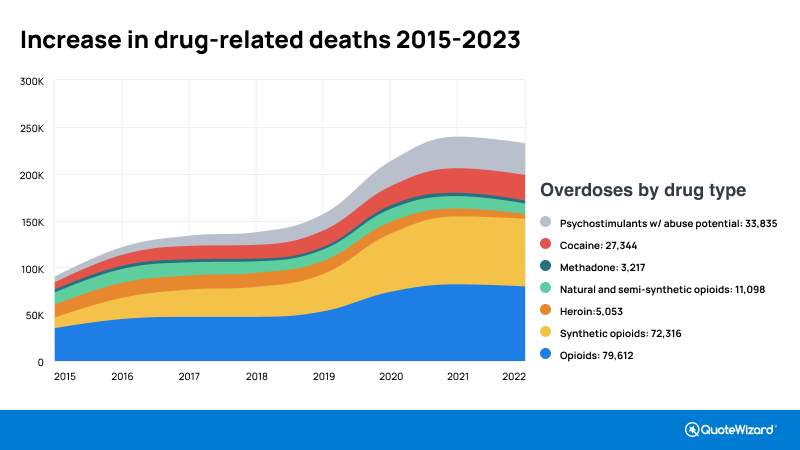 Opioids are the leading cause of overdose deaths. Since 2015, opioids have accounted for nearly 80,000 deaths, or 34% of all drug overdoses. If we factor in synthetic, natural and semi-synthetic opioids, then the number of opioid-related deaths since 2015 rises to 160,000 — 70% of all overdose deaths.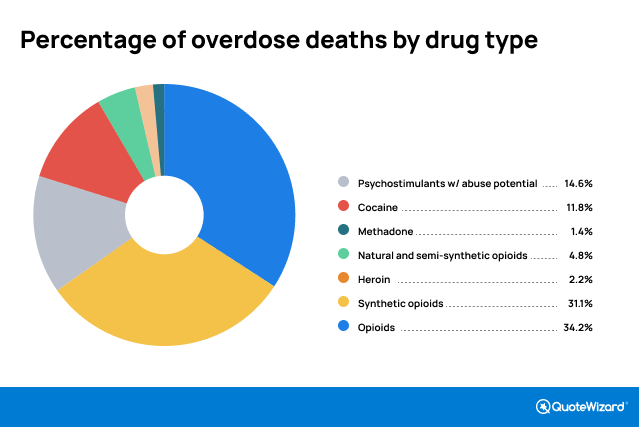 The dramatic rise in opioid-related overdose deaths hasn't gone unnoticed. President Joseph R. Biden unveiled a five-part plan to address the growing number of overdose deaths. One key component of the plan is a $125 billion expansion of prevention, treatment and recovery services. Health care coverage varies by state, but most health insurance plans cover substance abuse treatment. If you or someone you know is struggling with substance abuse, please consult the resource below.
Substance Abuse and Mental Health Services Administration (SAMHSA)
Will my health insurance cover substance abuse treatment?
Substance abuse is a serious issue that affects many Americans. Fortunately, getting insurance to cover the cost of substance abuse treatment is becoming easier.
In the past, insurance companies offered little or no coverage for substance abuse treatment. But a law that took effect in 2010 changed all that. Obamacare offers ways to connect people who want to buy health insurance with companies that sell it. Insurance companies that want to participate in the ACA Marketplace must cover 10 important health issues. These include mental health and addictions.
In addition, all state Medicaid programs must offer mental health care. Some of them also offer substance abuse help. Insurance companies that choose not to be part of the ACA Marketplace often cover addiction treatment as well.
Types of substance abuse treatment
Types of drug abuse care that insurance may cover are:
Inpatient care at an approved facility
Outpatient care from an approved provider
Medical detoxification medicines and treatment
Individual or group counseling
Maintenance medications
In-network and out-of-network
Insurance companies often have special connections with certain providers. These connections are the difference between "in-network" and "out-of-network" providers.
The difference usually has an effect on how much you pay and how much coverage your plan offers. Whether a therapist is in or out of the network might limit the number of counseling sessions your insurance pays for. In-network providers are your best option when it comes to cost. If you aren't sure if a doctor or clinic is in-network, it's a good idea to call your insurance company.
The insurance company phone number is usually on the back of your insurance card. Ask them for the "summary plan description" and "summary of benefits and coverage" sheets for your plan. This information might also be available online.
You could also ask the provider if they know which services are covered. This can save you a lot of time, money and worry.
If your health plan won't pay for a certain service that you need, you can appeal a denied claim. That means you can ask the insurance company to take another look at their decision not to pay. They might change their decision. This is a legal right. Call your health plan and ask how to submit an appeal.
Will my insurance company pay for an Antabuse prescription?
If you have insurance, it's very likely that your health plan will pay for Antabuse, an FDA-approved drug used to treat alcohol dependence. You will still have to pay a copay. Using a mail-based pharmacy service can save you some money on copayments.
Medicare also pays for Antabuse and a number of other medicines that treat substance abuse.
Are you uninsured? The nonprofit organization NeedyMeds might be able to help you get Antabuse or other medicines for little or no cost.
Methodology
Overdose death statistics were compiled using data provided by the Centers for Disease Control and Prevention. Data was then broken down on a state-by-state and year-over-year basis.
QuoteWizard.com LLC has made every effort to ensure that the information on this site is correct, but we cannot guarantee that it is free of inaccuracies, errors, or omissions. All content and services provided on or through this site are provided "as is" and "as available" for use. QuoteWizard.com LLC makes no representations or warranties of any kind, express or implied, as to the operation of this site or to the information, content, materials, or products included on this site. You expressly agree that your use of this site is at your sole risk.