Does My Health Insurance Cover Physical Therapy?
There's no question physical therapy helps millions of people relieve pain, restore function, and improve mobility each year. That doesn't mean health insurance always covers its costs, unfortunately. Here's all you need to know about how these plans treat--or don't treat--this kind of care.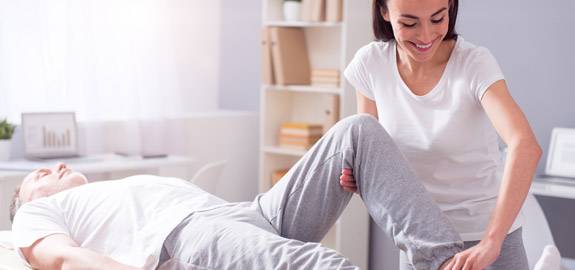 Considering how helpful it can be, it's no wonder millions of Americans seek out physical therapy every year.
After all, today's physical therapists go far beyond treating the bad backs, necks, and other body parts of athletes, workers, and even average citizens.
In fact, you may be surprised by some of the ailments and conditions physical therapy commonly aids these days:
arthritis
burns and wounds
carpal tunnel syndrome
chronic obstructive pulmonary disease (COPD)
headaches
incontinence
lymphedema
musculoskeletal disorders
osteoporosis
pelvic pain
stroke
traumatic brain injury
It also regularly helps children with motor development and function. And it helps people of all ages deal with balance issues or recover from dislocations and fractures.
Find affordable medical coverage for physical therapy.
Get peace of mind by comparing health insurance plans.
There's more to physical therapy than relieving pain, restoring function, and improving mobility, though. It's also used to:
identify and diagnose problems and issues
prevent injuries and disabilities
alleviate chronic disease
reduce the need for prescription medications (opiates, in particular)
maintain overall fitness and health
And then, of course, there's the fact that physical therapy can, and increasingly does, offer an alternative to surgery.
For example, according to moveforwardpt.com, treatment by a physical therapist is as effective as going under the knife when it comes to the following conditions:
meniscal and rotator cuff tears
spinal stenosis
degenerative disk disease
The Basics of Health Insurance and Physical Therapy
As beneficial as physical therapy is, that doesn't always guarantee health insurance will cover it.
What is true of many forms and kinds of health care is true here, too: some insurance policies cover physical therapy and some don't. And some health plans cover some types of physical therapy but not others.
Also, whether or not a specific plan picks up some or all of the costs of physical therapy depends on a number of factors.
One factor is the type of plan. Employer-sponsored or job-based policies are more likely than most kinds of health insurance policies to pay for this care.
Individual policies, especially ones that are bought from the federal--or state--marketplace, often cover it, too, but they don't always cover it well. (Don't worry, that'll be explained shortly.)
If you're on Medicare, you're in luck. Medicare Part B, in particular, covers many forms of physical therapy. A number of caps, exceptions, and restrictions are tied to this coverage, though. So carefully read the section below if you're currently on Medicare or will be on it soon and you need it to pay for this sort of care.
People on Medicaid aren't so lucky. Federal law treats physical therapy as an "optional benefit" in terms of this program. That means states can choose to cover it or not. Some do, but many do not.
Keep reading to learn more about how these different health insurance plans do and don't cover physical therapy.
Job-Based Health Insurance and Physical Therapy Coverage
Most people in the U.S. get health coverage through their jobs. According to various sources--like the Henry J. Kaiser Family Foundation, the Los Angeles Times, and the Urban Institute--that's how around 50 percent of Americans currently gain access to this sort of insurance.
This is good news for a lot of reasons--one of which is it means they probably won't have to worry about paying out of pocket for visits to a physical therapist should they be needed.
Large employers, especially, have long included coverage for physical therapy in their health plans to attract talent and compete with other companies and organizations.
The same hasn't always been true of smaller employers, but that's in the past now thanks to the passage of the Affordable Care Act in 2010.
How exactly did Obamacare change things in this area? The most noteworthy and relevant example is that the law established something called essential health benefits (EHBs). They include:
ambulatory patient services (care you get without being admitted to a hospital)
emergency services
hospitalization
pregnancy, maternity, and newborn care
mental health and substance use disorder services (including counseling and psychotherapy)
prescription drugs
rehabilitative and habilitative services and devices
laboratory services
preventive and wellness services, as well as chronic disease management
pediatric services, including oral and vision care
All health insurance plans sold through the federal marketplace or the state exchanges have to cover these 10 categories of services. Small group plans--those for businesses with 50 or fewer employees--have to cover them, too.
The "rehabilitative and habilitative services and devices" category includes physical therapy, by the way. Which means almost all small group health plans, as well as those sold through the marketplaces created by Obamacare, now have to cover that kind of care in some form or fashion.
Before Obamacare became law, that wasn't the case. In fact, many insurance companies serving these markets either didn't cover things like physical therapy or charged high deductibles or copayments for them.
Don't take this to mean all small group health insurance plans fully cover or pay for all kinds of physical therapy. A few still don't have to cover it all--if they're considered "grandfathered." (Grandfathered plans are ones that existed before the ACA was enacted in 2010.)
Even the ones that do have to cover physical therapy, though, are likely to differ in how they cover it. Although they can't put dollar limits on this kind of coverage thanks to the ACA, they're still allowed to set limits on how often or how many times a policyholder receives treatment.
This is because the law says these EHBs should reflect the benefits of a typical employer-sponsored health plan. "So, to the extent that employer plans limit the number of visits, it's likely that there will be some sort of limits on essential benefits, too," Jennifer Tolbert, associate director of the Kaiser Family Foundation, told the New York Times .
As for larger employers' health plans, there's nothing but competition keeping them from placing various caps, limits, or other restrictions on this type of care. So don't sign up for job-based health coverage assuming it offers unlimited coverage of physical therapy.
That said, many industry experts expect insurers to continue to expand, rather than reduce, their health plans' offerings in this way over time. As Shana Alex Lavarreda, Ph.D., director of health insurance studies for the UCLA Center for Health Policy Research, told AARP, "the essential health benefits set a standard for insurance. Anything below that is not true health insurance."
More on Obamacare Health Plans and Physical Therapy
A few other things that need to be said about how Obamacare and other individual health insurance plans do and don't cover these services:
They can't put dollar limits on the care you receive from a physical therapist.
They can cap how many times you visit one, though.
They also can restrict which treatments they cover.
They may only reimburse you for these visits if you use in-network providers.
In other words, even with this kind of coverage, you might be responsible for 100 percent of the costs associated with your physical therapy.
The amount you pay has to count toward your plan's deductible (or coinsurance), but that's about the only requirement here.
Medicare and Physical Therapy
First, the good news: Medicare Part B helps pay for physical therapy. It also helps pay for occupational therapy and speech-language pathology services.
Now for the not-so-good news: for Medicare Part B to pick up even part of the bill, yours has to be outpatient therapy. (You can't get it while admitted to a hospital.) It must be "medically necessary," too.
Also, Medicare limits how much of this care it'll cover. In 2017, the "therapy cap limit" for physical therapy is $1,980.
What if you hit that ceiling in a given year? One option is to ask for an exception. To do this, your therapist or therapy provider must offer documentation that shows their services are medically reasonable and necessary. If Medicare agrees, it'll continue to pay its share of your therapy costs after you reach the cap limit.
Therapists and other care providers must tell you if they think Medicare won't pay for a service or treatment. This is likely because isn't medically reasonable and necessary for you. After you get this "Advance Beneficiary Notice of Noncoverage," you can choose to go ahead with the therapy or not. Just know that if you agree to receive care in this situation, you'll probably have to pay out of pocket for it.
To learn more about what Medicare is and what it does and doesn't cover, read our article, "Everything You Need to Know about Medicare."
Medicaid and Physical Therapy Coverage
The federal government manages Medicare. Individual states manage Medicaid, although they have to follow federal guidelines and requirements while doing so.
That, combined with the fact that the federal government considers physical therapy an optional, rather than a mandatory, benefit, explains why the two programs treat coverage of it differently.
Specifically, some states choose to offer services like physical therapy as a Medicaid benefit, while others don't.
Unfortunately, even if your state's Medicaid program currently covers physical therapy, that's no guarantee it'll continue to cover it down the road. Legislators at both the federal and state level often target Medicaid spending while working to curb or control health care costs.
Given physical therapy's status as an optional benefit, it's more likely than most other services to be cut or eliminated.
Physical Therapy Costs
How much you or your insurance company pays for physical therapy depends on a handful of factors. Among them:
The type of therapy
The length of each session
The overall length of treatment
The care provider
The type of therapy matters because some types cost more than others. Also, longer sessions usually cost more than shorter ones. And if your rehabilitation or recovery requires you to visit your therapist a number of times, the overall cost of your treatment will be higher than if it only requires one or two visits. Finally, different therapists or providers charge different amounts for their services.
A couple of other components that determine how much physical therapy costs:
whether or not you need to buy medical supplies or equipment
whether you're getting it at an in-network or out-of-network clinic or provider
whether it's being performed in a clinic or in a hospital
whether you have insurance or you're paying in cash (out of pocket)
You obviously don't need to have health insurance to see a therapist, but you'll often pay more per visit if you don't have it. That's because insurers negotiate with care providers before settling on a rate. Of course, you can do this, too, but it won't always result in a lower bill. Still, it's worth trying if you're uninsured and need care.
All that said, if you're going to pay out of pocket for physical therapy, expect to pay at least $50 and as much as $350 or more per session.
If you have health insurance, expect to hand over a copay each time you go in for treatment. Many plans attach copayments of $10 to $50 for this kind of care, but some charge more.
Frequently Asked Questions
Q: Does health insurance bought through the federal marketplace cover physical therapy?
A: Thanks to the essential health benefits established by the ACA or Obamacare, yes, marketplace--and state exchange--plans have to cover physical therapy. This doesn't mean these plans to pay 100 percent of the costs of any treatments you receive, however. It just means any amount you pay for physical therapy has to count toward your plan's deductible or coinsurance. As a result, expect even marketplace or exchange plans to differ when it comes to the scope and quantity of services they cover.
Q: Does Medicare cover physical therapy?
A: Yes, but there are restrictions and limitations. The therapy must be provided on an outpatient basis. Also, it has to be medically necessary. Medicare places a cap on how much of this kind of care it'll cover in a given year, too.
Q: Does Medicaid cover physical therapy?
A: It depends on where you live. The federal government doesn't force states to cover physical therapy via their Medicaid programs, so some choose to offer it as a benefit and some don't. To find out which is true where you live, call your state's Medicaid office.
Q: How much does physical therapy usually cost?
A: Do you have insurance, or will you pay for treatment out of your own pocket? If you're insured through work, you'll probably only have to cover a copay of $10 to $50 per session. Some plans won't kick in until you reach your deductible, though, which could add to your costs as well. One other factor to keep in mind: if you receive this care outside your insurer's network, you'll pay more than if you get it from an in-network provider.
If you have to pay out of pocket for physical therapy, look for your bill to be somewhere between $50 and $350 or more per session. How much you pay in this situation depends on a number of factors (explained above), so do your research and ask plenty of questions before you schedule anything.
Q: What can I do if my health plan won't cover physical therapy?
A: If you can't convince your insurance company to pay for your treatment (assuming that's even possible), talk with the provider about your situation and see if they'll work with you on what they charge. Ask for a discount that's equal to what they'd write off if you had insurance. Or offer to pay on the spot and in cash, which keeps them from having to bill you and saves them money in other ways, too.
Another idea: contact colleges and community clinics in your area. Some provide this kind of care free of charge--or at least charge less than your typical therapist.
Q: If Congress repeals and replaces Obamacare, could it impact how my health insurance plan covers physical therapy?
A: It could. This is especially true if you bought your policy through the federal marketplace or a state exchange, or if you get your health insurance through a small employer.
Obamacare requires these plans to cover 10 essential health benefits or EHBs - one of which is physical therapy. Many of the Obamacare replacements legislators have proposed to date removed the EHB requirement. Should one become law, states could decide which benefits are essential and which aren't. That would put coverage of things like physical therapy in jeopardy for many Americans.
Some experts say this could impact other health plans, too--even those provided by large employers. Specifically, it could prompt certain insurers scale back coverage in various areas, including this one, to raise profits or to rein in spending.
QuoteWizard.com LLC has made every effort to ensure that the information on this site is correct, but we cannot guarantee that it is free of inaccuracies, errors, or omissions. All content and services provided on or through this site are provided "as is" and "as available" for use. QuoteWizard.com LLC makes no representations or warranties of any kind, express or implied, as to the operation of this site or to the information, content, materials, or products included on this site. You expressly agree that your use of this site is at your sole risk.