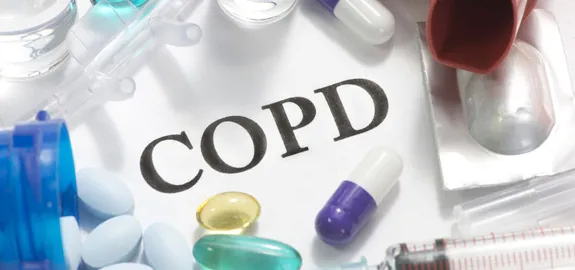 According to the American Lung Association, more than 11 million people in the US are living with chronic obstructive pulmonary disease, or COPD. And according to NPR, one in nine enrolled in Medicare can say the same.
Now consider that just short of 60 million Americans are on Medicare.
The point of all this number-crunching: to make it clear that a lot of people with COPD are Medicare enrollees. As many as six million (or more), in fact.
If you're one of them, you're in luck. That's because Medicare covers many of the screenings, treatments, equipment, and services COPD patients rely on to keep their symptoms under control.
And depending on your plan, it might cover the COPD medications you take for the condition, too.
Want to know more? Keep reading to learn about:
How Medicare Part A and Part B cover COPD
How Medicare Advantage and Medicare Supplement plans cover COPD
Which Medicare plans do and don't cover COPD medications
Which COPD services, treatments, equipment, or drugs Medicare doesn't cover
When and how Medicare covers COPD prevention
What you can do if Medicare doesn't cover the COPD medications, treatments, or services you need
How Does Medicare Cover COPD in General?
In general, Medicare does a really good job of covering COPD treatment.
The thing is, Medicare is made up of a number of different components and plans. First, there's Original Medicare, or Medicare Parts A and B. There's also Medicare Part D, which covers prescription drugs. And then there's Medicare Part C, too. You might know it as Medicare Advantage instead. Finally, there's Medicare Supplement insurance – also called MedSup or Medigap.
You'll learn more about all these plan types and how they cover COPD care in the next few sections.
Want to bone up on Parts A, B, C, and D, as well as Medicare Supplement, first? Read through our Medicare guide.
How Does Medicare Part A Cover COPD?
As you may or may not know, Medicare Part A covers most of the care you receive in a hospital or skilled nursing facility. It also covers some home health and hospice care.
What does that mean if you're diagnosed with this COPD, which often is caused by smoking?
For the most part, it means your Part A coverage will pay for (or help you pay for) health care you receive if your COPD symptoms force you to be admitted to a hospital as an inpatient.
It'll also cover some or all of the care you receive if your COPD symptoms put you in a skilled nursing facility for a short amount of time.
As for home health services tied to your COPD care, Part A usually only covers this if you're homebound. (And your doctor or physician certifies you're homebound.)
Also, depending on your situation, you may need to use Part A coverage to pay for these services, or you may need to use Part B coverage. Or you may need to use both.
In other words, if you need home health care to help with your COPD treatment, don't be shy about reaching out to a Medicare representative for clarity in this area.
If you're wondering what you'll pay for COPD treatment or services you receive as a hospital inpatient, a short-term patient in a skilled nursing facility, or a home-health patient, here's the gist: the cost is rolled into your Part A deductible and coinsurance charges.
How Does Medicare Part B Cover COPD?
People often call Medicare Part B "medical insurance." It covers doctor and physician visits, services and supplies needed to diagnose or treat medical conditions, and preventive care.
If you're at risk of developing COPD or you think you might have it for some other reason, your Part B plan should cover the physical exam and lab tests that need to be done to diagnose it.
Your Part B coverage will help you pay for several COPD treatments and services, too. For example, your doctor or physician may recommend that you start pulmonary rehabilitation. This kind of program combines education, physical training, nutrition advice, and counseling, says lung.org. The goal: to teach people living with a chronic lung disease like COPD to breathe easier, exercise, and eat well.
Seems important, right? Well, Medicare Part B will help you pay for a pulmonary rehab program if your COPD is moderate to severe.
How much do you have to pay in this situation? According to medicare.gov:
If this rehab is done in a doctor's office, you'll pay 20 percent of the Medicare-approved amount for it.
If it's performed in a hospital outpatient setting, you'll owe the hospital a copayment for each session, too.
You also have to pay toward your Part B deductible for this kind of care.
Some of the other vital services Medicare Part B covers for people who have COPD:
Oxygen equipment and accessories
Many people with COPD use oxygen some or most of the time to help them breathe better or more easily.
Some good news for those who have Medicare Part B: it covers the rental for prescribed oxygen equipment.
It also pays for "oxygen contents and supplies" if you own your own equipment and you meet these conditions, according to medicare.gov:
Your health might improve with oxygen therapy
Your arterial blood gas level falls within a certain range
Other alternative measures have failed
Medicare Part B also pays for humidifiers when they're used along with oxygen equipment to treat COPD and other chronic and severe lung diseases.
As is the case with Part B coverage and pulmonary rehab, you'll pay 20 percent of the Medicare-approved amount for this type of therapy. And your Part B deductible applies here, too.
Smoking cessation counseling
In developed countries like the US, smoking is the main cause of COPD.
If your physician thinks smoking caused your COPD, stopping is important. Or it's important if you want to keep flare-ups, complications, and other conditions – like heart disease and lung cancer – at bay.
That's where smoking cessation counseling comes into play. Medicare Part B will cover up to eight visits with a smoking or tobacco-use cessation counselor over a 12-month period.
Even better: you won't pay a single cent for those sessions if the doctor or provider accepts assignment. You can't just go to anyone for this kind of therapy. Medicare must approve of or recognize him or her.
Lung cancer screenings
According to Mayo Clinic, people with COPD have an increased risk of developing lung cancer and other serious conditions.
Thankfully, Medicare Part B covers the cost of a lung cancer screening once a year if you meet the following conditions:
You're between the ages of 55 and 77
You don't have any lung cancer symptoms
You currently smoke or you quit smoking within the last 15 years
You've smoked at least one pack of 20 cigarettes per day for 30 years or more
You doctor prescribes the screening
If all the above is true for you, and if the doctor who performs the screening accepts assignment, you'll pay nothing out of pocket for this service.
Flu and pneumococcal shots
People with COPD also are more likely than most others to get lung infections, too, according to insurance giant Cigna.
Some good news for those folks: if you have Medicare Part B, it'll cover one flu shot per flu season.
It'll cover those shots fully, too. As in, you won't pay a dime for them if your healthcare provider accepts assignment.
Part B will pay for you to get pneumococcal shots, too. Specifically, it will pay the full cost for you to get one of these shots whenever you want, and a second (different) one if it comes at least one year after the first.
Do Medicare Advantage and Medicare Supplement Plans Cover COPD?
Yes, they do – although not in the same ways.
Medicare Advantage plans basically take the place of Original Medicare. In other words, they provide enrollees with their Part A and Part B benefits.
Which means, of course, that a Medicare Advantage plan will cover your COPD treatments and services at least as well as Original Medicare. And it might do an even better job of covering them than "traditional" Medicare does.
As for MedSup (or Medigap), it pays some of the costs Original Medicare doesn't. For example, it can help cover your deductibles, copays, and coinsurance charges.
Considering how many different drugs, equipment, treatments, and other services people with COPD rely on to control their symptoms, adding this kind of policy can go a long way toward helping you afford all the care you need.
Does Medicare Cover COPD Drugs or Medications?
Original Medicare does not cover COPD drugs. Or any drugs whatsoever, for that matter.
For that, you need a Medicare Part D plan. Or you need a Medicare Advantage plan that includes prescription drug coverage.
If you're ever in the market for one of these policies, remember this: they don't all cover the same medications.
So, if you have COPD and you need certain drugs to treat the disease's symptoms, make sure any Part D or Medicare Advantage plan you enroll in covers them. Or at least make sure it covers as many of them as possible.
Pay attention, too, to how any plan you seriously consider covers your COPD medications, too. Don't just look at its monthly premium payments. Look at its deductibles and copays as well. They can have a major impact on how much--or how little--you spend on these and other drugs.
Want to learn more about this "part"? See our Medicare Part D article.
Does Medicare Cover COPD Prevention?
In a way, yes, Original Medicare covers COPD prevention.
As mentioned earlier, Part B pays for up to eight visits with a smoking or tobacco-use cessation counselor over a 12-month period. And it pays for them fully, too. Assuming Medicare recognizes the provider and the provider accepts assignment, that is.
So, if you smoke and you want to help ensure you don't develop this disease, talk to your doctor about enrolling in a smoking cessation program.
Are There Any COPD Services, Treatments, or Medications Medicare Doesn't Cover?
That's hard to say. After all, doctors, physicians, and other healthcare providers use a lot of different procedures and products to diagnose and treat COPD. Here are some examples:
Physical exams
Breathing tests
Chest X-rays
Other exams, tests, or lab work
A variety of medicines
Inhalers
Supplemental oxygen
Pulmonary rehab
Vaccines
Counseling
Surgery
Other hospitalizations due to flare-ups or exacerbations
Combined, Medicare Parts A, B, and D cover all the above. That doesn't mean you won't have to deal with any out-of-pocket costs when you go to have them done, however.
And it doesn't mean there aren't COPD drugs, equipment, programs, treatments, or services that one or more Medicare "parts" won't cover.
If the product or procedure you need isn't included on this list, though, make sure your Medicare plan will help pay for it before you agree to it.
What Can You Do if Medicare Won't Cover the COPD Drugs, Treatments, and Services You Need?
Struggling to afford your COPD services, treatments, and drugs--even with Medicare coverage? Try one or more of the following. They could help you save a lot of money.
Tell your doctor
Let him or her know you're having a hard time paying for your COPD care. They may be able to point out sources of financial assistance you've overlooked so far. They also might be able to help by getting creative with how they treat your symptoms. 
Go generic
Switching to generics could save you a bundle--especially if you take more than one COPD drug. Just make sure your doctor or physician gives you the thumbs up to do so.
Contact the companies that make your COPD drugs
Some of these manufacturers have assistance programs in place that'll save you money or even keep you from paying for your medications at all.
Look into other assistance programs, too
Medicaid is one option if you need help paying for your COPD care. Some states and cities run programs that can help with it, too. To find out if that's true where you live, visit your city, county, or state government's website.
Go pharmacy shopping
You already know shopping around helps you save money on insurance, right? Well, it helps you save money on medications, too. So, go to different pharmacies. Don't just check out brick-and-mortar ones, though; look online, too. See what they charge for the drugs you need. And see if they have programs that could save you even more money.
References:
QuoteWizard.com LLC has made every effort to ensure that the information on this site is correct, but we cannot guarantee that it is free of inaccuracies, errors, or omissions. All content and services provided on or through this site are provided "as is" and "as available" for use. QuoteWizard.com LLC makes no representations or warranties of any kind, express or implied, as to the operation of this site or to the information, content, materials, or products included on this site. You expressly agree that your use of this site is at your sole risk.
View Medicare Disclosure

QuoteWizard is owned and operated by QuoteWizard.com, LLC ("QuoteWizard"), a subsidiary of LendingTree, LLC. Copyright © QuoteWizard Insurance Solutions, LLC. All rights reserved. Invitations for application for insurance may be made through QW Insurance Solutions, LLC ("QWIS"), a subsidiary of QuoteWizard, or through its designated agents, only where licensed and appointed. Licensing information for QWIS can be found here. QWIS is a non-government licensed health insurance agency. Not affiliated with or endorsed by any government agency. Callers will be directed to a licensed and certified representative of Medicare Supplement insurance and/or Medicare Advantage HMO, HMO SNP, PPO SNP and PFFS organizations. Your call will be routed to a licensed agent who can provide you with further information about the insurance plans offered by one or more of our third-party partners. Each of the organizations they represent has a Medicare contract. Enrollment in any plan depends on contract renewal. Availability of benefits and plans varies by carrier and location and may be limited to certain times of the year unless you qualify for a Special Enrollment Period. We do not offer every plan available in your area. Any information we provide is limited to those plans we do offer in your area. Please contact Medicare.gov or 1-800-MEDICARE to get information on all of your options. Deductibles, copays, coinsurance, limitations, and exclusions may apply. Medicare has neither reviewed nor endorsed the information contained on this website.