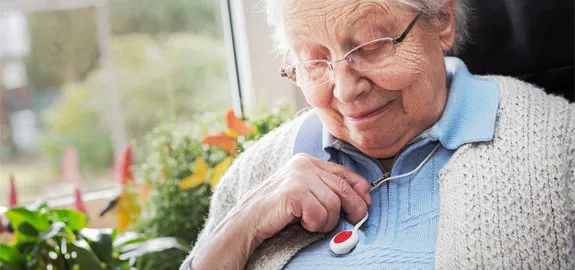 "Help! I've fallen, and I can't get up!"
Most Americans who watch TV have heard that iconic line at least once in the last 30 or so years.
Although LifeCall, the company behind the catchphrase, first aired it in a 1989 commercial, it has regularly used it in the decades since.
Fortunately, it introduced millions to the technology known as medical alert systems.
Unfortunately, it didn't do much more than that. They showed that devices exist to help people during an emergency, but that's about it. They didn't explain that many kinds of medical alert systems are available. They didn't touch on how much they cost. They didn't talk about how these systems aren't just for seniors. And they didn't say whether health insurance helps people pay for them.
If that's the kind of information you're looking for on medical alert systems, stay put. This article covers all of it and more.
What are Medical Alert Systems?
Medical alert systems are devices that people can use in various emergencies to call for help.
Maybe they've fallen. Or maybe they think they're having a heart attack or stroke. They may be dealing with some other health issue, too.
Which isn't to suggest these systems only help people with medical problems. They also help people caught in fires and similar disasters.
Basically, if you ever find yourself in a situation that requires assistances from someone, a medical alert system can contact them for you.
How do they do this? In most cases, they provide customers with devices that can be worn around the neck or wrist. These gadgets come with a help or call button. When pressed it alerts or puts them in touch with emergency services, family, or friends.
That's not all they do, though. Some of these systems do a lot more than just call for help in an emergency.
Before we get to that, here are a few other names you might encounter while shopping for medical alert systems:
Emergency response systems
Fall-detection systems
Personal emergency response services
Personal safety monitors
Does Health Insurance Cover Medical Alert Systems?
The vast majority of health insurance plans don't cover medical alert systems.
That includes job-based health plans, plans bought directly from insurance companies, and plans purchased through the "marketplace" set up by the Affordable Care Act (also known as the ACA or Obamacare).
You may be surprised to learn that most marketplace plans won't help you pay for a medical alert system. After all, one of the 10 "essential health benefits" these plans have to cover is "rehabilitative and habilitative services and devices." The ACA doesn't consider such systems to be rehabilitative or habilitative.
Does Medicare cover medical alert systems? Or does Medicaid cover medical alert systems? Good questions.
Although Original Medicare, or Medicare Part A and Part B, won't help you pay for a medical alert system, some Medicare Advantage plans will. To find one that will, shop around. Look up the Medicare Advantage plans available in your area.
To learn more about these plans, by the way, read our "Guide to Medicare Advantage Plans." And while you're at it, you may want to scroll through our "Guide to Medicare," too.
As for Medicaid, prepare to be shocked. Some state Medicaid programs actually help people pay for emergency response systems. There are four different categories of programs within Medicaid that may cover these devices.
For more information, see this medicalalertadvice.com article, or this payingforseniorcare.com write-up. Also, contact your local Medicaid agency and ask if it will help you pay for a medical alert system.
Do Job-Based or Marketplace Health Insurance Plans Cover Medical Alert Systems?
There's no denying that most U.S. health insurance plans will not help you pay for an emergency response system.
That doesn't mean it's impossible to find a health plan that will cover--at least to an extent--one of these devices.
You might be able to convince your insurance company to help cover the cost of a medical alert system.
To make that happen, though, you'll have to pick up the phone and call them or send them an email. Explain your situation and why you need a medical alert system and then ask if your plan will cover it.
They may require you to get a recommendation or referral from your doctor. But that's a small price to pay if it'll result in you saving money on an alert system.
Do Other Types of Insurance Cover Medical Alert Systems?
Your best bet if you want insurance to cover a medical alert system is to have a long-term care policy.
One of the hallmarks of long-term care insurance is that it helps seniors "age in place." In other words, stay in their homes as long as possible. Many long-term care policies cover the cost of "durable medical equipment." That includes emergency response systems.
To find out if your long-term care plan will cover a medical alert system, contact your insurer and ask. If you don't yet have long-term care insurance, ask about medical alert systems when shopping for a plan.
For more information on this type of insurance policy, read our "Long-Term Care Insurance Basics" article.
What Can I Do if I Need a Medical Alert System but My Health Insurance Won't Cover it?
Before you do anything else, contact the insurance company that provides your health coverage. It may agree to pay for some of the cost of a medical alert system after you explain why you need one. If your physician supports this claim, all the better.
If that doesn't work, search for senior care programs in your community or state. Look for "Department of Aging Services", "Council on Aging," or "Office for the Aging." Some help older adults and those with disabilities who can't afford certain health services.
Finally, call some of the companies that make and sell emergency response or "life alert" systems. See if you qualify for any discounts or rebates on their products. Many offer this kind of assistance, so taking the time to ask may pay off dearly if you have a financial need. 
Medical Alert System Options
Yes, there are many different kinds of medical alert systems.
The most basic consist of a base unit (that looks like an answering machine) and a wearable device with a call button. This device usually connects to a landline. That's how it contacts family, friends, or emergency services if you need help. Others use cellular networks to handle that task.
That's just some of what medical alert systems do these days, however.
Some ring a predetermined phone number (usually a family member or friend) when you press the call button. These are known as "non-monitored" or "unmonitored" systems. "Monitored" systems, on the other hand, contact a 24/7 dispatch center when you need assistance.
Some medical alert systems use both cellular and GPS in their wearable devices, which allows people to call for help while out and about. Landline systems have a short range and only can be used in and around your home.
A few other options available to people who buy or rent these monitors:
Some include fall-detection technology and automatically alert emergency services (or a loved one) if they detect a fall.
Some monitor your health in various ways.
Some remind you to take medications.
Some double as fitness trackers or movement sensors.
How Do Medical Alert Systems Work?
Here's how things work If you buy the basic setup:
As explained earlier, the base unit connects to your landline. The top side of the machine should feature two buttons – one labeled "help" or "emergency," and one labeled "reset." The machine also should include a speaker and an embedded microphone.
When you press the "help" or "emergency" button, the system calls a dispatch center or loved one. Which one depends on if you have a monitored or unmonitored system. If you're able to do so, you'll use the included speaker and microphone to talk with the person who answers.
Usually, pressing the machine's "reset" button cancels a call. That's not always the case, though. With some systems, pressing the "reset" button silences its alarm but doesn't cancel the current call.
The wearable device that comes with most medical alert systems communicates with the base unit when you press its call button. But, they rarely have microphones or speakers in them. If you aren't close to the base unit you won't be able to talk with the person it contacts.
If you buy a more mobile system that includes cellular and GPS technology, it'll work a little differently. Wearable call buttons with GPS can send your exact location to emergency personnel.
Also, wearables that can detect falls do so using built-in sensors. They contact a dispatcher, friend, or family member as soon as they notice a fall.
What Do I Need to Buy a Medical Alert System?
If you buy a medical alert system that uses a landline phone connection, you'll need one for it to work.
Beyond that, though, everything you need should be included in the package.
You may need to replace the batteries in the base unit or wearable device, but that's about it. The battery keeps the device connected if your house loses power.
What Are the Best Medical Alert Systems on the Market Today?
Many respected news outlets and websites have reviewed the many medical alert systems available today.
Consumer Reports recently published an article on "How to Choose a Medical Alert System." They compared nine of the top products in this area.
The article includes details like monthly cost, fees, battery life, and customer-service hours on these systems:
Consumer Reports didn't pick an outright winner, but they did include all the information you need to find your ideal product.
A case in point: the monthly cost for Bay Alarm Medical's landline-based system is $20. Adding fall detection costs $10 more per month, and there's no activation or cancellation fee. Plus, you don't have to sign a contract.
Life Alert's landline-based system, on the other hand, costs $50 a month. That includes fall detection, but it's still $20 more per month than Bay Alarm Medical's product. Also, Life Alert sometimes charges activation or cancellation fees and requires a three-year contract.
If you're looking for actual ratings, PCMag's "The Best Medical Alert Systems of 2018" has your back.
This article gave four out of five stars to each of the following products:
Bay Alarm Medical In-Home Medical Alert
GreatCall Lively Mobile
MobileHelp Classic
LifeFone At Home Landline Medical Alert System
Philips Lifeline GoSafe 2
PCMag's write-up touches on cost per month, cost for fall detection, and battery life. It also covers pendent range and whether each system offers wellness checks or medication reminders.
How Much Do Medical Alert Systems Cost?
It isn't easy to pinpoint exactly how much you might pay for a medical alert system. That's because companies that sell these systems offer lots of different options and packages.
Still, if you're in the market for one of the more basic systems (landline), expect to pay $25 or so a month.
If you prefer an emergency response system that connects using cellular networks, you'll pay a little more – $35 to $45 per month.
And if you want a fully mobile system that works anywhere thanks to cellular and GPS technology, expect to spend up to $75 each month.
The monthly fees tied to these systems aren't all you have to consider, unfortunately. Here are some of the other fees you may face:
Activation
Cancellation
Fall detection
Extra pendants or wearables
Monitored rather than unmonitored service
Regular wellness checks or medication reminders
Also, some companies make you sign lengthy contracts. Keep an eye out for those while shopping for one of these systems.
Who Needs Medical Alert or Emergency Response Systems?
Most medical alert system ads or commercials target seniors, and there's a good reason for that. They're the most likely to need and use them.
Why? Falls are the leading cause of fatal injures for older Americans. They're also the leading cause of nonfatal, trauma-related hospital admissions. One in four seniors fall every year.
Having a medical alert system in the home won't stop anyone from falling. That said, it may get them the help they need as quickly as is possible.
Medical alert systems offer help for more than just a fall. It's a safety net for those who have had or are at risk of a heart attack or stroke.
But you don't need to have medical issues to be a good candidate for this kind of technology, though. Many seniors who live alone like the peace of mind medical alert systems provide, even if they don't have health problems.
The products are worthwhile expenses for some younger people, too. Take, for example, those who have a history of seizures. Or those with certain disabilities.
If you're at risk of falling, or if you're worried about medical (or non-medical) emergencies, you may benefit from an emergency response system – no matter your age.
Why Shouldn't I Just Rely on My Phone or Alexa Rather Than Buy a Medical Alert System?
Pretty much everyone has a smartphone these days. The same is increasingly true of "virtual assistants" like Amazon's Alexa and Echo or Google's Home.
You might want to rely on them rather than spend money on an emergency response system, right?
Experts recommend against it, though, and for good reason. As Mindy Renfro, Ph.D., D.P.T., an associate professor at Touro University Nevada tells Consumer Reports, you're unlikely to have your smartphone with you at all times.
As for those digital assistants, they don't offer all the features you need during an emergency. Yes, many of them can call both landline and mobile phone numbers, but none can dial 911.
And neither will be of much use to you if an emergency renders you unconscious. Most medical alert wearables, on the other hand, will help you in that situation
References:
QuoteWizard.com LLC has made every effort to ensure that the information on this site is correct, but we cannot guarantee that it is free of inaccuracies, errors, or omissions. All content and services provided on or through this site are provided "as is" and "as available" for use. QuoteWizard.com LLC makes no representations or warranties of any kind, express or implied, as to the operation of this site or to the information, content, materials, or products included on this site. You expressly agree that your use of this site is at your sole risk.