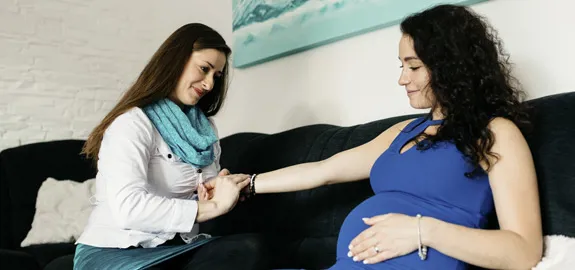 Until the 1940s, the majority of childbirths in the US occurred in the home. Many early and mid-20th century mothers felt that the hospital birthing process left plenty to be desired.
The book Brought to Bed: Childbearing in America, 1750 to 1950, features first-hand accounts behind the grim reality of giving birth in the old days. One woman wrote that, months after giving birth in a hospital, she would "wake up remembering that lonely labor room and just feeling no one cared what happened to me, no one kind reassuring word was spoken by nurse or doctor. I was treated as if I was an inanimate object."
That's where doulas come in. They've become a source of support during birth at home and hospital. This results in a more positive birthing experience as well as healthier mothers and babies. As more Americans learn about doulas, demand for their services grows.
In a 2012 survey, six percent of people polled replied that they used a doula during childbirth. This is twice as much as just six years before, where a 2006 national survey found only three percent of people used a doula during childbirth. Of those polled who did not use a doula during childbirth but knew what one did, 27 percent said they'd have used one.
While enlisting a doula to help through the birthing process sounds like a great idea, it brings up an important question. Does health insurance cover doulas?
Unfortunately, most insurance companies currently do not explicitly cover doulas. There are, however, steps you can take to convince your insurance company to offer at least partial coverage. As hiring doulas for childbirth becomes more common, so too will insurance coverage.
Read on to learn about doulas, their services, and how to get your insurance company to cover them.
What is a Doula?
Let's start with stating what a doula is not. A doula is not a medical professional. Although many have experience with birth, they don't perform medical procedures.
A doula is a trained assistant whose primary goal is to nurture and support the mother and partner through labor and birth. This is a function that starts before labor and can continue after birth. However, there are no official national doula standards or required certification. So many doulas may have different opinions about their roles and functions in childbirth. Regardless, they provide a valuable service.
The benefits of using a doula during childbirth also include:
They provide a wealth of information, education, and support in the time leading up to the birth. The four main functions that doulas provide are childbirth preparedness, physical support, emotional support, and advocacy.
Childbirth Preparedness
Doulas help with education and exercises to help reduce the pain that can occur during childbirth. They help prepare the mother by:
Explaining different medical procedures before and as they happen
Educating the mother on labor techniques. This includes relaxation methods, proper positioning, and breathing exercises
Helping the mother find different options in pregnancy and childbirth
Physical Support
Doulas provide various means to ensure the mother is a comfortable as possible during the birth process. This creates a more positive experience of personal control, comfort, and well-being for the mother. These methods include:
Massage and counter pressure (A system of pressure applied to the back during contractions.)
Creating a conducive space (Lowering lights, arranging the room.)
Applying warmth or cold as needed
Nourish the mother with food, drink, and ice chips
Assist with walking
Provide water therapy
Emotional Support
Doulas help manage pain during childbirth by providing emotional assistance as well. The doula provides a sense of caring and empowerment during birth. They give the mother greater control over her body and experience. This has shown to make the pain more manageable.
The forms of emotional support often used here are:
Providing a constant, caring presence
Encouragement
Praise
Acceptance of the mother's immediate needs
Working through fear
Advocacy
Advocacy is a newly recognized function of the doula and has had some controversy follow it. First, the word 'advocacy' has different definitions, which makes it difficult to lock down one standard meaning. Second, there are differing opinions among doulas as to whether advocacy is part of their role.
Definitions of advocacy can split between "speaking on behalf of someone" and "supporting a mother in fulfilling their needs." The first definition can contradict the self-empowering function of the doula. You can see where the dispute arises.
DONA International trains and certifies doulas worldwide. They've stated that doulas have advocacy as part of their role, as long as they don't speak on behalf of the mother.
What this means for the mother is the doula does not speak for you during birth. Rather, they inspire you to identify your immediate needs. This control over your experience also helps to reduce the sense of pain.
Examples of advocacy include:
Asking the mother what they need
Encouraging the mother and partner to communicate their preferences
Promoting dialogue between the parents and care providers
Creating a pressure-free environment where the parents can ask questions, gather information, and make choices
Postpartum Doulas
The value that a doula provides does not end after the birth. The first days after bringing a new baby home are a whirlwind of change and new routines. Having a postpartum doula on hand to help with the transitions can be an immense help.
"Not only are postpartum doulas working in the client's home to provide new parents with hands-on help caring for their baby, learning to breastfeed, keeping up on household duties, and getting enough sleep," says Kaylee Proctor of Little Apple Doulas. "They're also able to encourage clients to contact their doctor if they notice something is outside the scope of normal."
"Early intervention is important when treating complications and since sleep deprivation can compound physical and mental health issues, having proper postpartum support can make a huge difference in the recovery period after birth," says Proctor.
The time you can need a postpartum doula for ranges from a couple days to a few weeks. They with each individual family to find what their needs are. This role can include:
Helping with both physical and emotional recovery
Light housework and meal prep
Baby soothing techniques
Sibling care
How Much Does a Doula Cost?
The cost of a doula depends on their experience, where you live, and the extent of services you need. Hiring a doula usually starts at around $200. At the highest end, a doula can cost $3,500. But that's only in expensive cities like New York and Los Angeles. And even in those cities, you can find affordable doulas.
Since costs vary between doulas, take your time and do your research before settling with one. Some doulas charge a flat fee, others charge by the hour. Your expenses also depend on what kind of service you're looking for. Do you want several prenatal visits and extensive postpartum assistance? Or do you just want a helping hand while giving birth? These are all questions you should discuss with any potential doulas. Make sure all fees and expenses are laid out and agreed upon by both you and the doula.
Finding a Doula
If you want to use a doula for childbirth, there are tools at your disposal that can help you find one. These organizations not only train and certify doulas, but also provide a referral service to find one near you:
Interviewing a Doula
Doulas have different approaches and philosophies regarding their work. Be willing to invest some time in interviewing multiple doulas to find one that you're comfortable with.
The main question you should ask is if they're available around your due date. If they are, set up an interview. The first interview can happen by phone. After that, you're going to want to meet face-to-face to see if they're compatible.
Questions you should ask during an interview include:
What is your training?
Are you certified? Through what organization?
Do you have references?
How many births have you assisted?
Which labor-coping techniques do you find most helpful?
What are your fees?
What do your fees cover?
Why did you decide to become a doula?
What is your philosophy regarding birth?
How do you feel about the use of pain medication during labor?
Are you working with anyone else near my due date?
Do you have a backup arrangement should you not be free when I go into labor?
Will My Health Insurance Cover My Doula?
Coverage for doula care is not yet routine among insurance companies. It's fortunately becoming more common. Many insurers now cover doula services. You'll want to call your insurance company to see if they're one of them.  
After that, be sure to speak to your doula to discuss the procedure for filing an insurance claim. Chances are they've been through the process before and are a great resource for completing the claims process.
Doulas and Medicaid
Medicaid has started to show how covering doula services can benefit to both mothers and insurers. As of right now, Oregon and Minnesota are two states that permit Medicaid coverage for doula services. Progress is slow at the time, in part due to reimbursement rates being quite below the cost of most doula's services.
However, studies in Oregon, Minnesota, and Wisconsin have shown that using a doula can save money. Currently in the US, one in three births is a C-section. They cost about 50 percent more than conventional births. Since using a doula reduces the chances of the need for a C-section by 25 percent, the overall savings are obvious.
Filing the Claim
Again, speak with your insurer and your doula before filing the claim to make sure you have the required info. After that, the process will probably look like this:  
Pay your doula in full.
Get an invoice from your doula that includes the following:

Your doula's name and address
Your doula's SSN, taxpayer ID number or National Provider Identification Number. It's important that the doula has an NPI number. It's used with the taxonomy code below in order for you to get reimbursed. The date(s) and location of their provided services
Taxonomy code: 374J00000X. It's for doulas and appears under the heading "Nursing Service Related Providers Type." Your doula is not required to be an RN or LPN to have an NPI number. The taxonomy code refers to services of doulas, including postpartum and antepartum doulas.
Diagnosis code. The common code used for prenatal and labor support is V22.2 "Pregnant State Incidental." The code used for postpartum support is V24.2 "Routine Postpartum Follow Up."
Your name
Total charges for services
Payment method
Your doula's signature

Submit your claim to your insurer. Chances are you'll use the standard HCFA-1500 form. However, check with your insurance company first in case they use another form.
What You Can Do If Your Claim is Denied
Within 30 days after you submit your claim, you may receive a letter from your insurer stating one of two things:
Request for more information before the claim can process.
This is not a covered expense.
Don't give up if this happens. It's common enough that there are steps you can take to get your claim reviewed:
Prepare a new claim form for your insurer to review again. Copy everything in the form to the insurer's CEO (This info should be available through the company's website.) Also include the following:

Another copy of the receipt
A letter to the CEO that explains why you think your claim is valid. Also explain why you needed the doula and how they benefited your health

Ask your doula to send you the following to include with the packet:

A copy of her certification
Her credentials and relevant training
A detailed letter showing her training, experience, and what services she provided for you
Persistence is key here. Make phone calls and escalate them as you feel needed. If your claim is denied again, call and ask for a specific reason. If they refer to your policy, request that they point out the precise clause and the wording that excludes doulas.
Frequently Asked Questions
Q: What Does a Doula Do?
A: A doula's main roles are education regarding childbirth, physical and emotional support, and advocacy. This can include education of the birth process and keeping you comfortable during labor and birth. Also, they encourage communication of needs. companionship during the birth, and postpartum and newborn support.
Q: What Are the Benefits of a Doula?
A: A doula helps the mother feel a greater sense of personal well-being, confidence, and control before, during, and after labor and delivery. This support has been shown to result in:
25 percent less likelihood of a C-section needed
9 percent decrease in the use of medication for pain relief
14 percent decrease in risk of newborn needing to go to a special care nursery
4 times less likelihood of the infant having a low birth weight
Q: Will a Doula Work with My Doctor?
A: Doulas cover much of the ground that a doctor doesn't. The doctor is there to make sure your medical procedure is properly done. Doulas see to your comfort and support.
Doulas are not there to replace or interfere with doctors. Doulas are there to compliment the doctor's work in order for your birth to go as easily as possible.
"Doulas work alongside doctors to provide constant, nonmedical support to their patients," says Rebeckah Orton of North Star Doula. "Doctors like knowing that their patients are attended to while they cannot be in the room. Occasionally, we help families understand difficult or new concepts by facilitating communication between patient and provider. "
Q: Will a Doula Work with My Midwife?
A: If you're planning on childbirth with a midwife, a doula makes for a great combo. Many midwives were doulas first. A midwife can do much of what a doula does, except they'll have your medical needs as their main priority. A doula will work towards your personal care and support.
Q: What if I Need a C-Section or Epidural?
A: If a procedure such as a Caesarean Section or Epidural is necessary, your doula should be able to provide the same quality of support and comfort with their presence. They'll be on hand to give you comfort, answer questions, and support your partner.
References:
QuoteWizard.com LLC has made every effort to ensure that the information on this site is correct, but we cannot guarantee that it is free of inaccuracies, errors, or omissions. All content and services provided on or through this site are provided "as is" and "as available" for use. QuoteWizard.com LLC makes no representations or warranties of any kind, express or implied, as to the operation of this site or to the information, content, materials, or products included on this site. You expressly agree that your use of this site is at your sole risk.