Tenant-Landlord Law and Renters Insurance
What you need to know about tenant-landlord law whether you're a renter or property owner.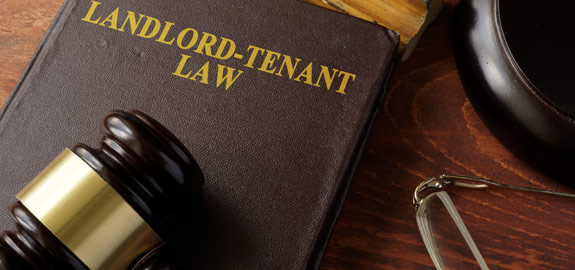 Long gone are the days when all a landlord had to do was make an apartment or rental unit available to a paying tenant.
Today, federal and state laws require apartment owners and renters to abide by the rights and duties that govern the modern landlord-tenant relationship.
For example, beyond "delivering possession" of a property to a tenant, a landlord must provide "habitable" apartment or houses free of vermin. Nor can there be serious defects that could cause harm or otherwise endanger a person's safety. Examples of such defects are poor electrical wiring, gaping holes in the floor, even walls covered in lead-based paint.
(Most states prohibit landlords from adding language to a lease that says you, the tenant, "waive" or give up this right. So keep an eye out for wording that suggests it or something similar.)
Landlords have to respect your right to privacy, too. But there are certain exceptions. That means they can't just waltz into your apartment or rental home without warning (or advanced permission) unless there's an emergency. They must give you notice before entering your living space to show it to prospective renters, make repairs, or the like.
Federal law also prohibits landlords from refusing to rent to someone with a service animal even if they usually have a "no pets" policy.
State laws dictate things like how much money a landlord can require for a security deposit or for pre-paid rent. Other laws mandate how quickly he or she has to return your security deposit to you once your lease has ended. Some states have laws stating how much detail is required regarding how your money was spent if you don't get your entire deposit back.
Note: not all states or cities address the situations described above in their housing laws. Visit sites like HUD.gov's tenant rights page and Tenants and Landlords: Select State and Local Laws to learn more about your states laws.
Broad Discrimination Protection for Tenants, Too
Federal housing law also protects renters from all sorts of discrimination, including age, gender, race, religion, physical or mental disability. (Some states prohibit discrimination in housing based on marital status or sexual orientation, too.)
Beyond that, it prohibits landlords from taking part in a number of additional discriminatory actions, such as:
Indicating a dislike of or disinterest in—or even a preference for—prospective tenants who are part of a protected class (like the ones just mentioned)
Refusing to rent to people who are in one of these categories
Providing different facilities or services to those in a protected class
Harassing tenants
Breaking a lease (ending a tenancy) for some discriminatory reason
Renters' Rules and Duties
As a tenant, you have certain laws and duties to abide by as well. Here are a couple of noteworthy examples:
You have to pay rent. Although this rule is sure to seem like a no-brainer at first glance, there are some exceptions to keep in mind. For instance, if you move into your apartment or house and find it unlivable, you may be freed from your duty to pay rent. The same is true if your landlord refuses or fails to make certain major repairs. Some examples are your living space's electrical, heating, plumbing, or water lines, or to your apartment's or home's roof or floors.
You have to preserve the premises. In other words, you can't trash your rental property—unless you're willing to say goodbye to your security deposit. To get that money back, leave your unit in the same condition it was in when you signed the lease.
State-by-State Differences
Many of the situations described above differ depending on the state, and sometimes even city, in which you currently live and rent.
If you rent an apartment or house in Alaska, your landlord can't ask for a security deposit totaling more than two months rent. They can only ask for more if the place you're eyeing up costs more than $2,000 per month.
South Carolina and Texas require landlords to return your security deposit within 30 days of the end of your tenancy.
Some states, like North Dakota, require landlords to put security-deposit funds in a federally-insured, interest-bearing savings or passbook account. (If you live in Florida your landlord places your security deposit in an interest-bearing account. They must pay you either 5 percent interest or 75 percent of the account's interest rate.)
A few other landlord-tenant requirements that differ from state to state (and sometimes even from city to city within a particular state):
The form and timing of notices regarding tenancy termination or eviction due to unpaid rent. It might be in writing or not, five days in advance, seven days, etc.
The timing of notices related to the intention of entering a tenant's home
The need for advance warning when it comes to rent increases (especially if they're going to be above a certain percentage)
Some city and state housing laws also require rental properties to provide heat that's capable of maintaining a minimum temperature. These requirements are often for a certain number of hours or during certain times of day.
Insurance and Landlord-Tenant Law
There are a number of ways owners and renters can satisfy the rights, responsibilities, and laws discussed so fa. And industry-specific insurance is one of them.
If you're a tenant, for instance, renters insurance often can provide you with various amounts of liability coverage.
(For more information on renters insurance, or to compare renters insurance quotes from a handful companies, go here.)
If you're a landlord, buying the right forms of insurance on your rental property can protect your property from accidents and damage.
Specifically, these are the three types of insurance that apartment or rental home owners tend to purchase for their properties:
Personal liability insurance. This kind of insurance protects you from any violations of fair housing laws. It also protects you financially from injuries to your tenants due to defects or other issues related to your property, including slips or falls.
Property insurance. This type of insurance covers structural and physical damage to your property (as well as other structures on your property). It also covers items like washers and dryers, even microwaves on the premises that are used by renters but that you own.
Rent insurance. Sometimes called "fair rental value coverage", this insurance product reimburses landlords for income lost if their property becomes uninhabitable. Examples include natural disaster or a tenant's actions.
It isn't unusual for all of the above to be offered as part of a package. This package may be referred to as:
apartment owners insurance
landlord building insurance for apartment owners
landlord property insurance
landlord insurance.
QuoteWizard.com LLC has made every effort to ensure that the information on this site is correct, but we cannot guarantee that it is free of inaccuracies, errors, or omissions. All content and services provided on or through this site are provided "as is" and "as available" for use. QuoteWizard.com LLC makes no representations or warranties of any kind, express or implied, as to the operation of this site or to the information, content, materials, or products included on this site. You expressly agree that your use of this site is at your sole risk.