The Renters Insurance Crisis
There are more Americans renting homes or apartments today than there have been in decades—but the majority of them don't have renters insurance. Here's why that's a problem.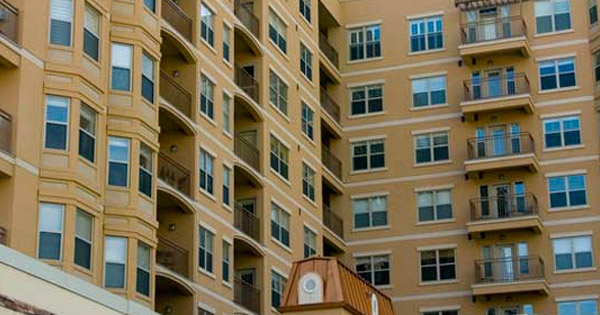 According to a recent report from the U.S. Department of Commerce, homeownership in the United States fell to its lowest level—just under 64 percent--in 20 years at the end of 2014.
On the flip side, that means that there are more Americans renting homes or apartments today than there have been in a generation.
What's so surprising about that, you ask? Consider that a poll conducted for the Insurance Information Institute in 2014 found that just 37 percent of renters in the United States have renters insurance.
That leaves a whole lot of renters who would have to reach into their own pockets to replace their possessions if a fire, inclement weather, or some other disaster damaged or destroyed their apartment or home.
Or, as Vincent Plymell, the communications manager for the Colorado Department of Regulatory Agencies puts it, all of the above-mentioned folks are "one cooking mishap or fire or other accident away from not only losing [their] stuff, but suffering through some very high cost bills."
After all, Plymell adds, "if you, as a renter, are responsible for something, such as a grease fire, the landlord, or his or her insurance carrier, would subrogate or sue you for damages done"—which is just the sort of thing  that renters insurance is intended to protect you from.
Why it's ignored
Considering all of the drama that's likely to erupt if something disastrous happens to their apartments or homes (and all of the possessions contained within) while they're uninsured, why do so many people fail to purchase a renters policy?
One possibility, according to Plymell, is that some people "just don't know it's available."
Here are some of the other reasons he and Chris Hackett, director of personal lines policy for The Property Casualty Insurers Association of America, have heard from people in this same situation:
"My landlord's insurance will protect me and my possessions"
Many renters think their landlord's insurance will cover any belongings that are stolen from their apartments or rental homes. And any belongings that are damaged or destroyed by fire, broken water pipes, stormy weather, vandalism, and the like.
Sadly for them, that isn't how landlord insurance works. Instead, the point of this type of insurance is to protect the structure—walls, floors, ceilings, and more--of the home you rent or the building that contains your apartment from the perils mentioned earlier. It's not there to protect your possessions from those same catastrophes or mishaps. If that's what you're looking for, you're going to have to buy your own renter's insurance policy.
"I can't afford it"
A lot of people seem to be "under the impression that renters insurance is expensive," Hackett says when asked why so many pass on it.
His take on the situation is reflected in the results of a recent Rent.com survey. This survey found that about 60 percent of people who don't have renters insurance thought it would cost too much.
"In reality, coverage is very affordable," Hackett shares. "A 12-month policy is typically in the $100 to $150 range." That's only about $10 per month!
Exactly how much you'll pay for it will depend on the amount of coverage you want. Whether you shell out for a "replacement cost" policy or an "actual cash value" one will affect your rates. The location of your rental house or apartment also affects rates. And so does the size of your place and the value of the items in it.
"The amount of coverage I can afford wouldn't cover anything"
Many people skip renters insurance because they think they can't afford it. But many others do so because they think they can't afford enough coverage to protect their belongings.
As was previously pointed out in our own article, "Renters Insurance Basics," though, most renters policies provide $15,000 to $30,000 in coverage. Even the ones that'll cost you $150 or less a year. And if that's not enough, you'll likely be able to boost that amount for an additional cost.
"I don't need it" or "I'm never going to use it"
"Many younger renters may be just starting out in life and may feel they don't have many possessions worth insuring," Hackett says.
The fact is, though, that a lot of renters underestimate the value of their belongings.
On a related note, it's likely a good number of people ignore renters insurance because they believe nothing bad is going to happen to their apartment, house, or possessions.
To those folks, Hackett says, "fires and break-ins do happen. Ask yourself: if you lost everything in your apartment [or house] tomorrow, could you afford to replace it all?"
Do you think renters insurance is going to be a waste of money because you're never going to use it? The same applies to those car, homeowners, and life insurance policies for which you regularly send in payments.
That's how life is. You should also be down with paying much less for a renters policy. Unless you're OK with replacing all of your clothes and jewelry and electronics on your own dime should disaster strike.
Don't forget about liability coverage
Something else renters should consider while thinking buying this kind of insurance: the liability coverage it provides.
Liability coverage protects you if someone is injured by you or even your pet when they're in your apartment. This part of your renters policy may cover some or all of the related medical bills.
Also, should that person decide to sue you because of the injuries they sustained while on your property, your renters insurance can help cover the related legal costs.
Add to that the fact that these policies often reimburse renters for living expenses should their homes or apartments be considered temporarily uninhabitable, and it's clear that renters insurance is a great value.
If you'd like to learn more about what renters insurance is, how you can get it, how you can save money on it, and more, read the other articles we've written about renters insurance.
Frequently Asked Questions
Q: What exactly does renters insurance cover?
A: In general, renters policies protect your possessions (clothing, electronics, furniture, jewelry, etc.) from fire, smoke, windstorms, vandalism, theft, and a few other instances. (Check the fine print, or ask your agent, to find out which specific catastrophes are included in any policy you're thinking of buying.) They also usually offer liability coverage, which protects you in the event that someone is injured while in your rental house or apartment. Finally, a typical renters insurance policy will pay for living expenses if you're temporarily forced out of your home due to one or more of the perils named earlier.
Q: I'm planning to buy a home next year and will be getting homeowners and flood insurance at that time. Should I keep my renters insurance until then?
A: Yes, keep your renters policy active until you actually buy a home and obtain homeowners insurance. Once all of that is finalized, though, you'll want to drop your renters insurance, as it duplicates some of the coverage that will be provided by your homeowners policy.
Q: My apartment complex has had a string of break-ins. What steps should I take to protect my belongings, just in case my home is targeted? I have renters insurance, but is there anything else I can or should do?
A: It's great that you already have renters insurance. It is likely to be a great help if your home is broken into. If you haven't done so already, you should consider creating an inventory of your possessions. (Some advice related to doing this can be found in our article, "Create an Inventory of Your Possessions for Homeowners Insurance Claims.") That will come in handy if you have to replace any items that are stolen, damaged, or destroyed, as it will help speed up the recovery process.
Q: If a fire in my neighbor's apartment does damage to my apartment and some of my possessions, will their renters insurance cover my losses or will I have to rely on my own renters insurance for that?
You should file a claim with the carrier that sold you your renters policy. They'll take things from there. The process will proceed along one of two paths. If your neighbor is found negligent, your insurance company will try to collect damages from his insurance company. If your neighbor isn't negligent, your insurance company will pay for your losses and his will pay for his.
References:
QuoteWizard.com LLC has made every effort to ensure that the information on this site is correct, but we cannot guarantee that it is free of inaccuracies, errors, or omissions. All content and services provided on or through this site are provided "as is" and "as available" for use. QuoteWizard.com LLC makes no representations or warranties of any kind, express or implied, as to the operation of this site or to the information, content, materials, or products included on this site. You expressly agree that your use of this site is at your sole risk.