Key findings:
Of the country's total population, the national average for administered COVID-19 vaccines is 3.5%.
West Virginia administered the highest rate of vaccines at 7.5%.
West Virginia, Alaska and South Dakota have the highest rates of administered vaccines.
Alabama, Georgia and South Carolina have the lowest rates of vaccinated residents.
As of the first week of January 2021, only 9 million have been vaccinated.
In the U.S., around 202 million unique persons need to be vaccinated in Phases 1a, 1b and 1c, and around 126 million (All remaining) in Phase 2.
As thousands of Americans continue to die each day from complications with COVID-19, state and national governments are carrying out their vaccination plans urgently. In order to distribute the vaccines effectively and efficiently, the Centers for Disease Control and Prevention (CDC) established priority groups for Phases 1a,1b,1c and 2. It was initially estimated that around 20 million doses would be distributed and administered to Americans by the end of December under Operation Warp Speed. According to the CDC, however, only about 2.6 million were vaccinated in December, and nearly 9 million have received vaccinations as of early last week.
The CDC is also reminding us that governors and state jurisdictions will ultimately decide who will receive vaccines. Some states have even said that they will have their own experts evaluate any FDA-approved vaccine before distributing it statewide. Each state has provided the CDC with their own vaccination plans for review. When constructing the plans, they were asked to consider the following:
Public health preparedness planning
Phased approaches to vaccination
Identification of critical populations
Provider recruitment and enrollment
Capacity to administer
Vaccine storage and handling
Why have some states been more successful than others?
Of its total population, West Virginia administered the greatest number of vaccines at 7.5 percent (as of Tuesday, January 19), and that rate is increasing daily. The reason for their success can be attributed to the state's vaccination program aimed at long-term care facilities affected the most. Vaccinations started being distributed throughout the state by the National Guard and offered at local pharmacies. This allowed the state to get a lead in vaccination rates, since they began distributing before the federal program by the CDC had officially started. Local vaccination sites can now be found throughout the state and are currently open to those 80 years or older, K-12 teachers and school staff who are 50 or older.
On the other hand, states like Alabama, Georgia and South Carolina have very low vaccination rates, with only about 2% of their respective total populations vaccinated. Some of these distribution flaws are thought to be due to misinformation, crashing of websites and poor time windows. Many states' health care systems are overwhelmed, causing more difficulties in administration of the vaccines. States are having to get creative in establishing large enough areas where many people can receive the vaccine safely at the same time.
Establishing priority groups
In a previous analysis, QuoteWizard looked at Ariadne Labs and Surgo Foundation vaccine allocation data to see which states had the highest rates of high-priority groups among the population. We found that New York, Massachusetts and South Dakota had the largest groups of Phase 1 "high-priority" individuals — over 8% of their respective populations. New York, one of the states hit hardest in 2020, distributed 1,884,325 vaccines. Of those vaccines, the state has only administered 757,466 of the total vaccines distributed so far. (40.2%).
According to The Advisory Committee on Immunization Practices (ACIP) and the CDC, updates to the phases of vaccine distribution are as follows: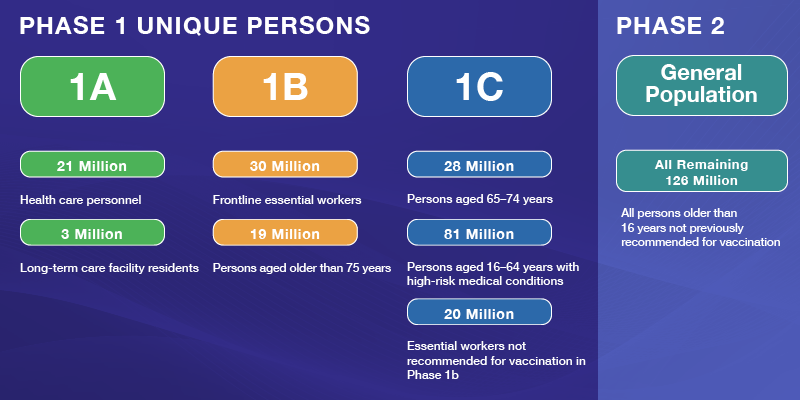 Children were initially included in Phase 2, but the ACIP would prefer to wait until clinical trials have proven safe on children 16 years and younger before recommending its administration publically. Moderna, whose clinical trials for children started four weeks ago, is expecting to have a vaccine suitable for children by 2022. Once 202 million unique persons in priority groups 1 a, b and c are completely vaccinated, the goal is to move forward with those in Phase 2, which would be around 126 million Americans. We have a long way to go, but the administration of vaccines has, in fact, begun.
Methodology:
To determine the states that have the highest rates of vaccine administration, QuoteWizard analyzed the CDC COVID Data Tracker. The rank is based on states that have the highest rates of vaccine inoculation relative to their state populations as of January 19, 2020. States that have administered the highest rates of vaccines compared to their total state populations are ranked closer to 1, and states with lower coronavirus vaccination rates closer to 50. Associated in the table but not used in the ranking is the number of vaccines distributed and administered in each state, and their administration rates relative to the total number of available vaccines distributed.
Best and worst states at vaccinating their residents against COVID-19
| Rank | State | Total Doses Distributed | Total Doses Administered | Administered vaccines (%) | State Population Administered (%) |
| --- | --- | --- | --- | --- | --- |
| 1 | West Virginia | 205,475 | 134,207 | 65.3% | 7.5% |
| 2 | Alaska | 150,450 | 49,039 | 32.6% | 6.7% |
| 3 | South Dakota | 93,675 | 57,103 | 61.0% | 6.5% |
| 4 | North Dakota | 68,675 | 46,410 | 67.6% | 6.1% |
| 5 | Connecticut | 328,775 | 185,866 | 56.5% | 5.2% |
| 6 | Vermont | 74,000 | 32,470 | 43.9% | 5.2% |
| 7 | Oklahoma | 424,000 | 203,410 | 48.0% | 5.1% |
| 8 | New Mexico | 204,750 | 99,305 | 48.5% | 4.7% |
| 9 | Colorado | 531,775 | 272,233 | 51.2% | 4.7% |
| 10 | Nebraska | 211,500 | 91,195 | 43.1% | 4.7% |
| 11 | Montana | 98,500 | 49,364 | 50.1% | 4.6% |
| 12 | New Hampshire | 127,225 | 62,517 | 49.1% | 4.6% |
| 13 | Maine | 136,875 | 61,129 | 44.7% | 4.5% |
| 14 | Rhode Island | 108,425 | 47,548 | 43.9% | 4.5% |
| 15 | Tennessee | 657,550 | 303,338 | 46.1% | 4.4% |
| 16 | Louisiana | 370,175 | 197,967 | 53.5% | 4.3% |
| 17 | Texas | 2,105,600 | 1,160,242 | 55.1% | 4.0% |
| 18 | Utah | 268,175 | 128,210 | 47.8% | 4.0% |
| 19 | Florida | 2,069,175 | 853,081 | 41.2% | 4.0% |
| 20 | Wyoming | 58,775 | 22,745 | 38.7% | 3.9% |
| 21 | Arkansas | 297,800 | 118,338 | 39.7% | 3.9% |
| 22 | Kentucky | 337,450 | 174,748 | 51.8% | 3.9% |
| 23 | New York | 1,884,325 | 757,466 | 40.2% | 3.9% |
| 24 | Indiana | 642,425 | 260,310 | 40.5% | 3.9% |
| 25 | Iowa | 269,000 | 120,983 | 45.0% | 3.8% |
| 26 | Massachusetts | 669,325 | 257,175 | 38.4% | 3.7% |
| 27 | Michigan | 773,750 | 364,182 | 47.1% | 3.6% |
| 28 | New Jersey | 658,800 | 317,070 | 48.1% | 3.6% |
| 29 | Minnesota | 519,600 | 198,253 | 38.2% | 3.5% |
| 30 | Pennsylvania | 1,075,350 | 448,151 | 41.7% | 3.5% |
| 31 | Oregon | 335,075 | 146,153 | 43.6% | 3.5% |
| 32 | Illinois | 1,011,225 | 437,765 | 43.3% | 3.5% |
| 33 | Kansas | 263,175 | 97,779 | 37.2% | 3.4% |
| 34 | Hawaii | 154,150 | 46,958 | 30.5% | 3.3% |
| 35 | Maryland | 565,125 | 194,705 | 34.5% | 3.2% |
| 36 | Ohio | 968,250 | 375,428 | 38.8% | 3.2% |
| 37 | Delaware | 91,250 | 31,090 | 34.1% | 3.2% |
| 38 | Washington | 696,175 | 242,606 | 34.8% | 3.2% |
| 39 | Missouri | 528,800 | 190,447 | 36.0% | 3.1% |
| 40 | Wisconsin | 437,900 | 169,803 | 38.8% | 2.9% |
| 41 | North Carolina | 999,650 | 302,824 | 30.3% | 2.9% |
| 42 | Virginia | 852,725 | 244,234 | 28.6% | 2.9% |
| 43 | Mississippi | 233,550 | 84,328 | 36.1% | 2.8% |
| 44 | Nevada | 211,750 | 83,674 | 39.5% | 2.7% |
| 45 | California | 3,548,575 | 1,072,959 | 30.2% | 2.7% |
| 46 | Arizona | 571,725 | 197,086 | 34.5% | 2.7% |
| 47 | Idaho | 160,075 | 46,636 | 29.1% | 2.6% |
| 48 | South Carolina | 350,550 | 121,836 | 34.8% | 2.4% |
| 49 | Georgia | 1,011,200 | 231,305 | 22.9% | 2.2% |
| 50 | Alabama | 444,650 | 100,567 | 22.6% | 2.1% |
| -- | United States | 28,856,950 | 11,492,238 | 39.8% | 3.5% |