Key findings:
Kannapolis, Hendersonville and Gastoinia are worst driving cities.
North Carolina 18th worst driving states in 2018.
North Carolina 21st most distracted driving state in 2019.
13% of roads in North Carolina in poor condition, costing drivers $336 annually.
Ever wonder if the bad drivers around you are really the worst? We wanted to give North Carolina drivers a full view of how bad drivers really are in the Tar Heel state. To be fair North Carolina drivers aren't really really bad, just sort of bad. All the factors we evaluated for the North Carolina driver grade came from over 96,000 insurance quotes from users of QuoteWizard.com. Along with data from the Federal Highway Administration (FHA) and the National Association of Insurance Commissioners (NAIC) to score North Carolina drivers. Factors in the driver report are based on the following:
Driver quality in cities
Distracted drivers
Driver quality by age group
Road infrastructure
Car insurance increases
North Carolina driver grade: C. The below average grade was earned from a decline in driver quality over the last few years. In a 2016 QuoteWizard best and worst driver study, North Carolina ranked 23rd best driving state. In 2018's study, that ranking fell to 18th worst in the country. That drop in ranking was the main factor for the C grade. Keeping the grade afloat was the big cities in North Carolina. Greensboro (28th best), Charlotte (32nd best) and Durham (34th best) all rated among the top 75 driving cities. Being in the middle of the best drivers leaves hope for improvement in the coming years.
Best and worst drivers in North Carolina
When looking at where the best and worst drivers are in North Carolina, there's a trend you can follow to see where drivers are most likely to be involved in an incident. Across the country we evaluate cities in a given state for driver quality. The common location for the worst driving cities, are those suburban cities right outside of the big city. Most likely with a busy highway passing through town. On the other side, better driving cities tend to be the more rural towns with less traffic going in and out of town.
More cars on the road equals more incidents on the road. The suburban cities like Kannapolis and Gastonia outside of Charlotte are the perfect examples of where incidents occur at a high rate. I-85 in and out of Charlotte bring lots of traffic through both cities. Where as New Bern and Rocky Mount don't have the high traffic that leads to incidents.
To determine overall driver quality in North Carolina, we analyzed driver quality in the states 50 largest cities who used QuoteWizard.com to compare quotes. We then ranked the worst 10 and best 10 cities by the highest rate of incidents. Incidents include accidents, speeding tickets, DUIs and moving citations from that data. Cities with the highest rate of incidents were listed as the worst driving cities.
Worst driving cities in North Carolina
| Rank (worst) | City |
| --- | --- |
| 1 | Kannapolis |
| 2 | Hendersonville |
| 3 | Gastonia |
| 4 | Oxford |
| 5 | Hope Mills |
| 6 | Garner |
| 7 | Matthews |
| 8 | Greenville |
| 9 | Wilmington |
| 10 | Statesville |
Best driving cities in North Carolina
| Rank (best) | City |
| --- | --- |
| 1 | New Bern |
| 2 | Chapel Hill |
| 3 | Rocky Mount |
| 4 | Henderson |
| 5 | Wilson |
| 6 | Cary |
| 7 | Burlington |
| 8 | Lexington |
| 9 | Raeford |
| 10 | Fort Bragg |
North Carolina infrastructure rating
This summer QuoteWizard conducted a study on infrastructure and compared overall quality in all 50 states. We analyzed FHA data to rank states on road and bridge quality and found North Carolina to be the 15th best for overall infrastructure. Rankings were a composite score of the following factors:
Roads in poor condition (%): North Carolina 13%
Cost per motorist (due to roads in need of repair): North Carolina $336
Bridges structurally deficient (%): North Carolina 10%
The 13% of roads in poor conditions was among the better rates in the country. Along with the $336 annual operational cost per driver due to poor road conditions being among the lowest in the country. The only alarming thing that could make things worse, is the 11% of highway budget spending on road repairs. Well below the national average of 33%, the repair budget could lead to an increase in poor road conditions.
Best and worst drivers by age group
From the age groups 20 to 80 it should come as no surprise that the 20 year old group is the worst driving group. 23.78% of 20 year olds have an incident (accident, speeding ticket, DUI or citation) on their record. Insurance companies also take not of these trends when setting insurance rates for age groups. The old adage that your insurance rates go down when you turn 25 are true in most cases. The older you get the less risk you are to insurance companies and that will reflect in your premiums.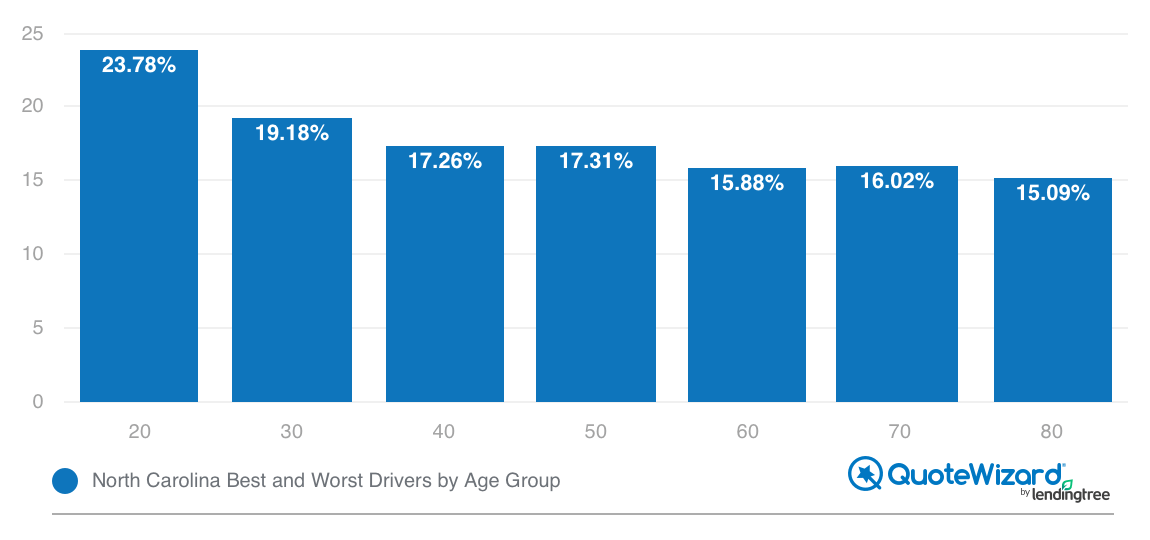 Most popular vehicles by age group
In North Carolina the gen x and baby boomer groups love their trucks. The Ford F-150 was among the most popular with those age groups. Millennials tend to opt for cheaper cars versus trucks. While the gap in average MSRP from millennials compared to their senior counterparts isn't as drastic as other states. We often see millennials opting for cheaper cars, not because of a wealth gap in age groups. More so because millennials are urban dwellers who use more public transportation and alternative transportation like Uber and Lyft.
Millennials (23-38)
Average MSRP $22,665
| Most popular | Model | MSRP |
| --- | --- | --- |
| 1 | Altima | $24,100 |
| 2 | Accord | $23,870 |
| 3 | Camry | $24,295 |
| 4 | Sentra | $17,890 |
| 5 | Fusion | $23,170 |
Gen X (39-54)
Average MSRP $23,730
| Most popular | Model | MSRP |
| --- | --- | --- |
| 1 | Altima | $24,100 |
| 2 | F-150 | $28,495 |
| 3 | Camry | $24,295 |
| 4 | Accord | $23,870 |
| 5 | Sentra | $17,890 |
Baby boomers (55-75)
Average MSRP $21,902
| Most popular | Model | MSRP |
| --- | --- | --- |
| 1 | F-150 | $28,495 |
| 2 | Altima | $24,100 |
| 3 | Camry | $24,295 |
| 4 | Sentra | $17,890 |
| 5 | Ranger | $14,730 |
Car insurance getting more expensive in North Carolina
Every state in the country is experiencing more expensive car insurance rates. From 2012 to 2016 North Carolina drivers have see an average 15% increase on their car insurance rates. The 15% increase is on par with the national average. The $91 difference over five years can be a steep cost for most.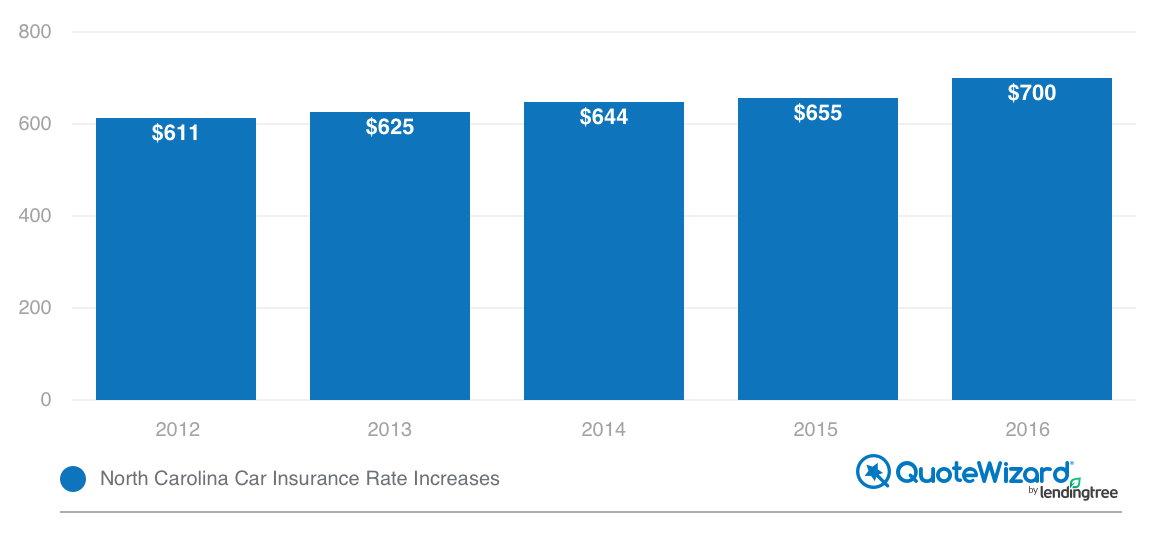 QuoteWizard.com LLC has made every effort to ensure that the information on this site is correct, but we cannot guarantee that it is free of inaccuracies, errors, or omissions. All content and services provided on or through this site are provided "as is" and "as available" for use. QuoteWizard.com LLC makes no representations or warranties of any kind, express or implied, as to the operation of this site or to the information, content, materials, or products included on this site. You expressly agree that your use of this site is at your sole risk.