Key findings:
Jefferson City, Lee's Summit and Ballwin are the states worst drivers.
Poplar Bluff, Webb City and Fulton among the best drivers in MO.
Missouri 12th best driving state in 2018.
St. Louis 7th best driving city, Kansas City 35th worst in the country.
23% of Missouri roads in poor condition, costing drivers $699 annually.
22nd worst state for distracted driving.
We here at QuoteWizard wanted to give Missouri drivers a full view of how good or bad their driving is, where the best and worst drivers are, and if the roads are in good condition. All factors leading to the overall driver score for drivers of Missouri. To get the full driver report we analyzed over 126,000 insurance quotes from users of QuoteWizard.com, along with data from the Federal Highway Administration (FHA) and the National Association of Insurance Commissioners (NAIC) to score Illinois drivers. Factors included in the Illinois driver report are the following:
Driver quality in cities
Distracted drivers
Driver quality by age group
Road infrastructure
Car insurance increases
Missouri driver grade: B+. Missouri earning a B+ is based on the improved rankings we've seen over the last three years. In QuoteWizard's 2016 best and worst driving state study, Missouri ranked 12 worst driving state! In 2018 we saw that ranking improve to 12th best driving state. Such improvements should be met with the + on the B average. Distracted driving and infrastructure ratings are what's keeping Missouri from achieving an A grade. Middle of the pack scores in both distracted driving and infrastructure studies are holding back such great improvements in overall driving scores.
Best and worst drivers in Missouri
Over the last few years, QuoteWizard produces national best and worst driver studies. We analyze drive data from our users to determine where the best and worst drivers are. Every year we rank states as the best and worst drivers. We also evaluate the top 75 biggest cities in the country to determine which cities are the best and worst. In 2016 Missouri was among the worst drivers at 12th worst in the country. Solid improvements among Missouri drivers catapulted the state to 12th best in our 2018 study. One of the best improving states we've seen in the years since releasing our rankings.
When it comes to the city rankings, St. Louis is the winner over Kansas City by a large margin. St. Louis was rated the 7th best driving city in 2019, while Kansas City was the 35th worst driving city. There's certainly bragging rights to be had for St. Louis in the cross state rivalry. However, each city shares a suburb of the worst drivers. Lee's Summit in the Kansas City metro area came in as the 2nd worst drivers in Missouri. While Ballwin in the St. Louis metro area came in 3rd worst. However, for now St. Louis and it's neighboring cities can call themselves the better drivers over Kansas City.
When we evaluate the best and worst driving cities in a given state, it's typical for suburban cities to be among the worst drivers. There are big enough populations in those cities and there are usually highways in and out of the big cities that travel through the suburbs. We see this fro both Lee's Summit and Ballwin that reside just outside of the big cities.
On the other side of things the best driving cities are those off the beaten path. Each of the top three best driving cities all reside in the rural countryside. Poplar Bluff, Webb City and Fulton each enjoy rural roads with less cars on them and less traffic passing through town. Less cars on the roads equals less incidents. Same goes for the higher traffic roads. More traffic equals more incidents.
To determine overall driver quality in Missouri, we analyzed driver quality in Missouri's' largest cities who used QuoteWizard.com to compare quotes. We then ranked the worst 10 and best 10 cities by the highest rate of incidents. Incidents include accidents, speeding tickets, DUIs and moving citations from that data. Cities with the highest rate of incidents were listed as the worst driving cities.
Worst driving cities in Missouri
| Rank (worst) | City |
| --- | --- |
| 1 | Jefferson City |
| 2 | Lees Summit |
| 3 | Ballwin |
| 4 | O' Fallon |
| 5 | Nixa |
| 6 | Liberty |
| 7 | Fenton |
| 8 | Hannibal |
| 9 | Warrenton |
| 10 | Saint Peters |
Best driving cities in Missouri
| Rank (best) | City |
| --- | --- |
| 1 | Poplar Bluff |
| 2 | Webb City |
| 3 | Fulton |
| 4 | Moberly |
| 5 | Park Hills |
| 6 | Lebanon |
| 7 | Neosho |
| 8 | Mexico |
| 9 | Sedalia |
| 10 | Joplin |
Missouri infrastructure rating
Earlier this year QuoteWizard conducted a study on which states had the best and worst infrastructure. We analyzed FHA data to rank states on quality of road infrastructure and found Missouri to be the 8th worst state in regards to infrastructure. Rankings were a composite score of the following factors:
Roads in poor condition (%): Missouri 23%
Cost per motorist (due to roads in need of repair): Missouri $699
Bridges structurally deficient (%): Missouri 12%
The poor ranking in infrastructure was really bogged down by the cost per motorists. The average annual costs per motorist of $699 was among the highest costs in the nation. The average annual cost per motorist are operational costs insured by poor road conditions. That includes repair costs and gas costs being the largest portion. Missouri is also only spending 20% of highway spending on road repairs, which ranks below the national average of nearly 30% of highway spending.
Best and worst drivers by age group
It shouldn't surprise most drivers to see the 20 year old age group has the highest rate of incidents. There are strong correlations that would suggest more experience behind the wheel, the less likely you are to have an incident. Insurance companies are also keen to this trend which is why insurance rates tend to be cheaper the older you get.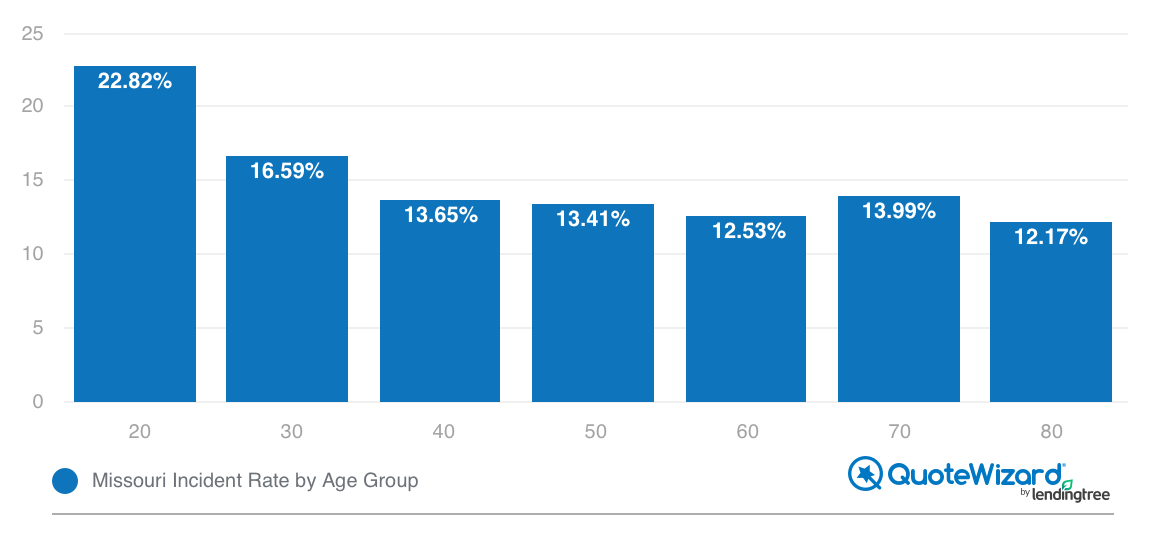 Most popular vehicles by age group
It's clear that Missouri loves their trucks. The F-150 was the most popular car in each age group. Among millennials however, the F-150 was the only truck to be among the most popular. Both gen x and baby boomers had three trucks in the top five most popular vehicles. We typically see a price difference in the average MSRP among the age groups. Millennials will typically drive cheaper cars, compared to the more expensive trucks and SUVs of their older generational counterparts. There are the obvious financial reason that millennials would drive cheaper vehicles. The salary comparison to more seasoned employees, plus the student debt riddling millennials makes obvious sense. However, what could be the prevailing reason for millennials spending less on their vehicles are means of alternative transportation. Millennials tend to gravitate towards more urban areas with public transit and ridesharing options like Uber and Lyft. With other ways of getting around town, the need to spend on a vehicle is less a requirement and older generations.
Millennials (23-38)
Average MSRP $23,162
| Most popular | Model | MSRP |
| --- | --- | --- |
| 1 | F-150 | $28,495 |
| 2 | Focus | $17,950 |
| 3 | Fusion | $23,170 |
| 4 | Malibu | $22,095 |
| 5 | Altima | $24,100 |
Gen X (39-54)
Average MSRP $26,938
| Most popular | Model | MSRP |
| --- | --- | --- |
| 1 | F-150 | $28,495 |
| 2 | Ram 1500 | $32,145 |
| 3 | Silverado 1500 | $28,300 |
| 4 | Taurus | $27,800 |
| 5 | Focus | $17,950 |
Baby boomers (55-75)
Average MSRP $25,331
| Most popular | Model | MSRP |
| --- | --- | --- |
| 1 | F-150 | $28,495 |
| 2 | Focus | $17,950 |
| 3 | Taurus | $27,800 |
| 4 | Silverado 1500 | $28,300 |
| 5 | Ranger | $24,110 |
Car insurance getting more expensive in Missouri
Even though Missouri drivers rank among the best drivers in the country, it doesn't mean insurance rates are going down any time soon. From 2012 to 2016 Missouri saw insurance rates rise 16% which was the 12th highest increase in the country. The big increase was unfortunate, but Missouri's average annual car insurance premium was only $791 in 2016. Which was 21st lowest rate in the country.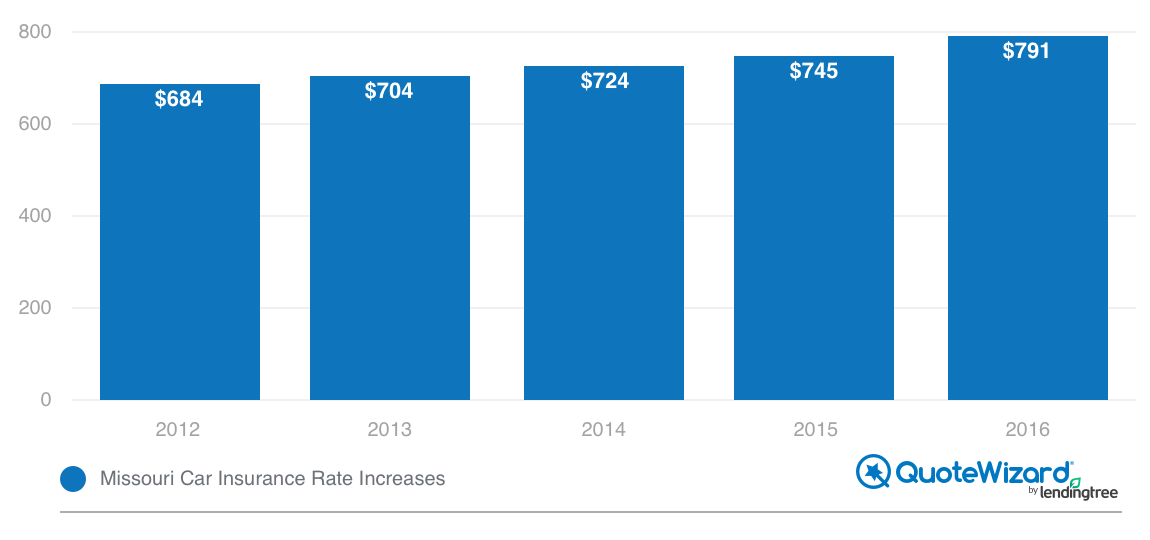 QuoteWizard.com LLC has made every effort to ensure that the information on this site is correct, but we cannot guarantee that it is free of inaccuracies, errors, or omissions. All content and services provided on or through this site are provided "as is" and "as available" for use. QuoteWizard.com LLC makes no representations or warranties of any kind, express or implied, as to the operation of this site or to the information, content, materials, or products included on this site. You expressly agree that your use of this site is at your sole risk.