Key Findings:
Woodstock, Suwanne and Dacula headline worst driving cities list.
Eatonton, Waycross and Moultrie are the best driving cities in Georgia.
Georgia 2nd best state for road infrastructure, only 5% of roads in poor condition.
Georgia 15th worst driving state in 2018 QuoteWizard study.
Millennial drivers worst group of drivers.
We here at QuoteWizard want to give Georgia drivers an inside look into how good or bad drivers really are in the Peach State. We'll dive into which cities have the best and worst drivers, how good the roads are and which age group has the worst drivers. To get data for the driver report we analyzed over 300,000 car insurance quotes from Georgia drivers using QuoteWizard.com. Along with data from the Federal Highway Administration (FHA) and National Association of Insurance Commissioners (NAIC) to grade Georgia drivers. Factors leading to Georgia's driver grade include the following:
Driver quality in cities
Driver quality by age group
Road infrastructure
Car insurance increases
Most popular cars
Georgia driver grade: B. When it comes to Georgia drivers there is a solid mix of good and bad. Leading to a slightly above average grade of a B. First off the bad. Georgia ranked 15th worst driving state in QuoteWizard's 2018 best and worst driver study. 15th was an improvement from 11th worst in 2017. For how bad overall Georgia drivers are, there were some positive factors that held it above water. Georgia ranked 2nd best state for infrastructure. At least the bad drivers of Georgia have nice roads that are not causing accidents. Keep up the infrastructure scores and the driver quality might follow.
Best and worst drivers in Georgia
As you saw above, Georgia ranked near the bottom in overall driver quality. However, Atlanta itself actually fared pretty well when compared to other big cities. ALT ranked 38th worst overall out of 75 cities, so right around the middle of the pack.
The worst driving cities you'll find in Georgia all hail from the northern reaches of Atlanta. Woodstock, Suwanee and Dacula are all in the northern suburbs of Atlanta. On the other side of the driver quality list are cities that tend to be more rural. Eatonton, Waycross and Moultrie are all cities well outside of the Atlanta metro area. Being more rural means less traffic in and out of town giving drivers in those cities safer road conditions.
To determine overall driver quality in Georgia, we analyzed driver quality in Georgia's largest cities who used QuoteWizard.com to compare quotes. We then ranked the worst 10 and best 10 cities by the highest rate of incidents. Incidents include accidents, speeding tickets, DUIs and moving citations from that data. Cities with the highest rate of incidents were listed as the worst driving cities.
Worst driving cities in Georgia
| Rank (worst) | City |
| --- | --- |
| 1 | Woodstock |
| 2 | Suwanee |
| 3 | Dacula |
| 4 | Kennesaw |
| 5 | Lilburn |
| 6 | Locust Grove |
| 7 | Dallas |
| 8 | Peachtree Corners |
| 9 | Snellville |
| 10 | Fayetteville |
Best driving cities in Georgia
| Rank (best) | City |
| --- | --- |
| 1 | Eatonton |
| 2 | Waycross |
| 3 | Moultrie |
| 4 | Jesup |
| 5 | Macon |
| 6 | Cedartown |
| 7 | La Fayette |
| 8 | Chatsworth |
| 9 | Fort Valley |
| 10 | Americus |
Georgia infrastructure rating
QuoteWizard recently produced a study ranking each state on the quality of road infrastructure. We analyzed FHA data to rank states from best infrastructure to worst. We found Georgia to have the 2nd best infrastructure in the country.
Roads in poor condition (%):Georgia 5%
Cost per motorist (due to roads in need of repair): Georgia $275
Bridges structurally deficient (%):Georgia 4%
Georgia's high marks in infrastructure come from the low percentage of roads in poor conditions. The low cost per motorist and percentage of bridges in poor condition also held high marks. Georgia does spend 34% of highway funding on road repairs. That 34% is right around the national average, which would indicate some well paved roads when originally built.
Best and worst drivers by age group
In most states there is a common trend that would indicate the older you are the less likely you are to be involved in an incident. That's almost the case in Georgia. The Millennial age group comprised of 20 to 30 year olds are the worst driving age group. The 20 year olds have 22.74% of their group with incidents. Compared to the 70 year olds with only 14.15% of drivers having an incident. The trend inverses with the 80 year old age group, who are the 2nd worst driving group in Georgia with 16.76% of drivers having an incident.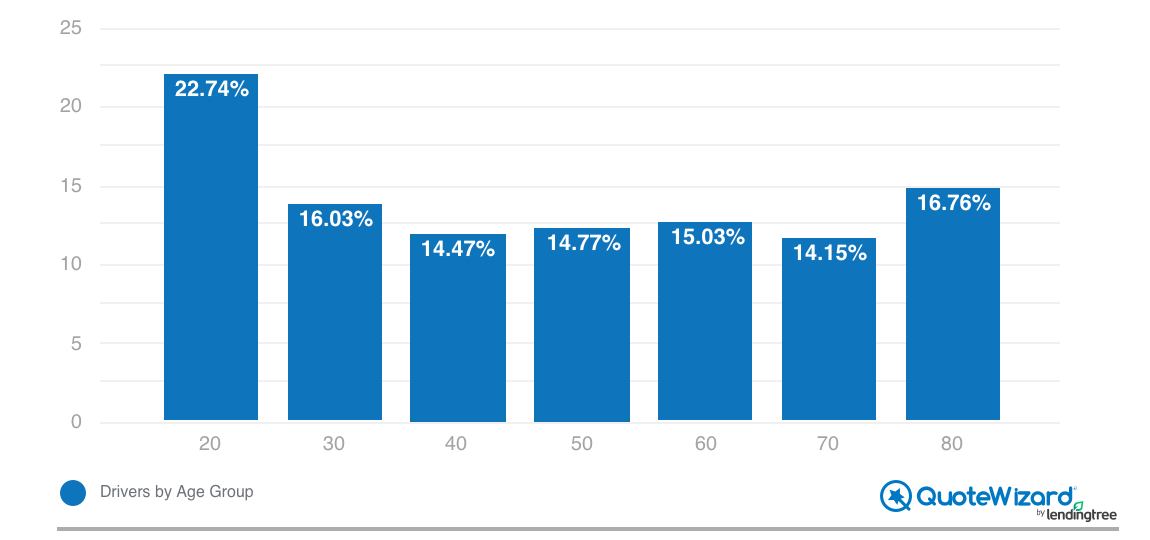 Most popular cars by age group
In most states when we evaluate the popular cars by age group there's a clear economic divide in the types of cars driven by people of different ages. The trend would show that millennials, under a mound of student debts and just starting off their careers, drive cheaper cars. Compared to their older counterparts in the gen x and baby boomer generations who have more established wealth and drive more expensive cars. In Georgia we've finding an even split between generational age groups. Millennials and gen x drive the same group of cars with equal MSRP. Baby boomers actually have a slightly lower average MSRP than their younger counterparts
All that being said, the most expensive vehicle on the top cars was the Ford F-150. The F-150 was the most popular car among gen x and baby boomers, while only being the 5th most popular for millennials. Showing the expected trend of gen x and baby boomers driving more expensive cars than millennials.
Millennials (23-38)
Average MSRP $23,530
| Rank | Model | MSRP |
| --- | --- | --- |
| 1 | Altima | $24,100 |
| 2 | Accord | $23,870 |
| 3 | Camry | $24,295 |
| 4 | Sentra | $17,890 |
| 5 | F-150 | $27,495 |
Gen X (39-54)
Average MSRP $23,530
| Rank | Model | MSRP |
| --- | --- | --- |
| 1 | F-150 | $27,495 |
| 2 | Altima | $24,100 |
| 3 | Camry | $24,295 |
| 4 | Accord | $23,870 |
| 5 | Sentra | $17,890 |
Baby Boomers (55-75)
Average MSRP $22,898
| Rank | Model | MSRP |
| --- | --- | --- |
| 1 | F-150 | $27,495 |
| 2 | Camry | $24,295 |
| 3 | Altima | $24,100 |
| 4 | Versa | $14,730 |
| 5 | Accord | $23,870 |
Car insurance getting more expensive in Georgia
From 2012 to 2016 Georgia drivers saw their car insurance rates increase by 26%. That was the second highest increase in car insurance rates, only behind Colorado. At the $966 annual average car insurance rate, that makes Georgia the 15th most expensive state in the country. Given the 26% increase over 2012 to most recent years data in 2016, we can expect similar growth in rates beyond 2016 and into the coming years.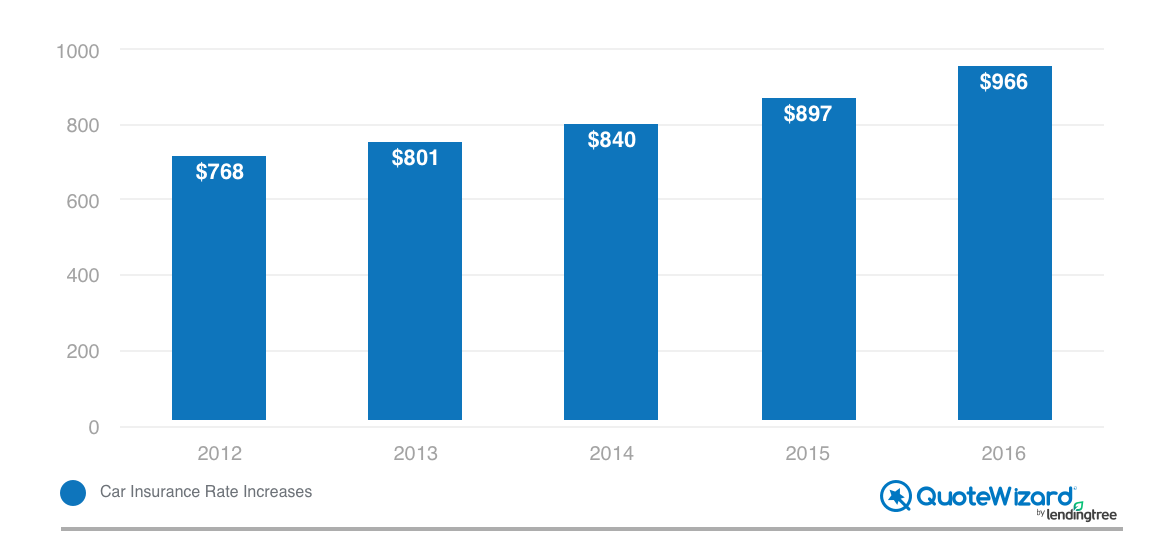 QuoteWizard.com LLC has made every effort to ensure that the information on this site is correct, but we cannot guarantee that it is free of inaccuracies, errors, or omissions. All content and services provided on or through this site are provided "as is" and "as available" for use. QuoteWizard.com LLC makes no representations or warranties of any kind, express or implied, as to the operation of this site or to the information, content, materials, or products included on this site. You expressly agree that your use of this site is at your sole risk.