Key Findings:
Gilbert, Scottsdale, Chandler and Mesa headline worst driving cities in Arizona.
Northern Arizona cities among best drivers in the state.
Arizona 4th best driving state in 2018 QuoteWizard study.
19% of Arizona roads in poor condition, state only spending 15% on road repairs.
Millennials are the worst group of drivers in Arizona.
We here at QuoteWizard wanted to give Arizona drivers a full view of how good or bad their driving is, where the best and worst drivers are, and if the roads are in good condition. All factors leading to the overall driver score for folks of the Grand Canyon State. To get the full driver report we analyzed over 100,000 insurance quotes from users of QuoteWizard.com, along with data from the Federal Highway Administration (FHA) and the National Association of Insurance Commissioners (NAIC) to score Arizona drivers. Factors included in the Arizona driver report are the following:
Driver quality in cities
Driver quality by age group
Road infrastructure
Car insurance increases
Most popular cars
Arizona driver grade: A-. This might come as a shock to most drivers on the roads of Arizona. But compared to other states in the country, Arizona drivers rate among the best. In QuoteWizard's 2018 best and worst driving state study Arizona ranked 4th best out of 50 states. The states biggest cities Phoenix and Tucson regularly rate among the better driving cities in the country according to QuoteWizard city studies. By most other measures, Arizona rates middle of the pack or better. Giving the state a well deserved A- in the driver report.
Best and worst drivers in Arizona
Every year QuoteWizard puts together a best and worst driver ranking of all 50 states and the top 75 cities. In 2018 Arizona was rated the 4th best state in overall driver quality. Bested by only by Oklahoma, Mississippi, and Michigan. When it comes to cities, Phoenix and Tucson ranked near the middle of the 75 cities ranked. Their moderate rankings paint a clear picture of driver quality in the northern part of the state compared to the southern cities.
The worst driving cities in Arizona are mostly compiled of Phoenix metro cities, Gilbert, Scottsdale, Chandler and Mesa. This is typical in metro areas that suburban cities have a higher rate of incidents than most. This is due to significant traffic in and out of the big city, via suburban highways and interstates. Conversely, you'll find northern Arizona cities that deal with less daily traffic through town being among the best drivers. The lower chance of incidents due to less traffic makes the northern state roads much safer.
To determine overall driver quality in Arizona, we analyzed driver quality in Arizona 50 largest cities who used QuoteWizard.com to compare quotes. We then ranked the worst 10 and best 10 cities by the highest rate of incidents. Incidents include accidents, speeding tickets, DUIs and moving citations from that data. Cities with the highest rate of incidents were listed as the worst driving cities.
Worst driving cities in Arizona
| Rank (worst) | City |
| --- | --- |
| 1 | San Tan Valley |
| 2 | Gilbert |
| 3 | Queen Creek |
| 4 | Scottsdale |
| 5 | El Mirage |
| 6 | Florence |
| 7 | Chandler |
| 8 | Winslow |
| 9 | Safford |
| 10 | Mesa |
Best driving cities in Arizona
| Rank (best) | City |
| --- | --- |
| 1 | Camp Verde |
| 2 | Kingman |
| 3 | Golden Valley |
| 4 | Arizona City |
| 5 | Bullhead City |
| 6 | Payson |
| 7 | Rio Rico |
| 8 | Nogales |
| 9 | Chino Valley |
| 10 | Sahuarita |
Arizona infrastructure rating
Earlier this year QuoteWizard conducted a study on which states had the best and worst infrastructure. We analyzed FHA data to rank states on quality of road infrastructure and found Arizona to be 32nd which lands on the better half of states for roads. Rankings were a composite score of the following factors:
Roads in poor condition (%): Arizona 19%
Cost per motorist (due to roads in need of repair): Arizona $576
Bridges structurally deficient (%): Arizona 2%
Ranking in the top half of states for infrastructure is a solid mark for Arizona. One key piece keeping Arizona with such a solid ranking is the number of bridges structurally deficient. Only two percent of bridges being structurally deficient is among the best in the country. However, the desert state might benefit from having fewer bridges to upkeep. Given Arizona spends only 15% of highway funding on road repairs, well below the national average of 30%, it could start catching up with them in the near future.
Best and worst drivers by age group
It most states there is a steady trend that shows the older you are the less incidents you get in. Maturity behind the wheel really does lead to less speeding, accidents and other bad driving behaviors exhibited by the millennial age group. However, in Arizona that trend kicks back upward for the 70 and 80's age groups. Arizona might be an isolated place for this upward swing in the older age groups, as the desert is popular among expat retirees. Many of which come from one of the worst driving states in QuoteWizard studies, California.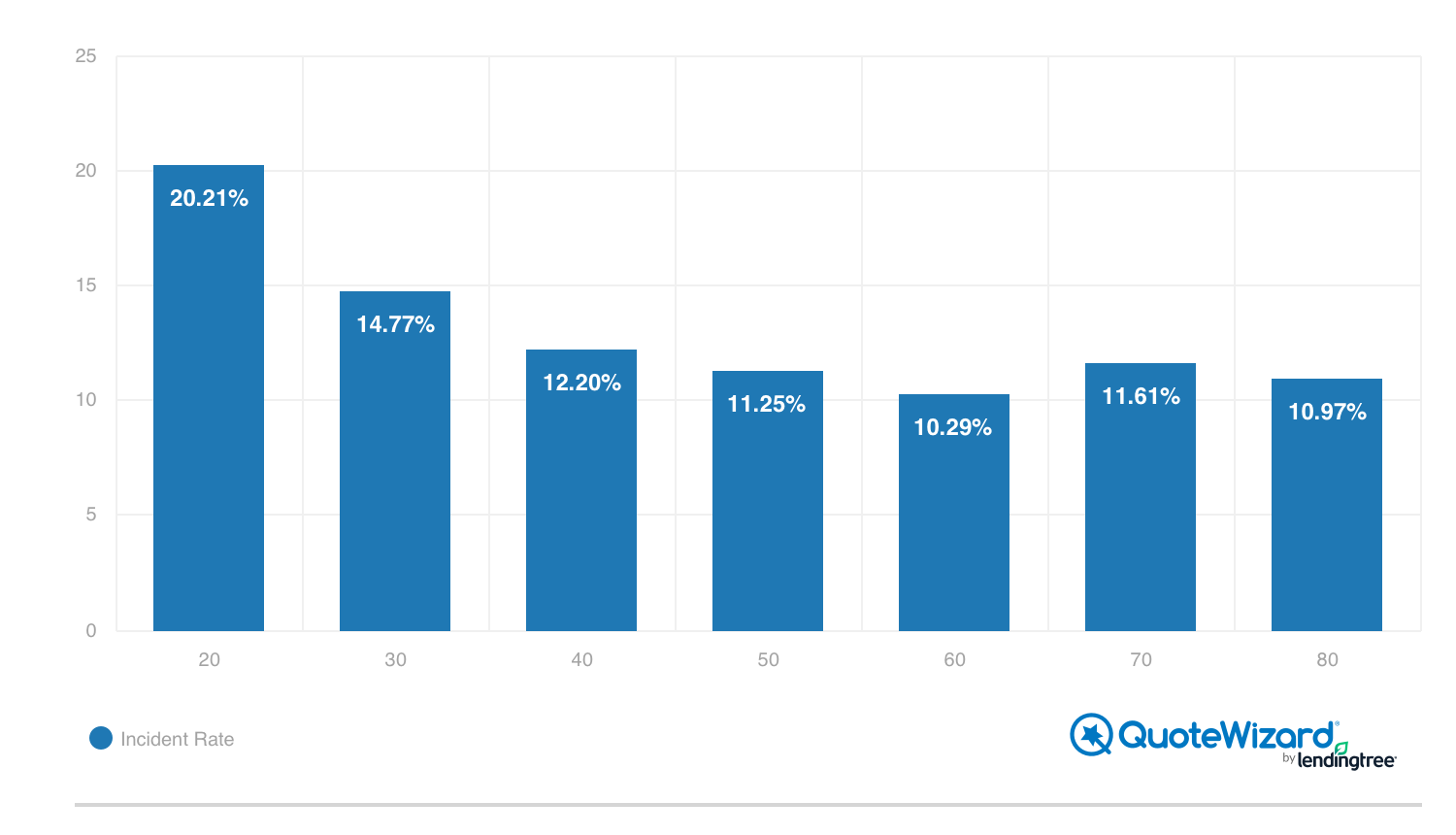 Most popular vehicles by age group
Trucks among the gen x and baby boomer groups are among the most popular vehicles. However, no trucks or SUV's made the top cars among millennials. The top cars for younger folks all tend to be cars and cheaper ones at that.
We see this trend for millennials across the country where younger folks driver cheaper cars than their older generational counterparts. The obvious is millennials don't have the same buying power as most of the gen x and baby boomers do. Financially that's mostly true. Millennials are part of a generation that is buried under student debts and the luxury of a nice car among many things is not feasible.
However, when analyzing similar generational car choices around the country we find millennials are driving cheaper cars by choice. With millennials sticking closer to big cities like Phoenix and Tucson there's less dependence on a vehicle, let alone a nice one. Today in cities there's more transportation options than previous generations. Public transportation, ride-sharing services like Uber, Lyft and car sharing services all provide more viable and cost effective than traditional car ownership.
Millennials (23-38)
Average MSRP $20,797
| Rank | Model | MSRP |
| --- | --- | --- |
| 1 | Altima | $24,100 |
| 2 | Camry | $24,295 |
| 3 | Sentra | $17,890 |
| 4 | Focus | $17,950 |
| 5 | Civic | $19,750 |
Gen X (30-45)
Average MSRP $27,267
| Rank | Model | MSRP |
| --- | --- | --- |
| 1 | F-150 | $27,495 |
| 2 | Altima | $24,100 |
| 3 | Silverado 1500 | $28,300 |
| 4 | Camry | $24,295 |
| 5 | Ram 1500 | $32,145 |
Baby Boomers (55-75)
Average MSRP $25,945
| Rank | Model | MSRP |
| --- | --- | --- |
| 1 | F-150 | $27,495 |
| 2 | Camry | $24,295 |
| 3 | Silverado 1500 | $28,300 |
| 4 | Soul | $17,490 |
| 5 | Ram 1500 | $32,145 |
Car insurance getting more expensive in Arizona
From 2012 to 2016 Arizona drivers have seen their car insurance rates increase 14%. That's an average of $109 a year over the same time period. The 14% increase is right near the national average increase of 15% from 2012 to 2016. At $890 a year average for car insurance it does make Arizona one of the more expensive states for car insurance, raking 22nd most expensive.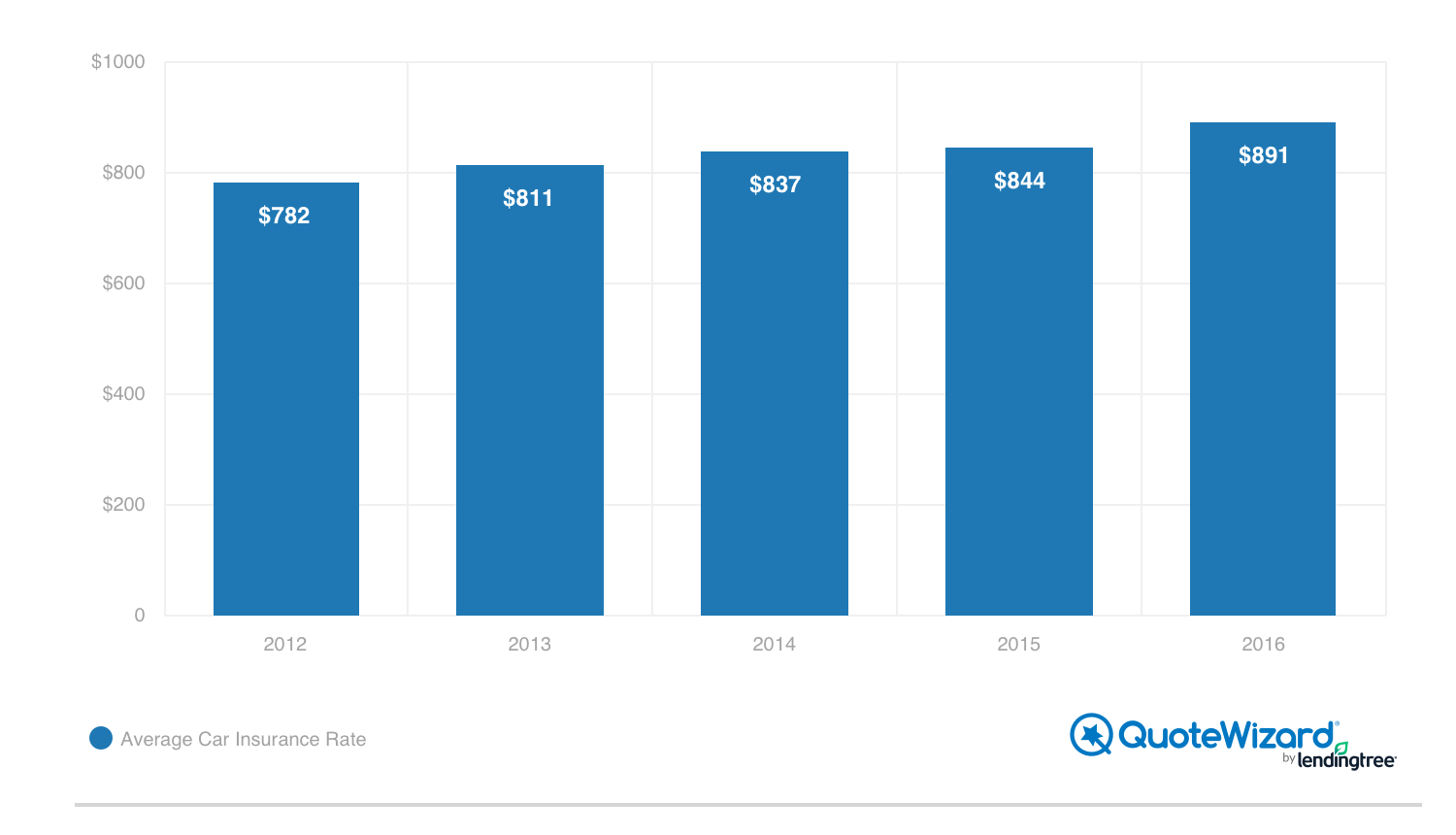 QuoteWizard.com LLC has made every effort to ensure that the information on this site is correct, but we cannot guarantee that it is free of inaccuracies, errors, or omissions. All content and services provided on or through this site are provided "as is" and "as available" for use. QuoteWizard.com LLC makes no representations or warranties of any kind, express or implied, as to the operation of this site or to the information, content, materials, or products included on this site. You expressly agree that your use of this site is at your sole risk.