Internet marketing has exploded on the scene over the past decade. From paid channels to earned ones, the options for online marketing can overwhelm.
As an insurance agent, procuring new business is time-consuming and expensive. That's especially true after exhausting your immediate contacts. Taking your marketing efforts online is a good way to reach new channels and find prospects to write more policies.
Below we will discuss the three main elements of a successful digital marketing strategy for insurance agents. These elements include paid, earned, and owned. All three work together and can be leveraged to help each other out.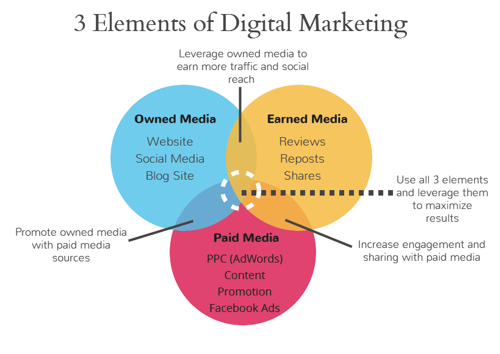 Owned Media
Owned media consists of anything that your insurance agency owns online, such as the following:
Websites
Blogs
Social media accounts
Blogs, websites, and social media are extensions of your brand. The more owned media you have, the more exposure your insurance agency receives.
You can promote owned media by using paid or earned media. With paid media, you can promote articles on your website with platforms like Facebook or AdWords. If the content is original and enticing, you can earn media when websites and blogs share your article.
Paid Media
Paid media, or paid internet marketing, is the most competitive and expensive space for the modern insurance agent to compete. Although it is expensive, paid media brings fruitful results if executed properly.
In order to leverage paid media, first, we need to define it. Paid media is any internet advertising that is conducted for money. Here are some examples of paid media:
Promoting content from your website on Facebook ads
Paying influencers to promote your insurance services to potential customers
Marketing using Google AdWords campaigns
There are a many platforms used to promote content and generate leads. Here are some of the most common paid media platforms:
Facebook Ads
Twitter Ads
LinkedIn Ads
Google AdWords
Bing Ads
Each platform has unique benefits. Let's discuss the pros and cons of the three most common advertising platforms.
Facebook (Social):
Pros: Allows you to narrowly target people with a breadth of targeting options. For example, you can target users in Washington State who are 25-40 years old and recently bought a car. This is a perfect audience segment for insurance agents.  Additionally, Facebook ads are typically cheaper than other advertising platforms.
Cons: Facebook's advertising platform might overwhelm new users. The platform has many different features, campaigns types, and targeting options. Getting started can be intimidating. But it's well worth the effort to get in front of valuable customers.
AdWords (PPC):
Pros: AdWords allows insurance agents to target potential customers directly on the Google Search Engine. You can use keywords and phrases ranging from high-intent ("buy affordable auto insurance") to low-intent ("auto insurance comparison").
Cons: Google AdWords is more expensive than other forms of paid media. Many insurance agents just can't afford to advertise directly paying upwards of $10 per click. This is where lead generation companies such as QuoteWizard excel. We spend millions advertising on AdWords with only the highest intent keywords to generate leads for you.
Taboola (Native):
Pros: Taboola allows insurance agents to reach numerous people for a reasonable price. It's best used to market content on your website such as blog posts and infographics. For example, pretend you have an article titled "5 Tips for Lowering Insurance Rates." You can promote it on Taboola and reach a wide variety of readers, some of whom will contact you.
Cons: Taboola's disadvantage is that it does not allow you to target users on an individual level. While you reach a variety of people, not all of them want an insurance policy.
Earned Media
Earned media is any mentions, shares, reposts, or reviews of your agency. It's essentially all online word of mouth. This media is typically generated by creating original content on your website or ranking highly on search engines to make your website more visible to consumers.
In order to 'earn' media attention using original content, the content should be interesting and informative. It can come in a variety of forms such as a blog, video, press release or e-book.
If you want to earn media, be ready to dedicate some time and resources to create content. Content should focus on benefits and facts that interest potential customers. Here are three samples of original content that could entice potential insurance shoppers:
5 Ways to Lower Your Auto Insurance Rates
3 Reasons to Switch Auto Insurance
5 Facts Every Driver Should Know About Auto Insurance
Once you have created your content, you can promote it in a variety of ways. Use paid sources like Facebook to reach potential customers. Or send an email to a list of ex/potential clients you have not closed yet.
Leveraging Owned Media with Paid Media
Each piece of the online marketing strategy works better when leveraged with the other pieces. When promoting owned media with paid media, decide what you want to promote. Do you want to promote a new insurance blog post? Do you want to attract visitors to your site in hopes of them reaching out for a quote?
Whatever your goal is, it is important to always test your paid offerings. For testing to be effective, it needs to be controlled closely. Make sure to only test one variable at a time.
For example, pretend you are promoting a blog post on Facebook. You will want to keep all of the settings and ad copy the same. Simply change the headline to gauge its performance fairly against other headlines you are testing.
Leveraging Owned Media with Earned Media
Leveraging owned media using earned media requires PR and outreach. In order for your owned media (blog posts, website, etc.) to be shared by other insurance industry leaders, you need original and enticing content.
Once you create this content, reach out to insurance blogs, insurance Facebook pages, or insurance industry influencers on social media. If the content is valuable, you should be able to get an industry authority to promote your content. You can also find insurance forums, answer people's questions, and then leave a link to an article or your website.
Leveraging Earned Media with Paid Media
You can earn media on your paid promotions. This is done in a variety of ways. The most common is people sharing or interacting with your promoted Facebook posts.
Remember that when there's a lot of engagement on a post, paid or not, people are more likely to comment or react. More comments and reactions mean that post is more likely to be seen. Your personal brand is more likely to make an impact.