Why is Homeowners Insurance So Expensive?
Homeowners insurance rates across the country are rising fast. Find out why, and what you can do to avoid a higher home insurance premium.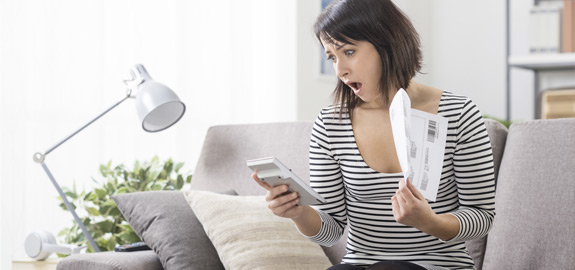 Are you feeling the squeeze from the cost of your homeowners insurance policy? If so, you're not alone, because homeowners insurance rates are rising in every state.
What's propelling these increases? Two trends impacting every state are increases in natural disasters and rising construction costs.
But these national trends are only part of the story. Personal factors – your home, where you live, your policy – are a crucial part of your insurance premium.
This article covers the causes behind rising and insurance rates, and what you can do to combat them.
Disasters and Construction Costs are Raising Home Insurance Prices
Natural disasters are currently increasing in both severity and frequency. According to the United Nations, today there are about four times as many natural disasters compared to 1970. And that's leading to some steep losses. The global insurance industry faced bills totaling $135 billion in 2017. Those losses, in turn, are passed onto consumers.
That's compounded by the fact that construction costs are higher than ever. Why? Several reasons:
Labor shortages
Rising wages
New regulatory costs
Increasing lumber prices
High construction costs raise insurance rates because the cost to rebuild a home is a factor in the price of your policy. But disasters and construction costs are only part of the story. 
Your Personal Factors Affect Homeowners Insurance Rates
Disasters and rising construction costs are raising rates across the board, but the price of a homeowners policy also depends on personal details. There are four crucial factors that can spike your premiums.
Where do you live? Insuring a home costs more in certain areas. For example, if you live in a city with a high property crime rate, your coverage will cost more. Same goes for natural disasters – insuring a home in a disaster-prone area costs significantly more.
What kind of house do you have? An ornate, custom-built home costs more to insure than a cookie-cutter house. Why? The rebuild cost for the custom home is significantly higher than that of a 'standard' home. Also, poorly-maintained homes come with higher insurance rates because the wear-and-tear makes a claim more likely. A house with a tattered roof and old plumbing has a higher risk of a ceiling leak or a burst pipe.
What is your insurance history like? If you've filed lots of claims, had lapses in coverage, or missed payments, you're going to face steep insurance rates.
What type of policy and coverage levels do you have? A comprehensive insurance policy costs a lot more than a bare-bones policy.
How Coverage Levels Impact the Price of Your Policy
As any homeowner knows, home insurance policies are highly customizable. Shoppers have numerous coverage options when buying a policy. Certain policy types and coverage levels cost significantly more than others.
First, homeowners choose a policy type. They have eight options:
HO-1: Basic
HO-2: Broad
HO-3: Special
HO-4: Tenant's
HO-5: Comprehensive
HO-6: Condo
HO-7: Mobile home
HO-8: Older home
Though it's the 'special' type, the HO-3 type is the most common homeowners policy. It offers considerably more coverage than HO-1 and HO-2, but it doesn't cost significantly more. Unsurprisingly, policy types with more coverage and less exclusions cost more.
After choosing a policy type, you can customize the coverage levels. A homeowners insurance policy includes four different types of coverage:
Structure/dwelling: This covers the physical structure of your home. If your house is destroyed by a covered incident, the structure coverage pays for the rebuild. You should have enough coverage to completely rebuild your home from the ground up. Large or custom homes need more structure coverage. That makes the homeowners policy more expensive. To find out how much structure coverage you need, you'll need to calculate your home's replacement cost value.
Personal property: If your house is destroyed, your personal property coverage pays to replace your belongings. Coverage is usually set at 50 to 75 percent of your dwelling coverage. That's usually enough for most people. Your property coverage cost depends on whether you choose actual cash value or replacement cost. Replacement cost offers better payouts, so it costs more.
Liability: If someone gets hurt in your home, liability protects you from legal action against you. Most policies start at $100,000 in coverage. It's recommended that you purchase at least $300,000 in liability coverage. That, of course, makes your policy more expensive.
Additional living expenses: If your house is uninhabitable after a covered incident, ALE pays for your temporary housing and more. For an HO-3 policy, your ALE coverage is 30 percent of your structure coverage.
Beyond coverage levels, other factors can also make your homeowners insurance more expensive.
First, your deductible plays a role. A high deductible comes with lower premiums, and vice-versa. There's a lot to consider when choosing a deductible. 
Second, any add-ons like riders, endorsements, or flood insurance (sold separately) will increase your homeowners insurance costs. People with large assets and high-value items need riders and endorsements. Virtually every homeowner needs flood insurance – even those who don't live in flood-prone areas.
How You Can Keep Your Home Insurance Costs Down
You can't stop home insurance rates from rising across the country, but you can do your part to soften the blow.
Avoid Unnecessary Claims
It's tempting to file a claim for any covered damages that happen to your home. After all, that's what insurance is for, right? Yes, but filing claims can and will raise your insurance rates – especially if you file several.
If you're considering filing a claim, it's absolutely vital you do your homework. Never file a claim if the damages are worth less than your deductible. If damages are only a few hundred dollars over your deductible, you should pay for repairs yourself.
Also, don't file a claim if the damages aren't covered or if they're due to your own negligence. Your insurer will deny the claim, but still add said claim to your record. That, in turn, can lead to an increased premium.
Refine Your Coverage
Make sure you're not paying for more coverage than you need. Most people choose their home insurance coverage levels when they first buy a policy without bothering to reassess. These steps can help you trim any unnecessary coverages:
Consider raising your deductible to lower your premiums
Get your house appraised to see if your structure coverage is higher than necessary
Inventory your items to see if you can lower your personal property coverage
If you need a high liability coverage level, consider an umbrella policy
Consider Switching Insurance Companies
Homeowners rarely reassess coverage levels, and they rarely consider switching insurance companies. Why? Well, buying an insurance policy is a time-consuming process. But every insurance company uses their own pricing algorithms. Different companies offer different rates for identical policies. You could be paying higher rates than necessary.
How do you make sure you're getting a good deal on your homeowners policy? You have to shop around and compare quotes from different home insurance companies. How do you do that without wasting your time getting individual quotes from each insurance company? Use QuoteWizard to quickly get quotes from top homeowners insurance companies.
Invest in Home Improvements
There's a lot of simple improvements that can lower your homeowners rates:
Frequently Asked Questions
Q: How much homeowners insurance do I need?
A: The answer to this question is different for everyone, depending on their needs. A basic rule of thumb is to have enough homeowners insurance to restart your life, in the event that your home is destroyed.
You should have enough dwelling coverage to completely rebuild your house. You should have enough personal property coverage to replace all your stuff. You should have enough liability to protect all your assets. And you should have enough additional living expenses coverage to maintain your lifestyle if your is unlivable.
But exact coverage amounts are different for everyone. For a more detailed guide, read our article on how much homeowners insurance you need.
Q: What should my deductible be?
A: A policy with a low deductible has a higher monthly premium. But if and when you file a claim, your out of pocket costs are lower.
Different homeowners prefer it either way. Would you rather have a lower monthly rate, but a higher out of pocket cost after a claim? Or vice versa?
If you have a healthy savings account, you might prefer a high deductible. Need more info? Read our article on choosing the right homeowners deductible.
Q: Should I pick actual cash value or replacement cost for personal belongings coverage?
A: Replacement cost offers better payouts. Your items are valued at their original cost, without accounting for depreciation. Actual cash value, on the other hand, adds depreciation to value your stuff.
A policy with replacement cost is more expensive. If you can easily afford it, go for it. For more details, read our article on actual cash value versus replacement cost.
Q: I didn't file any claims, but my insurance rates went up. Why?
A: Like we mentioned earlier, home insurance rates are increasing across the country. The main culprits – disasters and high construction costs – are out of your control. Even if you maintain a flawless insurance record, it's possible that your rates will jump.
If your city has a spike in property crimes, or people in your city file an unusually high number of claims, you could face a rate hike.
References:
QuoteWizard.com LLC has made every effort to ensure that the information on this site is correct, but we cannot guarantee that it is free of inaccuracies, errors, or omissions. All content and services provided on or through this site are provided "as is" and "as available" for use. QuoteWizard.com LLC makes no representations or warranties of any kind, express or implied, as to the operation of this site or to the information, content, materials, or products included on this site. You expressly agree that your use of this site is at your sole risk.