How Your Location Affects Home Insurance Rates
Where you live, including your home's zip code, is a defining factor when it comes to how much you pay for homeowners insurance.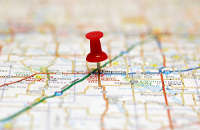 How does your insurance company determine the price of your homeowners policy? They account for various factors including your house, policy type, and insurance history. But one of the most important factors is the location of your house. Your state, city, and even the street you live on all impact the price of a home insurance policy.
Insurance companies price a policy based on your risk level. In other words, how likely are you to file a claim? The location of your home is a big indicator of your claim-likelihood. Your chances of falling victim to a natural disaster or property crime, for example, depends entirely on where you live.
This article explains how your home's location impacts your insurance rates. It also covers what you can do to get reasonable rates even if you live in a high-risk area.
Why Home Insurance Companies Care Where You Live
Each region, state, or city comes with unique insurance risks. Your policy is priced to reflect that risk. These are specific region-specific factors that insurance companies assess.
Natural disasters
The frequency and severity of natural disasters have increased in recent years. The insurance industry lost a record $134 billion in 2017 due to natural catastrophes. Who ends up footing that bill? Sorry, homeowners, but your insurance rates end up reflecting those expenses.
Natural disasters are a big part of why homeowners insurance rates are rising in every state. Unsurprisingly, the states with the biggest rate hikes have been decimated by tornados and hurricanes in recent years.
Does your state have a higher-than-average risk of natural disasters? That includes wildfires, hurricanes, storms, blizzards, and more. If the answer is yes, expect to pay more for home insurance.
What you can do
You're not going to be able to change the weather in your city – unless you have super powers. But you can make your home less susceptible to natural disasters. How? Two of your home's most vulnerable spots are the roof and windows. By making sure they're in good condition and made of region-appropriate materials, you can avoid a lot of weather-related damage.
Certain roofs are better suited for specific climates. Your roof type and quality plays a big role in the price of your home insurance policy. If you live in a dry climate, for example, avoid cedar shingles, as they're extremely flammable. Don't install tiles if you live in an area with freezing cold winters.
Make sure your windows are in good condition. If you live in a hurricane-prone area, install storm windows. As the name suggests, they can withstand destructive storms and spare your home from significant damage. Your insurance company may reward you with a discount.
Property crime
Home insurance covers you if you're a victim of theft, vandalism, burglary, and other forms of property crime. If you live in an area where property crime is abundant, you're going to pay more for a home insurance policy. It's an unfortunate fact.
What you can do
You can and should take steps to reduce your risk of property crime. Beef up your home's security with:
Deadbolt locks
Burglar bars
Security cameras
Alarm systems
Neighborhood watch programs
Making your home safer is a smart move on its own merit. It can also lead to some sweet insurance discounts, because you're doing your part to stop property crime before it happens. That, in turn, means you're less likely to file a claim.
Claim frequency
Insurance companies assess an area's communal claim rates. If your city (or state) files claims at an abnormally high rate, your rates will reflect that. Of course, if you live in an area with above-average property crime or natural disasters, it's normal to expect your neighbors to make more claims than average.
But insurers reassess rates in every state annually. If lots of your neighbors file unnecessary claims or commit insurance fraud, for example, you might face a rate hike to compensate. 
What you can do
There's not a whole lot you can do to stop your neighbors from filing unnecessary claims or committing insurance fraud. You should avoid filing necessary claims of your own, however. Filing a claim is a sure-fire way to get a rate hike – especially if it's your second or third claim in the last few years.
Proximity to emergency services
If your house catches on fire, whether it's completely destroyed or not depends on how close you live to a fire station. That's why insurance companies account for your fire protection class. A fire protection class accounts for three metrics:
Fire department quality
Water supply system
Fire alarm and communication systems
A city's fire protection classes is ranked from one to 10, with one being the best. Living in an area with an excellent fire protection class bodes well for your homeowners insurance rates.
What you can do
Well, aside from moving to an area with a better fire protection class, you don't have a lot of options. You could lobby for increased funding for your local fire department, but that's about it. Fortunately, a mediocre fire protection class won't make your home insurance policy unreasonably expensive.
Construction costs
A significant segment of your home insurance policy is structure coverage. It pays for damages to the physical structure of the house. If your house is leveled to the ground, structure coverage pays to rebuild it.
Ideally, you'll have enough coverage to completely rebuild your house from the ground up. The cost to do so depends on your house – materials, design, finish, and more. But also important to consider is the cost of labor and construction in your area.
The cost to rebuild your home depends heavily on the cost of local construction and labor. Unfortunately construction costs are rising across the country, primarily for four reasons:
Labor shortages
Rising wages
New regulatory costs
Increasing material costs
What you can do
You're probably not going to be able to lower your region's construction costs. You can, however, make sure that your house is correctly appraised, and your coverage amount is accurate.
Ideally, you'll have enough structure coverage to rebuild your home from the ground up. But that assumes you accurately calculated the cost of your home's replacement value in the first place. Structure coverage is linked with construction costs, because it encompasses the cost to rebuild your house.
Having an accurate replacement value for your house might require buying extra coverage to address rising construction costs. But, at the end of the day, that's a good thing. Though extra coverage is expensive, it'll save you a whole lot of money if your house is damaged.
Frequently Asked Questions
Q: If I move, do my home insurance rates change?
A: Yes. Moving into a different home will change your insurance needs. At minimum, your new house is different from your old house, so your coverage levels will need to change. You might need more (or less) structure coverage depending on the difference of your house's replacement cost.
Also, if you moved to a new state, your claim risk-level will change. Depending on the weather patterns, property crime, and other risk factors of your new state, you'll have a new home insurance rate.
If you're considering a move, it's a good idea to research the average homeowners insurance rates in each state. Some states have considerably higher average rates than others. An average homeowners policy costs nearly $2,000 in Florida compared to $643 in Oregon.
Q: Why does my neighbor pay less for homeowners insurance?
A: There are a number of reasons for why your neighbor pays lower home insurance rates. First, it's possible that their insurance needs are different than yours. Perhaps they have a higher deductible, lower coverage levels, or a more basic policy type.
Even with identical policy types, it's possible to have different rates depending on your personal details. If you have filed claims recently, you're likely paying higher rates. If you have a bad credit score, you get charged more for insurance.
Finally, each insurance company charges different rates and prioritizes different factors when pricing a policy. It's possible your neighbor's insurance company simply offers cheaper rates.
Q: How can I get cheaper home insurance rates?
A: If you live in an area with lots of insurance risks, you're going to need to do everything you can to save money on your homeowners policy. That includes improving your home, altering your coverage levels, and searching for discounts.
A sure-fire way to find the best deal on a home insurance policy is to shop around and compare quotes from different companies. As we mentioned earlier, different companies charge different rates for identical policies. Finding the company with the best rates requires you to get quotes from multiple insurers.
But, if you've shopped for insurance, you know first-hand that it's a time-consuming and painful process. That's where QuoteWizard can help. We'll connect you with top home insurance companies, so you can compare quotes in one go.
References:
QuoteWizard.com LLC has made every effort to ensure that the information on this site is correct, but we cannot guarantee that it is free of inaccuracies, errors, or omissions. All content and services provided on or through this site are provided "as is" and "as available" for use. QuoteWizard.com LLC makes no representations or warranties of any kind, express or implied, as to the operation of this site or to the information, content, materials, or products included on this site. You expressly agree that your use of this site is at your sole risk.