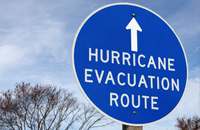 Anyone who lives in the Southeast or Northeast portion of the US knows a hurricane or other "named storm" could hit them at any time.
OK, so any time isn't entirely accurate. In those parts of the country, the so-called hurricane season runs from early June until late November.
And even then, fewer hurricanes and tropical storms than you might think actually threaten Texans, Mainers, and everyone between during that period. According to the National Oceanic and Atmospheric Administration, for example, just one or two hurricanes impact the area in a typical year.
Still, there's no getting around the fact that these storms are more likely to hit the Northeast or Southeast than they are to hit anywhere else in the US. (And, in truth, a good number approach those locales every year. On average, about 12 named storms -- six of which become hurricanes -- form in the region in a typical season, although not all make landfall.)
Which begs the question: how can people who live in the most hurricane-prone sections of the country insure their homes and property against the damaging effects of these storms? Keep reading to find out.
Where Hurricanes are Most Likely to Hit
First, here's a bit more information about where hurricanes and tropical storms tend to take aim in this corner of the world.
In general, storms like these originate in the Atlantic Basin. That's the part of the Atlantic Ocean that sits off the United States' eastern and southern coasts. Although it's not impossible for hurricanes or tropical storms to impact the Pacific coast, it is rare.
If you're looking for the names of cities most vulnerable to hurricanes, here are a few examples:
Gulf Coast cities like Houston, New Orleans, and Tampa or St. Petersburg, Florida
Southern Atlantic Coast cities such as Miami, Savannah, Georgia, and Wilmington, North Carolina
Northeastern cities, including Boston and New York
Honolulu
Don't assume that just because you live in a location not named here you're in the clear. Every state, city, and town near the ocean could see hurricane activity at some point.
Given that, now's the time to make sure your current homeowners policy provides enough hurricane protection. If you find it doesn't, shop around and see what other insurance companies can offer. Doing so will help you get the coverage you need and the best rates possible.
How Home Policies Do (or Don't) Cover Hurricane Damage
You may be wondering how you're supposed to figure out if your policy provides enough protection.
It's pretty easy, actually. Unfortunately, that's because standard homeowners insurance doesn't do much to cover hurricane damage.
In fact, one of the only forms of hurricane damage your average home policy covers is the kind caused by wind. So, if a storm's gusts rip shingles off the roof or siding off the rest of your house, you should be OK.
Although most policies cover some amount of water damage too, it's usually limited to damage tied to leaking roofs or broken pipes.
Those same policies won't cover damage that results from flooding, however. And flooding causes most hurricane-related destruction.
To protect against that, you have to buy flood insurance.
How Homeowners Policies Differ in Hurricane-Prone Areas
Before we get to why you should buy flood insurance and how you can buy it, you should know that most homeowners policies sold in hurricane-prone regions of the US differ from those sold elsewhere.
Specifically, insurers operating in about 20 states sell policies with deductibles tied to a percentage of damage instead of a set dollar amount.
Usually, people have to dig into their own pockets to pay the first $500 or $1,000 of a claim. This is true whether the claim amount is small or big. People who buy policies with percentage deductibles, though, pay a percentage of their home's value before the insurer covers the rest.
Here's how it works. Say you insure your house for $250,000, and your homeowners policy comes with a 1 percent deductible. If a hurricane damages it, you'll have to pay the first $2,500.
Hurricane deductibles often vary from 1 to 5 percent, although they can go above that amount in high-risk coastal areas.
Another aspect of these deductibles that varies from insurer to insurer is what causes them to kick in. In most cases, the trigger is the National Weather Service declaring or naming a hurricane or tropical storm. Also, these deductibles typically remain in effect for a certain number of hours or days after officials downgrade the storm in question or cancel the related hurricane warning or watch.
These sorts of special deductibles tend to be mandatory in cities and towns most vulnerable to hurricanes and tropical storms. If you live in a place less likely to be hit by one, though, you may be able to switch to a dollar deductible if you pay a higher premium.
Why Special Deductibles Exist
If you're wondering why insurers introduced these special deductibles, the reason is 1992's Hurricane Andrew.
That storm cost the US insurance industry a lot of money. In fact, it was the most expensive storm ever as far insurers were concerned. Insured losses topped $15 billion. Also, claims were four times higher than the previous costliest storm.
As a result, reinsurers – they provide insurance to insurance companies – required their customers (regular insurers) to reduce their risk in this area. Their response was the percentage deductibles described above.
How to Buy Flood Insurance
As was said earlier, even with special deductibles, standard homeowners insurance won't cover much hurricane damage.
Because of that, you have to buy flood insurance if you want to be as protected as possible from those and similar storms.
Speaking of buying flood insurance, here is some important information about the process:
You don't have to look far to find someone who will sell you a flood policy. The most direct option is to contact the National Flood Insurance Program (NFIP).
Another option is to get it through a number of private insurance companies. (Compare quotes for hurricane damage protection from top insurers.)
Anyone who lives in an NFIP-participating community – there are more than 20,000 of them -- can buy flood insurance.
If you buy a house in a high-risk area, your mortgage lender may force you to buy it.
The average flood insurance policy costs about $700, according to the NFIP.
How Flood Insurance Protects You
How exactly does flood insurance protect you and your property? That depends on the kind and amount of coverage you purchase.
Basically, though, flood policies cover the structure and foundation of your home as well as its contents.
Note: the NFIP puts caps on its coverage. For property, the cap is $250,000. For contents, the cap is $100,000.
Don't worry if that's not quite enough for you. You can pick up additional coverage from various private insurers.
To learn more about what this type of insurance does and doesn't cover, read our article about flood insurance basics.
Hurricane Preparedness Tips
Don't put all your faith in your home and flood insurance policies to cover you if a hurricane or tropical storm bears down on your property.
Take some time to prepare your house and its belongings before one hits your neck of the woods. A few examples of things you can do, courtesy of the Department of Homeland Security's Ready.gov site:
Keep a keen eye on the trees in your yard. Trim branches as needed, and remove entire trees if they become diseased or die. Strong winds, whether they're associated with a hurricane or not, can cause both to fall onto and damage your home. 
Have a professional examine your roof, windows, and doors to see if they'll stand up to a hurricane or tropical storm. If not, do what's required to reinforce them.
Check your house's downspouts and gutters. Tighten or secure loose ones. Also, remove any debris that may be clogging them. Those clogs could lead to flooding issues.
Frequently Asked Questions
Q: Will my homeowners insurance cover me if a hurricane damages my home?
A: It depends on the kind of damage. If a storm's winds damage the exterior of your house, such as its roof or siding, your policy should pick up the bill. (Minus the amount of your deductible, of course.)
If the rain that usually accompanies a hurricane or tropical storm causes floods and damages its interior, though, you're out of luck unless you have flood coverage.
Q: Is it possible to buy a home policy without a percentage deductible?
A: Do you live in an area that has a high risk of hurricanes? You may have to deal with a percentage deductible. If you live in an area where hurricanes are less likely, though, insurers may let you choose a dollar deductible instead. Just be aware you'll probably have to pay a higher premium if you go that route.
Q: Which states sell homeowners policies with percentage deductibles?
A: Nineteen states plus Washington, D.C., sell these policies. A few examples: Alabama, Delaware, Florida, Georgia, Hawaii, and Maine. To see which other states also sell them, go to iii.org.
Q: Why do I need flood insurance?
A: Standard home insurance doesn't cover most kinds of flood damage. That's a big deal because hurricanes – and tropical storms – commonly cause flooding. If you don't want to spend your own money to fix that damage, purchase flood insurance.
Q: Where can I buy flood insurance?
A: You have two options here. One is to get it directly from the NFIP. The other is to get it from a private insurer that's partnered with the NFIP.
Q: How much can I expect to pay for flood insurance?
A: Most people pay around $700 to $1,000. To get a more exact quote based on your situation, talk to an insurance agent or someone at the NFIP.
QuoteWizard.com LLC has made every effort to ensure that the information on this site is correct, but we cannot guarantee that it is free of inaccuracies, errors, or omissions. All content and services provided on or through this site are provided "as is" and "as available" for use. QuoteWizard.com LLC makes no representations or warranties of any kind, express or implied, as to the operation of this site or to the information, content, materials, or products included on this site. You expressly agree that your use of this site is at your sole risk.