Homeowners Insurance Myths
Many well-known "facts" regarding homeowners insurance are, in fact, not true. These home insurance myths could cost you money or expose you to risk.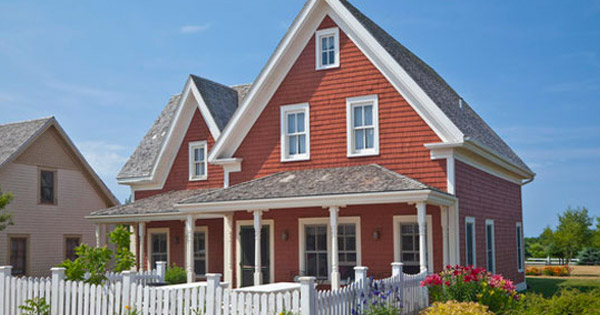 Insurance is a murky subject. First, insurance is a complex and intangible product. It's also not something that most of us spend a great deal of time thinking about. Do you know the exact coverage amounts and types of your insurance policies? If so, you're in the minority.
Additionally, most people (understandably) try to avoid insurance claims. One result of this lack of familiarity with our insurance is the spread of home insurance myths.
We have created a list of the most common myths and misconceptions about homeowners insurance in an effort to dispel these myths and educate homeowners.
1. Homeowners insurance isn't mandatory
Home insurance isn't legally required like liability insurance for your car, but mortgage lenders will generally require you to get homeowners insurance in order to protect their investment. If your home is uninsured and catches fire, floods, or the like, it would be a large financial loss for them. If you purchase a home in cash, you would not have to obtain a home insurance policy.
Although it is only a requirement to get homeowners insurance if you take out a loan for your home, you should still have it. Think about it this way—you finally pay off your mortgage, drop your homeowner's insurance policy, and then your house catches on fire. All that time and money you invested in your home will go up in smoke. You would have to pay out of pocket for the hundreds of thousands of dollars' worth of repairs.
Paying a hundred dollars a month in home insurance premiums is vastly preferable to paying hundreds of thousands of dollars to repair or replace your home.
2. You will get "full coverage" when you purchase homeowners insurance
Unless you purchase umbrella insurance, you will most likely not have "full coverage." There are many different types of home insurance policies, also known as forms. There is:
Basic Form (HO1)
Broad Form (HO2)
Special Form (HO3)
Tenants Form (HO4)
Comprehensive Form (HO5)
Condominium Unit-Owners Form (HO6)
Modified Coverage Form (HO8)
HO3 is the most common form because it provides you with the largest amount of coverage. It covers most perils to your property, but there are exclusions.
It's important to note that just because you purchase a homeowners policy with a large amount of coverage, doesn't mean you will have "full coverage."
In addition to choosing the appropriate amount of coverage, you must choose which type of coverage you need. For example, you must choose between actual cash value (market value) and replacement cost (original price) coverage for your home.
There is another type of coverage called guaranteed replacement cost, which will cover the cost to repair your home, even if it exceeds the limits in your policy. However, the premiums and deductible will be much higher for this coverage type.
Of course, you can also purchase an umbrella policy to ensure you will have enough coverage if someone gets hurt in your home. Click here to learn more about protecting yourself with umbrella policies.
If you're not sure which type of home insurance you need, get homeowners insurance quotes to learn more about how much it will cost.
3. Natural disasters are covered under my policy
This isn't guaranteed. Depending on the form of home insurance you purchase, the perils covered by the policy will vary. For example, even the broadest amount of coverage provided by an HO3 policy will not protect you against all perils.
Notable perils that aren't covered under standard home insurance policies are flood insurance, earthquakes, termite and pest infestation, mold, and sewer backups.
You can always purchase separate flood and earthquake insurance or endorsements to your policy if you live in areas particularly prone to these disasters. You can also purchase sewer backup coverage, or add it as an endorsement to your homeowner's policy.
4. Your coverage protects your valuable items
Standard homeowners insurance will cover your personal possessions. However, the coverage amount for personal possessions will usually be capped at 50 to 70 percent of the total coverage amount of your home insurance policy.
There is also a limit on how much coverage your insurer will provide for individual valuables, usually around $3,000 or so. If you have many antiques or collectibles with high dollar values, you'll probably want to add an endorsement, also known as a rider, to your policy to cover these items fully.
5. If my vehicle gets broken into, my homeowners insurance will cover the damage
This is false. Your car insurance will repair damage sustained by your car, but will not cover personal belongings inside of it.
The personal property coverage of your homeowners policy will cover your possessions.
For a full list of items commonly stolen from cars that homeowners insurance will cover, click here.
How much coverage your insurer will provide for your personal possessions depends on your policy. You can always increase the coverage amount, but keep in mind this will increase your premiums. Check with your agent or broker for more information.
6. My home business is covered under my homeowners policy
Unfortunately, this is not the case. Standard homeowners policies don't usually cover home businesses. If a client or employee was to injure themselves on your property, your homeowners insurance wouldn't cover it. It also wouldn't cover damage to any of your work property.
Luckily, you can add a business endorsement to your homeowners policy. Or you can purchase an in-home business policy for even more coverage.
Not every insurance company offers at-home business coverage, so it would be smart to consult with your agent or broker for more information.
7. If I have a dog, it will be hard to get homeowners insurance
Even if your dog has never harmed anyone, there is still a risk of attack, which represents a possible liability to your insurance company. If you omit that that you own a dog on your homeowners policy, you'll likely be paying out of pocket for the medical and legal costs of the person who was attacked.
If you are worried that if you get a dog no one will insure you—don't. While a dog might increase your monthly premiums, dogs are unlikely to prevent you from getting home insurance coverage. If you want to get a sense of how much your dog will increase your insurance premiums, read our article about dog breeds and insurance rates.
8. If I get hurt while on my property, I will be fully covered
The liability coverage on your home insurance policy will cover the bodily injuries of other people who get hurt while on your property. However, it will not cover anyone who lives on your property.
If you get hurt on your own property, your health insurance, not your home insurance, will cover your injuries.
9. My second home or vacation home is covered under my policy
More commonly than not, your insurer will only cover one home under a standard home insurance policy. However, they might be more willing to cover two houses if you take extra precautions and purchase more coverage.
If you increase your coverage, some companies are more willing to insure a second home. You can even look into getting an umbrella policy. This is especially important to look into if you rent out your second home.
Along those lines, if you rent your home to tenants, consider purchasing landlord insurance. If you are still unsure on how to insure your second home, consult with your insurance agent, or read our article on insuring a second or vacation home.
Homeowners Insurance Myth FAQ
Q: Should my insurance coverage be equal to my home's replacement cost or actual market value?
A: You should always insure your home for 100 percent of its replacement cost, if you can afford it. Replacement cost coverage means you can repair your home back to the same or similar conditions it was before any damage occurred.
In the context of homeowners insurance, actual cash value means what the home is currently worth. This means that your insurance will cover your home up to what it is currently priced at on the market. Deprecation of the home will also be a factor.
For more on how to distinguish the two and which one to choose, read our article on actual cash value vs replacement cost.
Q: What is loss of use coverage?
A: Some people believe that if enough damage is done to their home that it prevents them from living in it for a while, their insurance policy will pay for them to live elsewhere.
Some policies do include loss of use coverage, but many don't. It is best to check with your provider about this coverage. If it's not included in your policy, see if you can add it. If not, consider increasing your coverage amount instead.
Q: What is an umbrella policy?
A: An umbrella policy will cover you if you exceed your liability coverage limit. Say someone gets hurt on your property, and they file suit. Maybe your liability coverage isn't enough to cover the expenses of the lawsuit.
This is where umbrella coverage takes effect. It covers possible gaps in the liability portion of your homeowners insurance.
Q: If I am currently not living in my home, will my homeowners policy still cover it?
A: This depends. Many insurance companies see a vacant house as more of a risk, because if something were to go wrong, no one would be there to notice it before it worsens, or to fix the problem. Usually, your policy guidelines will state how long the company will insure you while your home is vacant. Make sure to read the fine print to ensure you are covered, and if not, how you can obtain coverage.
There is such thing as vacant property insurance, and you might want to consider that.
References:
QuoteWizard.com LLC has made every effort to ensure that the information on this site is correct, but we cannot guarantee that it is free of inaccuracies, errors, or omissions. All content and services provided on or through this site are provided "as is" and "as available" for use. QuoteWizard.com LLC makes no representations or warranties of any kind, express or implied, as to the operation of this site or to the information, content, materials, or products included on this site. You expressly agree that your use of this site is at your sole risk.