Climate Change and Homeowners Insurance
Learn how climate change is impacting homeowners insurance in the U.S., how it's likely to continue impacting it in the future, and how insurers are preparing for it (or not).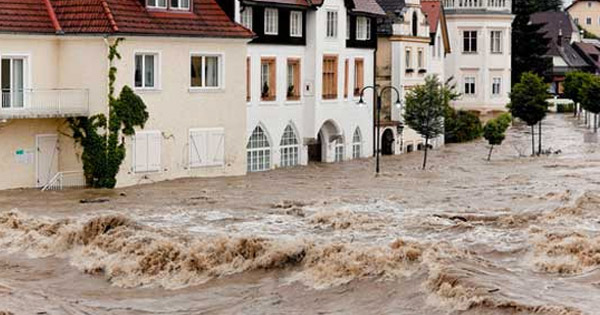 "Because any position one takes on climate change will endear you to half the people and demonize you to the other half, most businesses just quietly focus on what they can confirm with facts and how they can make a buck," says Pablo Solomon.
He's an Austin, Texas-based artist, designer, and worked as a science teacher. Solomon acted as a science consultant to the U.S. Department of Education.
The insurance industry is no different, Solomon suggests. This explains why the majority of companies "neither profess a belief nor disbelief in the climate-change theory. They just work with the statistics and do the analysis at which they are experts."
Insurance companies determine premiums based on the odds of property sustaining damage. Currently, those odds are getting worse by the decade, if not the year. Especially when extreme weather associated with climate change is factored into the equation.
Ceres publishes an Insurer Climate Risk Disclosure Survey Report & Scorecard. In their 2014 publication, average annual weather related losses increased from $10 billion per year between 1974 and 1983. And by $131 billion per year between 2004 and 2013.
There are more factors than climate change to consider with weather related losses. Contributing to these increased figures are inflation and increased housing development.
Ill-Prepared Insurers
There's little question—among climates scientists—that climate change is occurring. And this change will impact the earth's environment and weather.
We can expect an increase in floods, droughts, heat waves, hurricanes, cyclones, etc. Are home insurers up to the task of adapting to this new reality?
The National Association of Insurance Commissioners' Climate Change and Global Warming Working Group, claim U.S.-based companies are unprepared.
"We found that only two U.S. insurers are well-prepared for risks associated with climate change," says Washington State Insurance Commissioner Mike Kreidler. He's also the co-chair of the NAIC Climate Change and Global Warming Working Group.
"European insurers and reinsurers are light years ahead of the U.S. when it comes to climate change preparedness," he adds. Eight of the top 10 insurers identified as being better prepared for climate change were overseas companies.
This comes from the NAIC group's most recent annual survey. Kreidler suggests that one of the big stumbling blocks is that "the claims history isn't there." Still, Kreidler says that, "quietly, insurers are taking climate change seriously."
That's true in different ways in different regions of the country. In the Northwest, what Kreidler calls "big weather events" historically have been "relatively benign compared to other regions. However, we are starting to see tornadoes here, and the Oso landslide last year was unprecedented in magnitude for our region."
"There's still a lot of political risk in talking about climate change in the United States, particularly in certain areas of the country," Kreidler says. "In my eyes, the cause of climate change isn't what we should be dwelling on. Regardless of the cause, our climate is changing and insurers need to be financially solvent to pay customers' claims."
The Ramifications of Being Reactive
Currently, most insurance companies seem more interested in being reactive rather than proactive. Especially when it comes to climate change. 
This shouldn't be considered too much of a surprise. There's plenty of evidence regarding the industry's retrospective nature. And history of pricing, based on historical data.
"Many of the effects [of climate change] will become apparent over the coming decades. And anticipating them will require forward projections, not solely historical data," according to the Insurance Information Institute.
"Past statistics as well as many other indicators are used for establishing rate," says Mary Gruenberg, CFP, LUTCF, owner of Soarella. "Investment hypos are used to show past performance when investing since there is no guarantee of the future."
"The industry sees climate change through the prism of extreme weather," adds Frank Nutter, president of the Reinsurance Association of America. One big problem with that, though, is that "the concentration of property in high risk areas overshadows and mutes any risk factor specific to climate change." This means it might take insurers even longer to fully recognize and respond to climate change and its impacts.
Even if insurance companies were interested in being more assertive, most people probably won't like it. Changing from a historical pricing model to a future one could draw the attention of consumers and regulators.
"American companies are more oriented toward free enterprise," Kreidler says. "They feel they can raise rates or withdraw from certain markets." Especially if payouts skyrocket due to climate change. "But that isn't good for consumers. Those practices will backfire with Congress and state legislatures."
Getting the Word Out
It's not all doom and gloom. Some of the more well-known insurance companies are beginning to see the writing on the wall. And they're starting to spread the word about it.
Take Robert Muir-Wood, chief scientist at Risk Management Solutions, a company headquartered in Newark, California. They create software models to allow insurance companies to calculate risk.
Muir-Wood told Smithsonian.com in 2013 that, "in the past, when making [assessments of risk], we looked to history. However, we've now realized it's no longer a safe assumption. We can see, with certain phenomena in certain parts of the world, that the activity today is not simply the average of history."
Actually, Muir-Wood and his colleagues have had that mindset for a while now. "The first model in which we changed our perspective is on U.S. Atlantic hurricanes," he told Smithsonian.com.
"Basically, after the 2004 and 2005 seasons, we determined it was unsafe to simply assume that historical averages still applied. We've seen that today's activity has changed in other areas as well. With extreme rainfall events, such as the recent flooding in Boulder, Colorado, and heat waves in certain parts of the world."
The leaders of The Geneva Association, an international insurance think tank, made similar proclamations in their 2013 report. This report was titled Warming of the Oceans and Implications for the (Re)insurance Industry.
"In the non-stationary environment caused by ocean warming, traditional approaches, which are solely based on analyzing historical data, increasingly fail to estimate today's hazard probabilities. A paradigm shift from historic to predictive risk assessment methods is necessary."
Predicting, and Dealing with, the Future
Unfortunately for today's insurance providers, that's just the tip of the iceberg. In another report by The Geneva Association, they predict that "the burden of losses due to more frequent or intense extreme events will rise over the coming decades."
Specifically, it warns that "in many regions, increases in extremes will inevitably imply higher risk costs and potentially significantly higher costs of catastrophic losses."
The Insurance Information Institute put all of the above in context in its recent write-up on this subject. They state, "In 2005, the year of hurricanes Katrina, Wilma and Rita, catastrophe losses totaled $64.3 billion. Hurricane Katrina caused losses were the highest on record at $41.1 billion. This was about twice as much as Hurricane Andrew would have cost had it occurred in 2005.
If hurricane-related losses grow by as much 40 percent over the next 20 years, it will get expensive. A Katrina-like storm could cause $60 billion in losses. It could cost much more if it struck a densely populated metropolitan area like Miami or New York City."
A likely byproduct of these increased costs and risks is that the premiums tied to homeowner's insurance policies will rise. (Well, except for in those areas where risks decrease.)
Recommendations for Companies and Customers Alike
What should insurance companies—or even insurance customers—do to mitigate climate-change ramifications?
The Geneva Association's report about The Insurance Industry and Climate Change suggests that "insurers should become active champions of measures to reduce risk through improving the resilience of properties."
Specifically, insurers should make use of "differentiated premium pricing to incentivize actions taken to reduce risk." For example, in Florida companies took specific steps to motivate homeowners to improve the hurricane vulnerability of their property.
They tied premium incentives to things like fitting window shutters and fixing hurricane straps to hold the roof down. This course of action has resulted in reduced costs for the insurers in question.
Climate change "is partly a public safety issue and now is the time for insurers to get involved, much like they did in earlier decades with seatbelt laws and motorcycle helmet laws," Kreidler says. "They can use their political clout to advocate for stronger building codes and land-use practices that don't put peoples' lives and property at risk."
Kreidler advises consumers to "take steps to protect their property. And to talk to their agent to review their policies and find out what is and is not covered" by their policies.
For example, he adds, "people who live in areas prone to fires can do things like create a fire break around their homes and use drought-resistant landscaping. People who live in earthquake-prone areas can do things to secure their foundations and protect their contents. You can't avoid natural disasters, but you can be prepared to help mitigate them."
Request a quote now and compare home insurance rates from top companies and local agents to get the lowest rates.
References:
QuoteWizard.com LLC has made every effort to ensure that the information on this site is correct, but we cannot guarantee that it is free of inaccuracies, errors, or omissions. All content and services provided on or through this site are provided "as is" and "as available" for use. QuoteWizard.com LLC makes no representations or warranties of any kind, express or implied, as to the operation of this site or to the information, content, materials, or products included on this site. You expressly agree that your use of this site is at your sole risk.