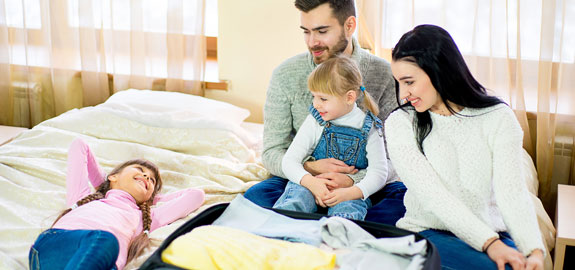 If a disaster or accident makes your home unlivable, your home insurance helps you get back on your feet. While your home is being remodeled, repaired, or rebuilt, you're going to need temporary housing. You might also have higher food bills and transportation costs.
That's where additional living expenses, or ALE, coverage comes in. It's a part of your home insurance, and it helps pay for extra expenses due to your unlivable home.
ALE is also known as temporary housing, loss of use, or displacement coverage. While there are many different types of home insurance plans, most provide similar levels of ALE coverage.
What's Covered?
Additional living expenses cover extra costs you incur due to the damage to your home. For example, ALE pays for temporary housing until your permanent home is livable. ALE won't pay for something like your mortgage. That's because you would have to pay that regardless of whether or not your home is livable.
Remember: The A in ALE stands for additional expenses, not all. This coverage only pays for expenses directly related to the damage to your home.
For example, even though ALE covers food and meals, it's not completely covered. If you paid $100 a week for food before your home was damaged, ALE will cover food expenses beyond that $100. In other words, ALE pays for the difference between pre and post-disaster room and board costs.
Here are some common expenses that homeowners face when their home is uninhabitable:
Housing: Your insurer might set you up in a hotel, rented home, or apartment. Usually hotels are short term solutions. Homes and apartments are for longer stays.
Travel: Getting to and from temporary housing, work, school, or your damaged home might require some help. That's especially true if your temporary housing adds distance to your commute. If you have kids who normally ride the school bus, they might need help getting to and from school. All of this will increase your daily transportation costs. Be sure to track your mileage.
Food: If your home is unlivable, you may end up eating at restaurants more often. After all, it's hard to cook a meal without a kitchen. Meals at restaurants are (generally) more expensive than home-cooked meals. ALE helps cover those additional food costs.
Utilities: When you move into temporary housing, you will probably need to pay utilities. If these are higher than your normal utilities costs, or if they require an initial fee, ALE can help you.
Storage fees: It's possible to claim expenses to store your possessions while your home is rebuilt or repaired.
Pet boarding: Some temporary housing options like hotels don't allow animals. If that's the case, ALE can help you pay to kennel your pet.
Laundry: Washing clothes at a laundromat is more expensive than washing clothes at home. It's possible to claim these expenses through ALE coverage.
Furnishing: ALE stipulates that your temporary housing is comparable to your normal home. That includes furnishings. For long-term stays, your insurer will help cover the costs of rented furniture.
Make sure you understand what your insurer will and won't cover before you make any financial commitments. You don't want to get stuck with a bill for something you thought ALE would cover.
How Much ALE Coverage Do You Have?
ALE policies are based on your home insurance coverage amounts. According to the International Risk Management Institution, ALE amounts vary depending on the homeowners form type. That coverage amount is usually a percentage of a home's dwelling coverage. Homeowners forms for renters or condo-owners use personal property limits, since dwelling coverage isn't included.
These are the ALE limits for homeowners insurance forms:
HO 2: 30 percent of dwelling limit
HO 3: 30 percent of dwelling limit
HO 4: 30 percent of personal property limit
HO 5: 30 percent of dwelling limit
HO 6: 50 percent of personal property limit
HO 8: 10 percent of dwelling limit
Remember, those are limits. You may find your ALE coverage levels are lower than what's listed above. According to the American Insurance Association, most policies provide ALE coverage for about 20 percent of the dwelling/structure coverage. Investopedia says that number is between 10 and 20 percent. At 20 percent, if your dwelling coverage is $250,000, you have $50,000 in ALE coverage.
ALE coverage usually comes with a time limit. That means you have a set amount of time during which ALE coverage will cover your costs. Most policies set a limit between 12 to 24 months.
While a year might seem like a long time, it's very possible your home is unlivable for a longer period. That's especially true after a bad natural disaster. Insurers are slammed with claims, and there's a shortage of qualified contractors and repair personnel. You might be stuck in temporary housing even after ALE coverage expires.
It's important to note that you don't gain anything by not using all of your ALE coverage. Some people mistakenly believe that if they don't use all their ALE, that extra money will spread to other policy sections. That's not the case. That money is available only for ALE. Use it.
How Does ALE Coverage Work?
There are two main approaches taken by insurers when paying out ALE: lump-sums or reimbursements.
Most insurers favor reimbursements. It helps them track payments and verify how they're spent. With reimbursements, you submit ALE-related receipts and the insurance company pays you back.
Other companies may favor a one-time lump-sum payment. They will give you a check for the set amount of coverable expenses and you can spend it as you see fit. One policyholder found that the cost to rent a comparable home for 24 months exceeded their monetary cap. Because of this, the insurer paid out the ALE benefits up to the monetary cap as a one-time payment.
As part of your ALE claim, you're going to have to submit a normal itemized budget. You will list your normal monthly expenses on housing, utilities, services, transportation, food, and more. Your insurer will use your normal monthly budget to determine what your additional expenses are.
Some agents recommend opening separate bank accounts during a big claim. Consider opening three accounts for dwelling reconstruction, personal property, and ALE. By separating expenses, you make the reimbursement process much smoother. It'll also help you budget.
Remember to Budget
Budgeting is very important to get the most out of your ALE coverage. Ask about the exclusions, monetary cap and time limits of your policy. Then do an equation to create a monthly budget. Your budget should include maximum expenditures for both your out-of-pocket costs and reimbursed ALE. Stick to that budget as much as possible.
If your home is unlivable, your life will certainly be impacted. It's probable that your finances will feel the squeeze. It's entirely possible that you won't be able to work due to injuries, commute difficulties, reduced business, or damaged offices. There are numerous reasons why your work situation may suffer, especially after a disaster. Regardless, it's vital to budget your expenses if your home is uninhabitable.
In the event of a sizeable claim, it's advisable to use different bank accounts for different insurance segments, as mentioned earlier. Creating separate accounts for contents, structure, and ALE coverage will help you budget. It'll also make organizing paperwork easier.
While it's important to budget, make sure you're not skimping out on necessities. As we mentioned earlier, there's no benefit for not utilizing the maximum amounts of ALE coverage. If your family's five-bedroom home is unlivable, don't settle for a two-bedroom apartment. You're entitled to living conditions comparable to your normal life.
Stay on Top of Paperwork
Like budgeting, organizing paperwork is crucial to get the most out of your ALE coverage. Thorough documentation is the first step in getting maximum amount of money.
That's especially true if your policy favors reimbursement. Under this agreement, you pay for expenses out of pocket and submit receipts to your insurer. They review the receipts and reimburse your coverable expenses.
Some expenses are negotiable. But you won't convince your insurer to cover an expense without proper paperwork.
As mentioned earlier, using separate bank accounts is a great way to make your life easier. Without proper paperwork, you might find yourself struggling to get reimbursed.
What Isn't Covered by ALE?
Remember: if your policy doesn't cover the cause of the damages, your ALE coverage won't pay for it. Many homeowners and renters are shocked when they find out their ALE coverage doesn't extend to water damage.
Many people forget that flooding and water damage isn't covered by a standard home insurance policy. You need separate flood insurance from FEMA or a private insurer. Some flood plans from private insurance companies include ALE, but not always. In some cases, FEMA will provide emergency shelter help after a major disaster.
There are lots of incidents your home insurance won't cover. That includes mold, earthquakes, sewer backups, and more. If your home is unlivable due to one of these incidents, you won't qualify your ALE coverage.
Communication is Key
Don't assume you will get reimbursed for out-of-pocket expenses without written consent from your insurer. Without proof that a certain purchase is covered through ALE, your insurer may try to deny it.
One example is a security deposit. If your home is unlivable, it's probable that an apartment will be your temporary housing. Most apartments require a security deposit. You might assume that ALE coverage will pay for your security deposit. It should, but don't assume that fact without prior written consent from your insurer.
Frequently Asked Questions
Q: My home is unlivable. How do I find temporary housing?
A: First, it depends on why your home is uninhabitable. If it's due to an incident that is covered by your home insurance, you're eligible for ALE assistance.
It also depends on the extent of the damage. If your home is temporarily unlivable, your insurance company may rent you a hotel. If your home is unlivable long-term, your insurer will consider renting an apartment or home for you. Generally, insurers limit hotel stays to a month or less.
For long-term temporary housing, the responsibility to find housing usually falls on your shoulders. In some cases, your insurer may have connections to realtors and rental companies. It's worth asking if they have any housing suggestions for you. Regardless, find a comparable home or apartment with the amount of space that you are accustomed to.
Q: How do I get reimbursed for my Additional Living Expenses?
A: Submit itemized, detailed receipts of all expenses. Remember, ALE only pays for additional expenses. In other words, your insurer reimburses you for costs that go beyond your normal housing, food, and transportation costs.
Be as detailed and thorough as possible with paperwork. It will make the insurance company's job easier, which helps you get a favorable claim result.
Q: Can I use Additional Living Expenses to pay for my mortgage?
A: No. ALE only pays for extra costs due to your temporary living situation. Since you would have to pay your mortgage regardless of whether or not your home is livable, ALE won't pay for your mortgage.
Similarly, if you need to eat out for every meal because you don't have access to a kitchen, ALE can help you. However, ALE only covers the difference between your normal monthly food bill and your additional food costs. Unfortunately, that means your insurance company won't pay for a fancy filet mignon every night.
Q: I'm staying at a friend or family's house. Can I add that to my ALE claim?
A: No. However, finding your own temporary housing saves the insurance company a lot of money. There's a chance your insurer will subsidize your other expenses. But they won't directly reimburse you for staying at the home of a friend or family.
QuoteWizard.com LLC has made every effort to ensure that the information on this site is correct, but we cannot guarantee that it is free of inaccuracies, errors, or omissions. All content and services provided on or through this site are provided "as is" and "as available" for use. QuoteWizard.com LLC makes no representations or warranties of any kind, express or implied, as to the operation of this site or to the information, content, materials, or products included on this site. You expressly agree that your use of this site is at your sole risk.