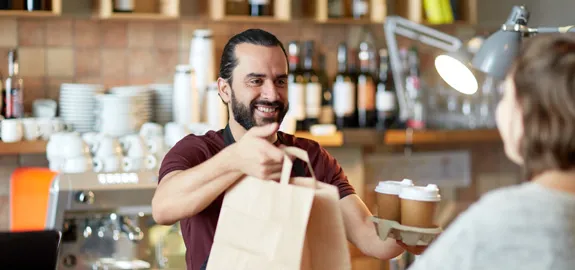 Small businesses are ones that have fewer employees than regular-sized companies. In general, this means fewer than 100 workers.
The size of a business can affect tax rules and government support. When it comes to health insurance, small businesses have special concerns related to the Affordable Care Act (ACA), often called Obamacare.
Introduction
Today, nearly every American is required to have health insurance coverage. If you have a job, there are two ways that you can get it.
Employees can buy insurance on their own and pay the whole amount of the monthly cost (called premiums) themselves. Premiums can cost a lot of money.
Employers can also offer it. Some will even share the cost of the premiums with their workers. Many people in the United States get health insurance as a benefit through their employer.
It can be expensive for small businesses to offer insurance, because they don't have the buying power of larger companies. Right now, under the ACA, companies that have 50 or more full-time employees are legally required to offer health insurance. If they don't, they may have to pay a fine.
Smaller businesses, those with less than 50 full-timers on the books, are not legally required to offer health coverage. Still, many small employers do opt to provide health insurance.
Why offer insurance to your employees if you don't have to?
A Kaiser Family Foundation study from 2013 showed that:
45% of businesses with 3 to 9 workers offer insurance
68% of businesses with 10 to 24 workers offer insurance
85% of businesses with 25 to 49 workers offer insurance
91% of businesses with 50 to 199 workers offer insurance
Providing insurance is a way of showing support for workers. It can boost business in other ways, too. Insurance can help workers stay healthy and cut down on sick days.
Offering health insurance is also a way of bringing in and keeping good people. This will cut costs. After all, replacing employees or training new ones means lost money as well as wasted time.
Most small business owners want to do the right thing. They know that offering health insurance is a great perk. It can be costly, however, and it might seem complex.
The U.S. Centers for Medicaid & Medicaid Services runs a website, Healthcare.gov, which lists available ACA-approved plans by state. These lists are called exchanges or marketplaces.
These approved plans must cover pre-existing conditions and give free wellness care, and can't cap annual benefits. They also discounts to people with incomes below certain amounts and tax credits for small businesses that follow certain rules. The government covers some of the costs for these plans. These discounts are called subsidies.
You can also purchase insurance coverage right from insurance companies, insurance agents, or online.
This article will help you understand your options so that you can choose wisely for your small business needs.
Individual Plans
Sole proprietors own and run their own businesses and have no other employees. Is that you? If so, you will most likely choose individual health insurance. You can use the ACA's Health Insurance Marketplace for Individuals and Families to find a plan that's right for you.
The Individual Health Insurance Marketplace is for:
Freelancers
Consultants
Independent contractors
Anyone else who is self-employed and has no employees
Categories of Plans
When you buy insurance, you'll see four categories of plans. They are named after metals. The categories tell you how the insurance company splits costs.
Important point: The categories do not tell you anything about the kind of care or quality of care.
Bronze covers about 60% of the costs (employees pay about 40%)
Silver covers about 70% of the costs (employees pay about 30%)
Gold covers about 80% of the costs (employees pay about 20%)
Platinum covers about 90% of the costs (employees pay about 10%)
Usually, premiums are lower for plans that pay a smaller share of costs. That means, a Bronze plan will likely cost less per month, but will cover fewer medical services. If you or your employees are healthy and rarely need health care, this can be a good option. Be advised that health can change on a moment's notice.
Platinum plans cost the most but have less out-of-pocket costs. These plans are good to consider for people who have health issues.
Small Group Plans
Do you have at least one but less than 25 full-time workers? If so, you can choose a "small group" health plan through the Small Business Health Options Program (SHOP) marketplace.
This is a great way to search for cheaper, quality health and dental plans for your workers. Basically, SHOP lets small business owners pool together to buy insurance. This can give them similar buying power to larger companies.
Important to know: An employee is called a full-time worker if they work 30 hours or more per week. If you have only one employee, that can't be you, a work partner, a spouse, or other family member.
Through SHOP, you can:
Offer one plan or let workers choose from more than one
Offer just health, health plus dental, or just dental coverage
Choose how much of the premiums you will pay
Choose if you want to cover your workers' families
If your workers' average yearly pay is $50,000 or under, and you are willing to pay for at least half of your workers' premium costs, buying coverage through SHOP makes sense.
If you have up to 25 employees, it could earn you a Small Business Heath Care Tax Credit. This big credit can be worth up to half of the premium costs that you will pay out.
Small businesses that offer insurance to early retirees age 55 to 64 can also get financial help from the government.
Another plus with SHOP: You don't have to wait for the open enrollment period, which usually runs from November 1 to mid-December. You can start offering coverage at any time.
Buying Outside the Marketplace
ACA-approved marketplaces (also called exchanges) allow people to compare different insurance plans and costs. They also let you buy insurance at cheaper rates, if you qualify, due to tax breaks from the government.
Important to know: If you buy a plan outside the marketplace, you can't get premium tax credits or other savings based on your income.
Any insurer who wants to offer their plans on the exchanges must follow certain rules. For example, an insurer on the exchange can't deny coverage for pre-existing conditions.
Some insurers decide not to be part of the exchange network. You can still buy their coverage, but you can't get tax breaks for it. In order to get their insurance, you have to buy it on the "open market." That just means buying insurance directly from the insurance company or through an insurance agent or broker.
Terms to know:
Individual market just means all individual plans that are available for purchase
On-exchange plans are bought through a federal exchange (like healthcare.gov) or a state marketplace (like wahealthplanfinder.org in Washington state)
Off-exchange plans are bought directly from a health insurer or through an insurance agent or broker
Frequently Asked Questions
Q: What is the benefit of offering my employees insurance if I don't have to?
A: Offering group insurance to your employees can set you apart from other small employers. Providing insurance can help you attract and hold onto good workers. This means lower costs for hiring and training. Workers who have insurance also stay healthier, which means fewer sick days. Plus, it shows that you care about your employees' quality of life.
Q: Is it better to pay for worker's insurance premiums? Or should I raise their hourly pay so they can buy their own insurance?
A: Giving employees a raise to help them buy their own insurance might seem like a good idea. But it can backfire. The Internal Revenue Service says you can't make a worker use a pay raise to buy insurance.
Q: What are tax credits? How can they help a small business owner?
A: The Small Business Health Care Tax Credit is for companies with 25 workers or fewer who buy small group insurance through the exchange. This credit cuts up to half of the premium costs that you will pay out. It helps by reducing the amount of income tax you have to pay.
Q: What does FTE mean?
A: FTE stands for "full-time equivalent." This refers to the hours worked by one full-time employee. It's a way of comparing hours worked by a number of part-timers to the hours that a full-timer puts in. In terms of a year, one FTE is equal to 2,080 hours. The FTE concept helps you can figure out how many employees you can count for ACA marketplace eligibility. You can use an online calculator to do the math.
Q: If I offer health insurance, do I have to offer dental, too?
A: You do not have to offer dental coverage if you prefer not to. Offering dental is entirely optional
QuoteWizard.com LLC has made every effort to ensure that the information on this site is correct, but we cannot guarantee that it is free of inaccuracies, errors, or omissions. All content and services provided on or through this site are provided "as is" and "as available" for use. QuoteWizard.com LLC makes no representations or warranties of any kind, express or implied, as to the operation of this site or to the information, content, materials, or products included on this site. You expressly agree that your use of this site is at your sole risk.