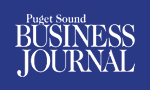 Hot on the heels of being named one of the 100 fastest-growing inner-city businesses in the U.S., QuoteWizard has been named one of the 100 fastest-growing private companies in its home state of Washington.
Specifically, QuoteWizard, which provides consumers with insurance quotes from a network of carriers and agents, earned the 43rd spot on the Puget Sound Business Journal's Fastest-Growing Private Companies list for 2015.
To make this list, companies need to be privately held and be headquartered in Washington state. Also, they must have recorded revenue of $500,000 or more in 2012 and shown revenue growth through 2014. QuoteWizard didn't just meet those requirements, it vastly exceeded them. Its total annual revenue in 2012 came to just over $24 million while its total annual revenue in 2014 topped $50 million. That translates to revenue growth of 104.74 percent during that period.  
This isn't the first time QuoteWizard's impressive revenue growth earned the company an award. In fact, the Puget Sound Business Journal also featured QuoteWizard in the Fastest-Growing Private Companies lists it published in 2010, 2011, and 2012.