QuoteWizard Named Best New Insurance Lead Generation Partner for 2014
FOR IMMEDIATE RELEASE
February 4, 2014
Contact:
Steve Bowen
(206) 816.6342
sbowen@qw-corp.com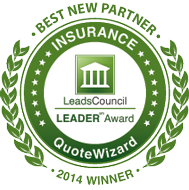 SEATTLE, WA - QuoteWizard, one of America's foremost insurance lead providers, announced today that LeadsCouncil has named QuoteWizard the Best New Insurance Lead Generation Partner for 2014 in its 4th Annual LEADER Awards.
This marks the second year in a row in which QuoteWizard was honored by LeadsCouncil in its LEADER Awards. In 2013, LeadsCouncil named QuoteWizard the Best Value in Insurance Leads.
QuoteWizard CEO Scott Peyree commented: "It is quite an honor to receive accolades from LeadsCouncil for two years in a row, praising two different aspects of our business. It just goes to show that QuoteWizard doesn't just excel in one area. We strive to provide an excellent experience for our partners, clients, and consumers across the board."
About QuoteWizard
QuoteWizard is the largest independent, privately-held insurance lead provider in the United States, selling over 1 million leads per month to 7,000+ insurance agents. The company was founded in 2006, is based in Seattle, Washington, and has over 100 employees.
The Puget Sound Business Journal ranked QuoteWizard as the #4 Fastest Growing Company in Washington State, Deloitte ranked it as the #98 Fastest Growing Technology company in the US and Canada in its 2012 Technology Fast 500, LeadsCouncil named QuoteWizard the Best Value in Insurance Leads for 2013, and the Initiative for a Competitive Inner City ranked the company #6 in its 2013 Inner City 100.
About LeadsCouncil
LeadsCouncil is the first independent industry organization dedicated strictly to advancing online lead generation. LeadsCouncil members include lead buyers, lead sellers, technology solutions providers, and investment professionals with a passion for lead generation industry. The group focuses on best practices, research, education, and networking to provide a more transparent and effective marketplace for online lead generation.