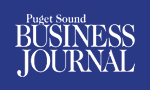 The Puget Sound Business Journal recently let Seattleites and others in the surrounding region know something QuoteWizard employees have known since 2006: that the company is one of best places to work in the state of Washington.
In fact, QuoteWizard was one of just 20 businesses with between 100 and 249 employees included on the 2015 edition of the publication's annual Washington's Best Workplaces list. (For the curious: this year's write-up featured a total of 80 Puget Sound-based companies.)
To be eligible for this honor, companies need to be at least four years old and must have 10 or more full-time employees who work at an office located within Washington state.
Businesses also have to be nominated, and a certain percentage of its employees have to complete a survey, to earn the Puget Sound Business Journal's Washington's Best Workplaces recognition.