Compare Auto Insurance in Winston-Salem
Winston-Salem is the fifth largest city in North Carolina. If you're a Winston-Salem driver looking for car insurance, here is the information you need.
Average Winston-Salem Car Insurance Rates
How much does car insurance cost in Winston-Salem, NC? Drivers here benefit from great insurance rates! Average car insurance in North Carolina costs $655.37 per year. The national average price is $889.01.
Prices vary based on your driving history, zip code, claims in your area, and other factors.
North Carolina Average Annual Car Insurance Rates

| Coverage | Rates |
| --- | --- |
| Liability | $359.42 |
| Collision | $293.59 |
| Comprehensive | $136.08 |
| Total Cost Per Year | $655.37 |
| Price Per Month | $54.61 |
The graph below shows the change in average North Carolina insurance rates from 2011 to 2015. This is the most recent year the data is available. The Insurance Information Institute states NC car insurance rates went from $600 in 2011 to $655 in 2015. This is a jump of $55 dollars, or 9.22 percent.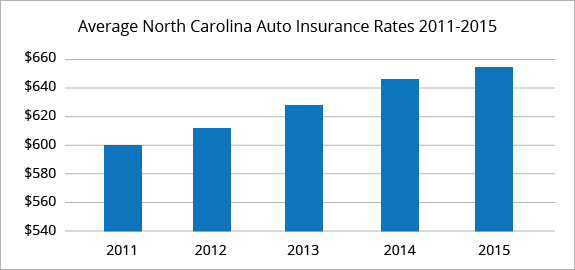 QuoteWizard helps consumers compare quotes from national insurance companies and local independent agents. Comparing quotes can help you find cheap car insurance rates near Winston-Salem, North Carolina and save up to 40% on your premium.
Last year, 7,474 people used QuoteWizard to compare auto quotes in Winston-Salem, NC from multiple companies to get the cheapest rates.
Best Car Insurance Companies in Winston-Salem, NC
These are the most popular car insurance companies reported by QuoteWizard users in Winston-Salem last year. Of those drivers, 2,245 were uninsured when they requested a quote.
Top 10 Vehicles
These are the most popular car makes and models owned by QuoteWizard users in Winston-Salem, North Carolina.
Accord LX/EX
Camry/LE/SE
Altima 2.5/S
F-150
Focus SE
Sentra S
Civic EX
Soul
Sonata GLS/SE
Rogue S
Minimum Car Insurance Requirements in Winston-Salem, NC
North Carolina law requires that all drivers have minimum liability coverage of 30/60/25. All Winston-Salem drivers need the following coverage: 
$30,000 Individual Bodily Injury Liability (BIL):
The max amount paid for a person injured in a car accident.
$60,000 Total Bodily Injury Liability:
The total paid for every person injured in a car accident. 
$25,000 Property Damage Liability (PDL):
The max amount paid for property damage caused by a car accident.
North Carolina also requires the following uninsured coverage:
$25,000 uninsured motorist bodily injury
$10,000 uninsured property damage
$50,000 uninsured motorist bodily injury
Recommended Coverage Levels
Only buying minimum coverage can lead to big problems later. The minimum doesn't cover collision or comprehensive coverage. Should your policy only cover part of your accident, you're on the hook for a lot of money. 
To make sure you have good coverage, we recommend the following: 
Individual Body Injury Liability: $100,000 
Total Bodily Injury Liability: $300,000 
Property Damage Liability: $100,000 
Winston-Salem Drivers
Living in an area that has a history of accidents can raise your rates. Based on our data, the North Carolina ranks as the 25th worst driving state.. This data reflects accidents, speeding tickets, DUIs, and citations occurring in North Carolina. Also, Charlotte, Durham, and Greensboro all rank as some of America's worst driving cities.
Driving Conditions
Weather, road conditions, and traffic factor into your insurance rates. The riskier your driving conditions, the higher your premium.
Weather
Winton-Salem gets an average of 44 inches of rain yearly. The national average is 39 inches. However, their total days of rainfall is below the national average (74.1 days to the national 102 days.) Drivers in Winston-Salem face the occasional torrential downpour. This leads to slippery roads, low visibility, and overall bad driving conditions.
Road Conditions
North Carolina's roads in general are rated fair to good. NC has invested many resources to improve roads, but the current system still needs major upkeep and repair. In Winston-Salem, about 10 percent of bridges are considered 'structurally deficient.'
Traffic Congestion
The average commute time in Winston-Salem is 19.4 minutes. This is 23.6 percent below the national average of 25.4 minutes.
Moving Violations
Tickets and accidents can increase the cost for auto insurance. If you've had many citations, you could need to buy high-risk auto insurance, which often means higher premiums. If you're deemed high-risk, North Carolina may require a Certificate of Compliance after:
A car accident
A traffic citation within one year of receiving two other traffic tickets.
A serious traffic violation conviction
Traffic Tickets
Forsyth County had the fourth highest number of speeding tickets written in NC in 2017. Tickets can cost you time and money. Do what you can to avoid them.
DUI and DWAI Arrests
Winston-Salem DUI penalties include license suspension, fines between $200 and $4,000, and 24 hours to three years jail time. On top of these risks and the risks to your own health, DUIs will increase your rates. Our study found that car insurance rates increase by $830 per year after a DUI.
SR-22 DUI/DWAI Insurance
North Carolina drivers are not required to get an SR-22 after a DUI. However, you will need to fulfill any SR-22 requirements you have from other states.
Car Accident Statistics
High accident rates result in higher insurance costs. The Winston-Salem Police Department reported 2,828 crashes in 2016 involving injuries. This is a 17 percent increase over crashes with injuries that occurred in 2016.
Insurers calculate high-risk routes in the area when figuring your premiums. Driving carefully helps everyone's rates.
Traffic Fatalities
Forsyth County drivers suffered from 38 fatal car crashes in 2016, the most recent year data is available.
Vehicle Theft Rates
Areas that have many car thefts suffer from higher insurance rates. That's especially true if you drive a car with a high theft rate. Winston-Salem reported 758 auto thefts in 2017. This is almost a 40 percent increase over 458 cars reported stolen in 2016.
Car Insurance Discounts
Looking to save money on your car insurance in Winston-Salem, NC? There are many discount options available to lower your premiums:
If you live in a safe neighborhood in Winston-Salem, you could save money
Shop around and compare car insurance rates in Winston-Salem.
Are you married? Insurers may offer discounts to married couples 
There are discount rates for active and retired members of the Military, National Guard, or Reserves
Bundling your car insurance with your home or renters policy can save up to 20 percent off your total bill  
QuoteWizard.com LLC has made every effort to ensure that the information on this site is correct, but we cannot guarantee that it is free of inaccuracies, errors, or omissions. All content and services provided on or through this site are provided "as is" and "as available" for use. QuoteWizard.com LLC makes no representations or warranties of any kind, express or implied, as to the operation of this site or to the information, content, materials, or products included on this site. You expressly agree that your use of this site is at your sole risk.