Insuring a Car with a Salvage Title
You might save some money buying a salvage-title vehicle, but you also might have a hard time insuring it. Or you might pay more for that coverage than you would for a "clean" car. Here's all you need to know about getting insurance for a salvaged auto.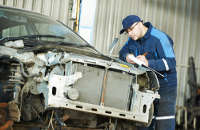 Cars with salvage titles can seem pretty appealing to people who want to save money.
The reason: salvage-title vehicles often sell for a lot less than those with "clean" titles. How much less? Up to 40 percent less, according to Edmunds.com.
You might pay for that "bargain" in various ways down the road, though.
For starters, you could have a tough time getting rid of it when you decide to move on to another set of wheels. Many dealers don't accept autos with salvage titles as trade-ins. Those that do will give you far less than the Blue Book value for them. You may fare better if you sell it privately, but that's not guaranteed.
Expect to face similar challenges when you go to insure your salvaged car.
How so? Keep reading to learn all you need to know about that topic. In particular, you'll find answers to these questions:
What is a salvage title?
Can you insure a car with a salvage title?
Can you get full coverage insurance for a car with a salvage title?
Does it cost more to insure a car with a salvage title?
How do you get car insurance with a salvage title?
Which insurance companies cover cars with salvage titles?
What is a Salvage Title?
Here's what needs to happen for a vehicle to earn a salvage title.
Every state has their own specific approach for salvage and totaled cars. But overall, it's handled similarly across the country. First, the car has to suffer significant damage. Second, the damage must be bad enough for an insurance company to declare it a total loss. Insurers do this if the needed repairs cost too much, such as if the resulting bill exceeds 60 or 75 percent of the car's value.
This is when the auto in question gets its salvage certificate or title.
You can't register or drive a salvage-title car. If someone repairs or rebuilds that car and it passes inspections, though, it's eligible for a rebuilt, rebuilt salvage, or reconstructed title.
You can register and hit the road with that auto whenever you like.
Can I Insure a Car with a Salvage Title?
No, you can't get insurance for cars with salvage titles. You can get insurance for cars with rebuilt salvage or rebuilt titles, however. A car with a rebuilt title was previously a salvage car, until it was repaired.
Before you run out and buy one of these rebuilt autos, though, consider this: some insurance companies won't write policies for them.
Others will sell you liability coverage for a car with a rebuilt salvage title, but not collision or comprehensive. And then there are those that will sell you liability and collision coverage, but not comprehensive.
Few if any, though, offer comprehensive coverage to people with salvaged vehicles.
Can I Get Full Coverage Insurance for a Car with a Salvage Title?
No, but you may be able to get full coverage car insurance for a vehicle with a rebuilt or rebuilt salvage title.
Getting it won't be easy, however. The problem here is finding an insurer that'll sell you comprehensive coverage. And that's what you need – along with liability and collision – if you want full coverage.
Why do insurers balk at selling comprehensive coverage to someone with a rebuilt car? Because if that car's involved in an accident, it's difficult to figure out what damage was caused by the most recent crash and what damaged was caused earlier.
Two other reasons insurance companies are cautious in this situation: 
Determining the value of these vehicles is tough
So is determining if they'll hold up in future accidents
Does it Cost More to Insure a Car with a Salvage Title?
The short answer is maybe.
There's no question some insurance companies will charge you more than they would otherwise if your vehicle has a rebuilt title. Others, though, will charge you the same as they would for a vehicle with a clean title. Ultimately, it depends on your car and the insurance companies policies for rebuilt title.
Just don't expect to pay less to insure a salvaged car than you would to insure one with a clean title. That's not going to happen.
How Do You Get Car Insurance with a Salvage Title?
The first step you need to take to insure a salvaged car is shop around. That means:
Contacting several insurance companies
Asking if they write policies for vehicles with rebuilt titles
Finding out which types of coverage they offer for those autos
Getting a quote to see how much that coverage will cost
You might have to take a couple of other steps here, too.
For example, some insurers want to see proof the car in question is in working order. You can provide it by having a mechanic certify it's ready for the road.
An insurer may ask you to have the vehicle appraised, too. In that case, send them the appraiser's report.
A few other documents you may need to turn in before an insurance company will send you a quote:
The auto's title
The accident report or repair estimate from when the vehicle was first totaled
Photos or video footage of the car in its current state
Which Insurance Companies Cover Cars with Salvage Titles?
One company you can avoid while shopping around for coverage: Esurance. It specifically says on its website that it "doesn't insure cars with salvage titles."
Two other insurers known to not cover these vehicles are Direct General and Travelers.
Which ones do insure salvage title or rebuilt title cars? Some drivers have reported success with Allstate, Progressive, Safeco, and State Farm
Don't feel like you have to stick with "big name" companies while looking for salvage title insurance, though. Some smaller ones specialize in this kind of coverage – including 21st Century, The Hartford, Infinity, and Omni.
Ultimately, the best way to find an insurance company to cover your rebuilt title car is to shop around. Every company has their own approach for these vehicles, so you'll need to compare quotes from several different insurers.
Are Cars with Salvage or Rebuilt Titles Worth the Trouble?
Only you can answer this question.
For some, a car's sale price matters most. A salvage car may be a good bet in that situation. Others are more concerned about their ride being safe and fully insured. It's also possible for a salvage car to pass a rebuilt inspection, but still have problems down the road.
If you fit that second description, you might be better off steering clear of a vehicle with a rebuilt or salvage title.
Frequently Asked Questions
Q: Are salvage and junk titles the same?
A: No, they're not. Junk title is another name for non-repairable title.
States reserve non-repairable titles for vehicles that are so severely damaged no amount of repairs can restore them to roadworthy status.
The only options for people who have one are to sell it for parts or to have it destroyed.
Q: What is the difference between a salvage vs. rebuilt title?
A: Many Americans use the terms "salvage title" and "rebuilt title" interchangeably even though they're not the same.
It's easy to understand why they confuse the two, though--especially when vehicles with rebuilt titles used to have salvage titles.
To put it another way, a car with a salvage title can get a rebuilt title if it's repaired to a point that it's "road safe" again.
Q: What does blue title mean?
A: The blue in "blue title" actually refers to the color of the paper on which the title is printed, according to carsdirect.com.
Titles printed on blue paper tend to be salvage titles.
If your vehicle's title is on orange paper, it's likely been rebuilt. And if it's on green paper, it should be "clean," with no history of major accidents or damage.
"Tend to be," "likely," and "should be" are used here because not every state follows these rules.
Q What is a branded title?
A: All the titles discussed in this article are examples of branded titles.
State agencies use these "brands" to warn potential buyers that a used vehicle sustained significant damage in the past, according to autocheck.com.
Not all states use the same title brands, by the way. For example, some states issue specific titles to cars damaged by fire, hail, or water.
Also, not all states define their title brands in the same way.
Q: How can you tell if a car has a salvage title? How can you tell if a car has a rebuilt title?
A: In most cases, you'll find this information on its title. That said, some dishonest sellers take various illegal steps to remove salvage or rebuilt brands from that piece of paper.
So how can you tell if a vehicle has a salvage or rebuilt title? Here are two good options:
Invest in a vehicle history report. A number of companies offer them now, including Carfax and Experian. And they're cheap--often costing just $25 to $50.
Have an independent mechanic inspect the car. He or she should be able to spot if it sustained serious damage in the past.
QuoteWizard.com LLC has made every effort to ensure that the information on this site is correct, but we cannot guarantee that it is free of inaccuracies, errors, or omissions. All content and services provided on or through this site are provided "as is" and "as available" for use. QuoteWizard.com LLC makes no representations or warranties of any kind, express or implied, as to the operation of this site or to the information, content, materials, or products included on this site. You expressly agree that your use of this site is at your sole risk.