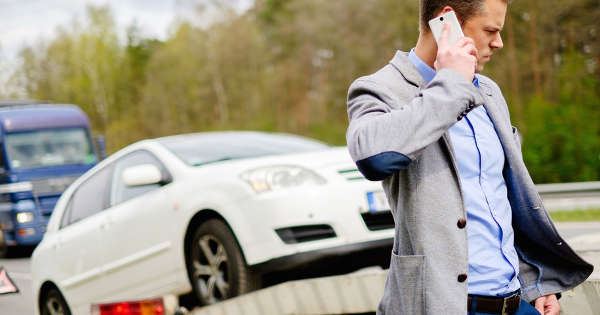 Having your car break down is bad enough, but finding yourself stranded on the side of the road without any help is even worse. Luckily, plenty of companies offer roadside assistance for a small fee.
But with so many options, from AAA to assistance through your insurance company, it can be hard to know which is the best for you. And since many companies outsource their emergency road services to outside providers like Agero, chances are you'll receive the same level of service no matter which one you choose.
Of course, price is of the utmost importance for many people. Keep in mind, though, that while some companies charge more for roadside assistance, you'll receive additional benefits that may make up for the higher cost. It all comes down to personal preference.
Still, like most other things, it's important to shop around to find the best deal. Compare auto insurance quotes to find the lowest rates on roadside assistance plans through an insurer.
Roadside Assistance Services and Limitations
Roadside assistance plans vary in what they offer, but typically you should expect the following services:
Towing
Battery jump-start
Locksmith services
Gas and oil delivery
Tire change
Does your plan cover your car or you?
Emergency car assistance does have limits, however. Depending on your plan, you may only be able to get help if something happens to your car specifically. That means if you're with a friend and their car breaks down, you won't be able to make use of your roadside assistance. This differs with each plan, so double-check yours to see what it covers.
Towing
You also should check your agreement carefully for guidelines about towing. Most plans place a maximum on how many tows a customer can get per year without incurring an extra charge. Policies generally limit how far they'll tow a car too--often between three and five miles for basic plans. If you want to tow your car farther than this, you'll pay out of pocket.
Another reason to review your agreement: it'll tell you where your car will be towed. Some companies tow to the closest mechanic. Others tow to the destination of your choice, while others have their own preferred locations.
Want quick service? Popular Mechanics recommends calling the police for a tow truck if you want someone to help you fast. Many roadside assistance plans reimburse for these kinds of expenses, so you'll potentially receive the same service at the same cost, just more quickly.
Insurance Options
Most insurance companies offer their customers roadside assistance for a small fee. Although this service costs extra, it's often cheaper than AAA, which runs $48 to $96 for new primary members.
Prices and services vary by provider, but are offered at a flat rate. You'll pay the same amount for roadside assistance whether you're a high-risk driver or have a clean driving record.
Geico offers roadside assistance to customers for "as little as $14 a year per car." Although that's already considerably cheaper than AAA, you may be able to pay even less. According to Derek Reiman, partner at Brooktower Insurance Group, emergency car service costs usually are between $4 and $10 per car per year.
Sound too good to be true? Like anything, there are some drawbacks. If you make service calls too frequently, you run the risk of your insurer drop your roadside assistance plan.
"I would recommend not using [roadside assistance] more than two to three times a year," Reiman says. "If they use it more than a few times a year on a consistent basis, they will add up over the years and insurance companies don't like to see that."
Although it might drop your roadside coverage, Reiman adds that your insurer would never raise your auto insurance premiums because you used your roadside assistance plan too often.
Still, it's best to make service calls for emergencies only. Consumer Reports says some providers see multiple roadside assistance requests as a sign you're a higher risk customer.
Even so, roadside assistance use often is only reported to ChoicePoint, a company that collects insurance claims information. Many insurance companies don't use this information at all when calculating premiums. The ones that do usually consider it a minor component when determining what you pay. To know for sure, ask your insurer whether or not making frequent service calls would affect your insurance rates.
If you plan on using this service for emergencies only, you'll typically find a better deal through your insurer than through companies like AAA. And according to David Meltzer from East Insurance Group, AAA also reserves the right to cancel your coverage at any time due to overuse.
Your insurer may have other restrictions. For example, Progressive states that some roadside assistance services are only available to those who have specific forms of coverage, such as comprehensive, collision, or rental reimbursement.
Other companies may place a monetary value restriction. Esurance's site says it offers this assistance for up to $75 per incident. Read over your plan carefully to know exactly what's covered and any exclusions that apply.
Even if you don't get your roadside assistance plan through an insurance provider, it's worth mentioning you have it to your agent. You may receive a discount on your premium for having an emergency service plan in place.
Other Places You Can Get Roadside Assistance
AAA
Of course, there are other options for where to get your roadside assistance coverage. The one most people are familiar with is AAA.
Membership includes up to four service calls a year. There are several different memberships available including:
AAA Classic Membership (towing up to three miles)
AAA Plus Membership (100 miles of towing and free emergency fuel)
AAA Premier Membership (towing up to 200 miles per household, complimentary rental car for one day, home lockout service)
AAA Pus RV and AAA Premier RV Membership
With over 55.6 million members in the US and Canada, AAA has an extensive reach. But just because it's one of the most popular providers, that doesn't mean it's always the best choice for everyone.
As discussed, AAA is more expensive than most other roadside assistance plans. For the additional cost, though, you get extras such as trip planning and travel information as well as other services and discounts.
You'll have to decide if these benefits are worth the extra money to you or not. If you're looking for a basic roadside assistance plan and nothing else, there are many more affordable alternatives.
Better World Club is an eco-friendly auto club that provides services such as towing up to five miles, winching, fuel delivery, and flat tire change. Like AAA, it offers hotel and car rental discounts as well as maps and trip routing. It'll even waive the $12 sign-up fee if you're switching over from AAA.
Better World Club has three different plans:
Premium Auto $94.95
Basic Auto $58.96
Bicycle Only $39.95
In order to receive assistance, the member must either be driving or riding in the vehicle. Members are able to make four service calls annually at no additional charge.
Credit Cards
Depending on your credit card company, you may already have free roadside services. If you have certain American Express premium cards, you're eligible for free roadside assistance up to four times a year. Members without premium cards can still call a 24-hour dispatch hotline for roadside assistance, but they'll have to pay for the service.
Visa similarly offers free roadside assistance to some of its premium cardholders. Other users can pay $59.95 per use for services like tire change, tows, and fuel delivery.
Be careful when relying on a credit card for this type of service. Make sure you know exactly how much you have to pay per service call, if at all. Some companies may give users the option to call for roadside assistance, but then charge them for the service on their next credit card bill.
Cell Phone Companies
Cell phone providers like AT&T and Verizon often provide emergency road service. Roadside assistance through a phone company is generally linked to your cell phone rather than the car itself. While this can be beneficial if you're in a friend's car with your phone, remember that you won't have coverage if you accidentally forget your phone at home. Like insurers, cost and services vary by company.
AT&T, for instance, provides roadside assistance four times a year with a $75 maximum benefit. The first 30 days of this program are free, and then $2.99 every month after that.
According to AT&T's website, services include:
Towing
Flat tire change
Battery jump
Winching
Key replacement and locksmith services
Minor mechanical adjustments
Verizon offers similar services as well as fuel delivery for $3 a month.  
New Car
Many car companies give you free roadside assistance—at least for a certain period of time—when you buy a new vehicle from them. For instance, if you have a Mercedes-Benz that was purchased after 2011, you're eligible for complimentary roadside coverage. Meanwhile, Ford owners who have a car from 2007 or later have roadside assistance available for five years or 60,000 miles, whichever comes first.
For more information on which makes qualify and for how long, visit Edmunds.com.
Frequently Asked Questions
Q: Is roadside assistance worth it?
A: Getting roadside assistance isn't a requirement, but it can be invaluable if you run into car problems while on the road. Much like car insurance, no one can predict whether you'll use the service or not, but it can make a situation less stressful for a few dollars (or cents) a month. If you're unsure whether or not you need a plan, consider buying a basic option for a lower rate first. 
Q: Besides AAA, where else can I get roadside assistance?
A: Although AAA is the most well-known place to get roadside assistance, it is certainly not the only company that offers it. Most insurers offer this service for as low as $10 a year. To find the best deal, shop around with multiple companies.
You may even have access to free roadside assistance now and not know it. This is especially true if you recently bought a new car. Additionally, certain credit cards come with roadside assistance, while many cell phone companies provide it for a small fee.
Q: What questions should you ask when choosing a roadside assistance plan?
A: Before you choose your plan, make sure you have all the facts. Ask the following questions in order to compare policies more effectively:
How many tows do you get per year?
How many miles can you tow your car before incurring additional fees?
How many services calls do you get annually with your plan?
What is the average response time?
What is the reimbursement process like?
Does my plan follow the driver or the vehicle?
Will having multiple service calls cause me to lose my plan or raise my insurance rates (if getting through an insurer)?
QuoteWizard.com LLC has made every effort to ensure that the information on this site is correct, but we cannot guarantee that it is free of inaccuracies, errors, or omissions. All content and services provided on or through this site are provided "as is" and "as available" for use. QuoteWizard.com LLC makes no representations or warranties of any kind, express or implied, as to the operation of this site or to the information, content, materials, or products included on this site. You expressly agree that your use of this site is at your sole risk.