Rideshare Insurance in Florida
You need rideshare insurance if you're a Lyft or Uber driver in Florida. Find out how much you need, and how much it costs.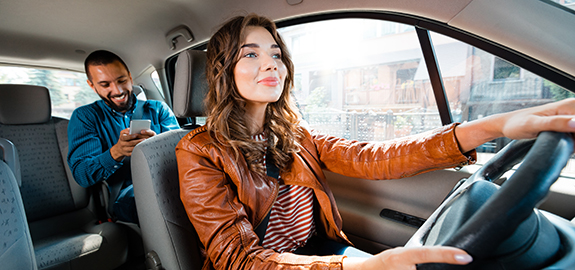 If you're an Uber or Lyft driver in Florida, you need to buy rideshare insurance – or add a transportation network company (TNC) endorsement to a standard car insurance policy.
You'll learn why you need rideshare insurance or a TNC endorsement in this article, plus you'll learn:
Why Do You Need Rideshare Insurance in Florida?
You need special rideshare insurance if you're an Uber or Lyft driver in Florida because state law says you need it.
Specifically, Florida law says you need a personal or commercial car insurance policy that provides at least this much coverage when you're not logged in to a rideshare app:
$10,000 of personal injury protection (PIP) coverage
$10,000 of property damage liability coverage
And when you're logged in to a rideshare app but waiting for a ride request (sometimes called "period one"), Florida law says you need at least this amount of coverage:
$50,000 of bodily injury liability coverage per person
$100,000 of bodily injury liability coverage per accident
$25,000 of property damage liability coverage per accident
Also, once you accept a ride request and until you drop the passenger at their destination (aka periods two and three), you need at least $1 million of bodily injury and property damage liability coverage. Thanks to the state's rideshare law, Lyft and Uber must provide that liability coverage for you. But that only applies during periods two and three.
Other Florida rideshare requirements
Florida's rideshare law does more than set car insurance requirements in this area. It also requires the state's Lyft and Uber drivers to agree to a criminal background check before they hit the road for the first time and then every three years after that.
They must agree to a review of their driving record before they initially get behind the wheel for a rideshare company, too.
What kind of car insurance do you need as a rideshare driver in Florida?
No matter what, you have to carry at least the state minimum amount of auto liability coverage if you drive for Lyft, Uber, or some other rideshare company in Florida.
The bare minimum amount of liability coverage won't protect you if you're in an accident as a rideshare driver, though. It won't cover any of your vehicle-repair or medical bills that pop up in the wake of the crash. It will only cover damage done to another vehicle or injuries sustained by the passengers of that vehicle. The same is true of the third-party liability coverage rideshare companies provide.
To be fully protected in this situation, you need full coverage car insurance. And that means having your own comprehensive and collision as well as liability coverage.
One bonus of carrying comprehensive and collision coverage: doing so gives you access to contingent coverage most rideshare companies like Lyft and Uber offer. You'll have to pay a deductible--of at least $1,000--to take advantage of it after an accident, but it could be a lifesaver if the crash is serious.
Which Insurance Companies Cover Rideshare Drivers in Florida?
Several insurance companies now cover Lyft, Uber, and other rideshare drivers in Florida.
Florida rideshare insurance companies and rates
| Company | Rates |
| --- | --- |
| Farmers | $15 / month |
| GEICO | $13 / month |
| Infinity | Get a quote |
| Mercury | $.20 / day |
| State Farm | $20 / month |

Unfortunately, a few insurers that sell rideshare insurance policies in other states don't do so in Florida. Allstate and USAA are two noteworthy examples.

Still, you should be able to find Lyft- and Uber-friendly car insurance coverage in Florida if you look hard enough for it. Shop around, contact a number of companies, and then compare quotes to get the best rates.
What if I can't find Lyft or Uber car insurance in my area?
If you can't find car insurance that'll fully cover you as a rideshare driver in Florida, you might have to consider getting a commercial policy.
Before you go this route, though, talk with an agent or someone else at the insurance company. Make sure you're clear how and when the policy you're looking to buy will and won't cover you.
How Much is Rideshare Insurance in Florida?
Rideshare insurance rates in Florida average about $15 per month based on available estimates.
For example, our own research found that GEICO rideshare insurance costs around $13 a month, while Farmers' coverage for Lyft and Uber drivers costs around $15 a month.
You'll probably pay a little more than that if you buy a rideshare-friendly policy from State Farm--about $20 per month.
Keep in mind that these are estimated costs. What you pay for rideshare insurance will depend on several factors, such as:
The insurance provider
The make and model of your vehicle
Your driving record
Your age
Where you live
Also, your insurer may give you a price discount if you bundle your rideshare coverage or TNC endorsement with another insurance policy.
QuoteWizard.com LLC has made every effort to ensure that the information on this site is correct, but we cannot guarantee that it is free of inaccuracies, errors, or omissions. All content and services provided on or through this site are provided "as is" and "as available" for use. QuoteWizard.com LLC makes no representations or warranties of any kind, express or implied, as to the operation of this site or to the information, content, materials, or products included on this site. You expressly agree that your use of this site is at your sole risk.