Compare Car Insurance in Raleigh
Raleigh, NC is great for both city life and its many oak trees. If you're a Raleigh driver and want a cheaper rate for your car insurance, we've got you covered. This page touches on stats, laws, insurance companies, and more so you can get great car insurance in Raleigh.
Average Raleigh Car Insurance Rates
How much is car insurance in Raleigh, NC? Residents should be pleased to learn that for many drivers, average rates in Raleigh are lower than the national average. The average cost of auto insurance in North Carolina is $655.37 a year. The national average price is $889.01.
Prices will vary depending on your zip code, local crime, and the number of claims filed.
North Carolina Average Annual Car Insurance Rates
Coverage
Rates
Liability
$359.42
Collision
$293.59
Comprehensive
$136.08
Total Cost Per Year
$655.37
Price Per Month
$54.61
Source: Facts + Statistics: Auto insurance
The graph below shows the change in average North Carolina rates from 2011 to 2015, the most recent year the data is available. According to the III, North Carolina car insurance rates increased from $600 in 2011 to $655 in 2015, a jump of $55 dollars, or 9.22 percent.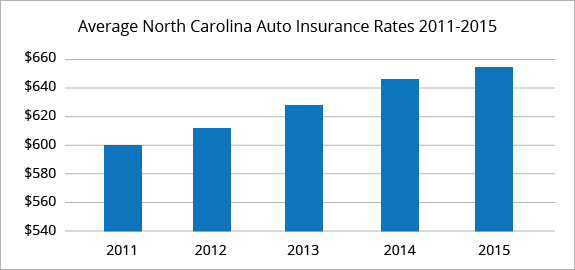 QuoteWizard helps Raleigh consumers compare quotes from both national insurance companies and local independent agents. Comparing quotes can help you find cheap car insurance rates near Raleigh, North Carolina and save up to 40% on your premium.
Last year, 20,200 people used QuoteWizard to compare car insurance quotes in Raleigh, NC from multiple companies and get the cheapest rates.
Best Car Insurance Companies in Raleigh, NC
These are the most popular car insurance companies reported by QuoteWizard users in Raleigh last year. Of those drivers, 2,471 were uninsured when thy requested a quote.
Other popular car insurers in Raleigh include North Carolina Farm Bureau, Metromile, American Family & Country Financial.
Top 10 Vehicles
These are the most popular car makes and models owned by Raleigh, NC QuoteWizard users.
Chevrolet Impala
Dodge Caravan SE
Infiniti G35
Chrysler 200 S
Honda Accord EX
Chevrolet Tahoe C1500
Jeep Patriot
Chevrolet Impala LT
Chevrolet Camaro LS
Mazda 3 Sport
Minimum Car Insurance Requirements in Raleigh, NC
Raleigh, NC requires that all drivers carry minimum liability coverage. The minimum required in North Carolina is 30/60/25. This means your policy needs to include:
Individual Bodily Injury Liability (BIL): $30,000.
The maximum amount your insurer pays for a person injured in a car accident.
Total Bodily Injury Liability: $60,000.
The total your insurer pays for every person injured in a car accident.
Property Damage Liability (PDL): $25,000.
The maximum your insurer pays for property damage caused by a car accident.
In addition, Raleigh requires this minimum underinsured coverage:
$30,000 of uninsured motorist bodily injury per person.
$60,000 of uninsured motorist bodily injury per incident.
$25,000 of uninsured property damage per incident.
Recommended Coverage Levels
Minimum coverage may look cheaper in the short run, but it can cost you if you have an accident. This coverage doesn't include collision or comprehensive coverage. If you exceed your policy limits, the price tag could be huge. 
Given that, we recommend the following coverage: 
Individual Body Injury Liability: $100,000 
Total Bodily Injury Liability: $300,000 
Property Damage Liability: $100,000 
Raleigh Drivers
Living in an area known for bad driving will raise your rates. How are Raleigh's drivers? Our study shows that North Carolina is smack dab in the middle as the 25th worst driving state in America. Being average is a good thing when it comes to car insurance rates.
Driving Conditions
Factors such as weather, road conditions, and traffic can affect your insurance rates. The worse your driving conditions, the higher your premium can be.
Weather
Spring and fall in Raleigh are pleasant. It's the winter and summer that take a toll on your car. Raleigh gets really humid in the summer. That warm air causes your engine to pull more oxygen in. Over extended periods, this can put stress on your engine, resulting in a higher chance of breakdowns or accidents.
Winter in Raleigh can get wet as well. Annual rainfall there averages 46.58 inches, 16.37 inches above the national average. This is going to mean slicker roads and lower visibility, raising the chances of accidents.
Road Conditions
Raleigh's streets and highways are adequate. They can handle the number of drivers that use them daily, but they do need some repair and upkeep. The mix of driving on poorly kept roads and the damage they do to your car over time can affect your premium. Driving on bad roads in Raleigh costs you an average $306 a year in extra costs.
Traffic Congestion
INRIX ranks Raleigh low on the list of traffic congestion. Even with the commuter and weekend traffic, you're looking at an extra 18 hours on the road over the course of the year. That's just a few more minutes a day.
Moving Violations
Speeding tickets and other moving violations can cost you in time and money. And if you don't pay your fines or attend court, you're facing license suspension. In fact, nearly 1 million North Carolinians have suspended licenses for the exact reason.
DUI and DWAI Arrests
North Carolina's Operation Firecracker has reduced the number of DUI arrests in Raleigh. This helps reduce average premiums for everyone.
On a personal level, getting caught driving under the influence drivers with DUIs pay $830 more per year for car insurance.
SR-22 DUI/DWAI Insurance
Raleigh does not require you to file an SR-22 form as proof of financial responsibility. But if you have an SR-22 requirement from your previous state of residence, you will likely need to maintain it.
Car Accident Statistics
High accident rates result in higher insurance costs. In 2016 there were 24,454 crashes in Raleigh, causing nearly 7,000 injuries.
Traffic Fatalities
Raleigh reported 94 fatal crash injuries in from 2014 to 2016.
Vehicle Theft Rates
Drivers in high car theft areas often pay more for car insurance. Raleigh reported 740 car thefts  in 2017.
Car Insurance Discounts
Looking to save money on your car insurance in Raleigh, NC? Discounts are a great way to lower your premiums:
If you live in a safe neighborhood in Raleigh, you could save money
If you're 55 or over, see if a senior citizens discount is available.
There are discount rates for active and retired members of the Military, National Guard, or Reserves
If you're married, insurers often offer discounts to married couples 
If you bundle your car insurance policy with your home or renters, you can cut up to 20 percent off your premium
QuoteWizard.com LLC has made every effort to ensure that the information on this site is correct, but we cannot guarantee that it is free of inaccuracies, errors, or omissions. All content and services provided on or through this site are provided "as is" and "as available" for use. QuoteWizard.com LLC makes no representations or warranties of any kind, express or implied, as to the operation of this site or to the information, content, materials, or products included on this site. You expressly agree that your use of this site is at your sole risk.