Popular Car Insurance Apps
Want to file your car insurance claim quickly and easily? There's an app for that! Filing a claim is easier than ever with car insurance apps.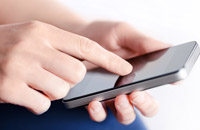 Let's face it. Car insurance claims are a hassle to file, especially right after you've been in a crash. But now—like most everything else—you're able to submit your claim and supporting documentation straight from your phone. Better yet, you can chat with an agent, review your policy, and monitor your claim's progress all without a computer.
And if you're one of those people who forgets to put their updated insurance card in their car, you're in luck. Many apps will let you download and view your digital insurance card on your phone. But be careful—only 42 states currently allow digital proof of insurance.
Insurance companies want to make the best app possible so that you can create and submit a claim as quickly and smoothly as possible. Why? Besides wanting to keep their customers happy, it makes their job easier.
Drivers should first look to see if their insurance carrier has their own app. That way they'll be sure to submit everything their particular insurer needs to file a claim. Thankfully, most major insurance companies offer their customers these online tools for free.
We tried out some of the most popular car insurance apps on the market so you can preview them before downloading. All of the apps below are free and are available on both Apple and Android devices unless noted:
Features:
Make a payment with your credit card or bank account
Find a nearby agent and see contact information
Review your policy
File a claim, including photos directly from your phone
Record accident details and send the information via email
File a claim using the record accident details
Get estimates on claims
View and update claim information
Roadside assistance
Find the nearest parking and gas stations
See vehicle recall information
Most unique feature:
Accident tools including an accident checklist guiding drivers on what to do and say if a crash occurs. Also includes a review of the auto claims process and FAQs
Other apps available:
Allstate offers several apps for their customers from a home inventory app (Digital Locker) to one designed specifically for your bike (GoodRide). The Allstate Motor Club app allows users to find roadside assistance using a GPS, and then call for help. It is only available for iOS.
Allstate members will likely want to take advantage of the Drivewise Mobile app. This app rewards good drivers by collecting information about people's driving habits. If you're a member, you can receive discounts on your insurance, while nonmembers will be able to redeem points for merchandise.
For example, you might get 200 points for not driving over 80 miles per hour for three consecutive days. You'll then be able to redeem your points for rewards like gift cards and other products.
Features:
Pay your bills
Review your policy
View your ID card
See agent's contact information
Call roadside assistance
Offers in-app messages regarding your policy
Find nearby repair shops
Allows you to stay logged in for easy access
Most unique feature:
Extensive FAQ section that includes answers to questions on policy information, billing, and your digital ID
Features:
Use voice recognition to navigate the app
View your insurance ID card
Download your ID card to your phone.
See your claim representative's schedule and contact information
File a claim and monitor its progress
Upload photos to a claim
Schedule a vehicle inspection
Roadside assistance
Track repairs and payments
Make payments and update payment information
Update contact information
Add new vehicles by scanning the VIN
Find the closest gas station, parking, repair shop, and restaurants by category
Save accident details such as the date of the accident, location, information for the other driver, and details and notes of what occurred. From there you can either save the details on their own or file a claim using the information
Most unique feature:
See photos of your car throughout the repairs process (if you use E-star repair shops)
Get an on the spot inspection of your car with an appraiser via video chat
Make reservations for a car rental
Other apps available:
One app, Fuelcaster, helps drivers find the cheapest gas in the area. Besides finding real time data, it forecasts whether or not fuel prices will go up or down. Based on that information you can make the best decision about whether to fill up that day or wait for a lower price.
If you have a teen driver, you may also want to use the Esurance DriveSafe app. Using a telematics device, it can help you track your teen's driving such as speeding and sudden stops. It will also send a message to teens to stop texting and driving by sensing when the car is in motion.
Features:
Access your digital ID card
Roadside assistance
Customize your app so that you see only your information
Find an agent
Chat with an agent
Schedule your repair immediately after filing a claim
Track insurance claims
Make payments with one swipe feature
Find gas, parking, taxis, and other places of interest like restaurants and local attractions
Most unique feature:
See updates from auto repair shops
Make a claim whether you have Geico insurance or are filling out the claim for someone as an attorney, pedestrian, rental car company, or the other person in the accident
Features:
Report a claim. Take and upload photos from your phone
Find the closest claims center
See your ID card
Review your policy
Roadside assistance for towing, flat tire change, fuel delivery, and more
Make payments with your debit card, credit card, or checking account
Contact your agent
Find a service center to make repairs to your car
Most unique feature:
Under the roadside assistance section, you can get details on how to jump start a dead battery, replace a flat tire, and choose which items to put in an emergency kit
Other apps available:
The Snapshot Mobile app is in the process of being launched. Right now, select customers who already use Snapshot have access to it for research purposes.
What is Snapshot? Currently, Progressive customers can plug in the Snapshot device to their car to monitor their driving habits. You can earn a discount for good driving behaviors.
The Snapshot Mobile app similarly records people's driving behaviors such as how many miles they drive and when they drive.
Features:
View car insurance card
Look over policies
Make payments
Take photos of accident scene and car damage
Find local repair shops
Talk to a claims representative
Schedule inspections
Receive text messages about the status of your claim
Roadside assistance
Exchange insurance information
Find nearby gas stations, ATMs, and car repair shops
Gives advice about tire safety, car maintenance like changing a flat tire or replacing windshield wipers, and how to save on gas
Most unique feature:
One app to view and manage your auto, home, and life insurance policies
Allows you to record your voice to make notes about an accident
"Did You Know" section gives users a new fact every time they use the app
Other apps available:
Liberty Mutual has a plethora of apps for their customers. Besides the standard Liberty Mutual Mobile app, they have a safe driving tool called RightTrack. This app rewards customers who drive safely for 90 days with up to 30 percent off of their insurance. It monitors customer's habits such as when they drive, how fast they go, and how many miles they drive.
Similarly, their app Liberty Mutual Dashboard (for both drivers and managers), also tracks driving behavior. Rather than personal use, however, this app is intended to be used by people who drive company cars. That way the company can see where their vehicles are and how safe the driver is being.
People who have homeowners or renters insurance may want to use the Home Gallery app to create a home inventory. This app allows users to take photos and catalog each item by room. Looking for other homeowners insurance apps? Get our list of picks here.
A more unique app with Liberty Mutual is their TrainingZone product. On this app, people play sports games like skiing and soccer to earn points and coins. Another app, Mutual Events, is limited for people who attend Liberty Mutual events. This app gives attendees the event agenda as well as information about presenters and other guests.
Frequently Asked Questions
Q: Why should someone use a car insurance app? What's the advantage?
A:  Using an app to get your news, check your bank statements, or read a novel is often more convenient and simpler than using paper or your computer. Likewise, car insurance apps give you faster and easier access to your policy and to your agent's contact information.
It also can make filing a claim a quicker process. You're able to upload photos directly from your phone, with the ability to start your claim right away, instead of waiting to go home and access your computer. In addition, most apps will give you the option of finding a repair center near you, and some will let you see the progress of your car repairs.
Many apps will let drivers download or view a digital copy of their car insurance. Most states allow digital proof of insurance. Not having your insurance card can result in heavy fines if you're caught, so having your app on hand may even save you money.
Some apps will also let you earn discounts and rewards that you can trade in for gift cards or merchandise. To save even more on your car insurance, compare quotes from multiple companies. 
Q: What should someone look for when choosing a car insurance app?
A: This can vary based on what you primarily want the app to do. As discussed, it's best to use your car insurer's app if possible. The app should be designed to fill all of your insurer's specific needs when it comes to filing a claim and can provide your specific policy and agent information.
One feature to look for is the ability to file a claim from your app, as well as how extensive that feature is. Do they let you include photos from your phone to the app? Do they help guide you through the multi-step claims process and give you the option to contact your agent?
Q: Can I use a digital insurance card in my state?
A: It depends on your state laws. Forty-two states will let you use a digital insurance card as proof of insurance.  
These states include:
Alabama
Alaska
Arizona
Arkansas
California
Colorado
Delaware
Florida
Georgia
Idaho
Illinois
Indiana
Iowa
Kansas
Kentucky
Louisiana
Maine
Maryland
Minnesota
Mississippi
Missouri
Montana
Nebraska
Nevada
New York
North Dakota
Ohio
Oklahoma
Oregon
Pennsylvania
Rhode Island
South Carolina
South Dakota
Tennessee
Texas
Utah
Vermont
Virginia
Washington
West Virginia
Wisconsin
Wyoming
References:
QuoteWizard.com LLC has made every effort to ensure that the information on this site is correct, but we cannot guarantee that it is free of inaccuracies, errors, or omissions. All content and services provided on or through this site are provided "as is" and "as available" for use. QuoteWizard.com LLC makes no representations or warranties of any kind, express or implied, as to the operation of this site or to the information, content, materials, or products included on this site. You expressly agree that your use of this site is at your sole risk.