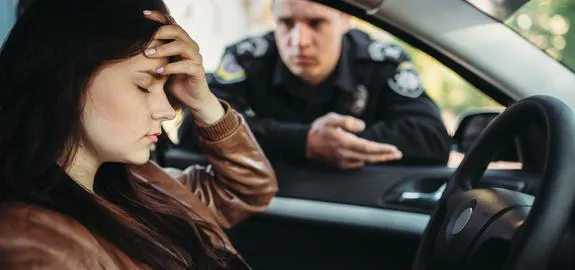 You need car insurance if you want to drive in Ohio. Any lapse in coverage can lead to fines, license suspension, losing your license entirely and even jail time. If you are caught driving without insurance, your insurance rates may increase significantly when you ultimately do purchase a car insurance policy.
If you're struggling to afford car insurance, make sure to purchase at least your state's minimum. According to the III, in 2016 the average monthly premium for Ohio's minimum auto insurance liability policy was $33, which is insignificant compared to the penalties, fines and costs you may incur when uninsured.
In this article we'll touch on…
Penalties and fines after being caught driving without a license
If you drive in the state of Ohio without car insurance, you can face a wide variety of penalties. These may include fines for driving without insurance, license suspension and even jail time. You can be caught without auto insurance if you get into an accident, or even when you aren't driving your car in Ohio.
The owner and/or any driver of a vehicle must show proof of insurance coverage. This includes during random vehicle checks, traffic court appearances, ticket issuances and traffic stops. If they fail to do so, they may be subject to fines and penalties.
Driving without insurance in Ohio: First, second and third offenses
If you fail to show proof of insurance when requested, your penalties can involve license suspension and reinstatement fees, with penalties changing depending on the number of offenses. If it's your first-time offense driving without insurance in Ohio, you may still be subject to fines, license suspension and higher insurance premiums in the future. Here are the minimum penalties you may face based on the number of times you are caught driving without proof of insurance:
Number of times caught without insurance
Penalty
First offense while driving without insurance

License suspension: lose your license until you prove you have insurance
Pay reinstatement fee of $100
Pay a $50 penalty
File an SR-22 which means maintaining more expensive, "high-risk" insurance for three-five years

Total fees: $150
Second offense while driving without insurance

License suspension: lose your license for one year
Pay reinstatement fee of $300
Pay a $50 penalty
Maintain your SR-22 filing for three or five years

Total fees: $350
Third offense (or more) while driving without insurance

License suspension: lose your license for two years
Pay reinstatement fee of $600
Pay a $50 penalty
Maintain your SR-22 filing for three or five years

Total fees: $650
Accident without car insurance

 
Same penalties as driving without insurance
A security suspension for two years or more and a judgement suspension indefinitely until all damages have been paid or satisfied, or the driver is deemed not at fault

Total fees: $150 - $650
If you're caught without proof of insurance twice, you may be liable for at least $500 in fees. If you're caught three times, you may be liable for at least $1,150 in fees, the sum of total fees for all three offenses
Instead of risking these fines, paying higher insurance premiums and facing license suspension, you should purchase the minimum required auto insurance in Ohio. With an average monthly rate of $33 for minimum coverage in Ohio, the expense of penalties and fees of three offenses could pay for two years of insurance.
What happens if you're in a car accident without insurance?
If you are in a car accident without insurance, you may be subject to the penalties laid out above for being uninsured. On top of that, you may be liable for any bodily injury and property damage you caused in the accident if you were at fault. This could include medical bills, foregone wages and vehicle repair or replacement costs that can be covered by an insurance policy. The other party can even sue you for these damages, potentially resulting in the loss of assets such as your house,your car or your future wages.
If the party not at-fault has uninsured motorist coverage, their insurance can pay for their own damages incurred because of the accident you caused. Their insurer can still sue you for the damages regardless, though, potentially resulting in the loss of assets and future wages.
Penalty for driving without a license in Ohio
What happens if you drive while your license was suspended for having no insurance? The first time you're caught driving with a suspended license, your car may be immobilized and you may lose your license plates for 30 days. For your second offense, you may have your car immobilized and license plates taken for 60 days. For any offenses after that (third and beyond), your vehicle may be confiscated and sold. You may not be able to register a vehicle for five years in Ohio.
Filing an SR-22 after driving without a license
When you drive uninsured, you not only have to pay fees to the Bureau of Motor Vehicles (BMV), but you could also face increased insurance rates, as insurers may consider you a higher-risk driver. After your first offense, you will need to file an SR-22, a certificate proving you have the minimum liability coverage to drive in their state. Your insurance company will file it on your behalf. Because an SR-22 indicates that you are a high-risk driver, your rates may be significantly higher than those of a driver with a clean record. Make sure to shop around for multiple quotes to get the most affordable premium.
Stop Overpaying for Car Insurance
Get fast, free quotes and start saving today!
Ohio insurance laws
Make sure you have car insurance that at least meets the state required limits. We suggest you purchase more coverage to protect you in case of an accident, but the minimum is required and is much better than no coverage at all. In Ohio this means you need at least a 25/50/25 liability policy, meaning:
$25,000 in bodily injury liability (BIL) coverage per person
$50,000 BIL coverage per accident
$25,000 property damage liability coverage per accident.
If you caused an accident and you have car insurance, the other party's damages would be covered up to these limits. That means the state minimum gives you coverage of $25,000 per person in medical costs and lost wages, a cap of $50,000 in coverage for all others involved in the accident, and $25,000 in property damage costs such as vehicle repairs and destroyed property like a mailbox.
As an alternative to auto insurance, Ohio allows other forms of proof of financial responsibility:
Have $30,000 in money or government bonds with the office of the Treasurer of the State of Ohio. You need a certificate from the BMV proving this, and will need to submit an application and get approval.
Two individuals can sign a certified bond issued by the BMV of at least $30,000 if they have real estate equity of at least $60,000.
If you own or lease more than 25 vehicles in your name or your company's name, you can have a certificate of self-insurance from the BMV.
Have a $30,000 bond from an authorized insurance company.
You must show proof of coverage when requested. You can either show your insurance policy or insurance card with the minimum policy limits or a BMV certificate proving you have an approved alternative to insurance. If you have no proof of insurance, you may face penalties.
Finding cheap car insurance in Ohio
It's illegal to drive without insurance in Ohio, so you should look into finding cheap car insurance. With the security of an auto insurance policy, you can avoid penalties and fines while also covering yourself financially for any risk of injury or damages in a car accident. You should get at least the bare minimum insurance required, but ideally more. Obtaining the best possible premium will require you to shop around and get multiple quotes, as no one insurer is the cheapest for every driver.
QuoteWizard.com LLC has made every effort to ensure that the information on this site is correct, but we cannot guarantee that it is free of inaccuracies, errors, or omissions. All content and services provided on or through this site are provided "as is" and "as available" for use. QuoteWizard.com LLC makes no representations or warranties of any kind, express or implied, as to the operation of this site or to the information, content, materials, or products included on this site. You expressly agree that your use of this site is at your sole risk.