What is the New Jersey Personal Automobile Insurance Plan (NJ PAIP)?
High-risk drivers in New Jersey can use the Personal Automobile Insurance Plan to get state minimum insurance coverage.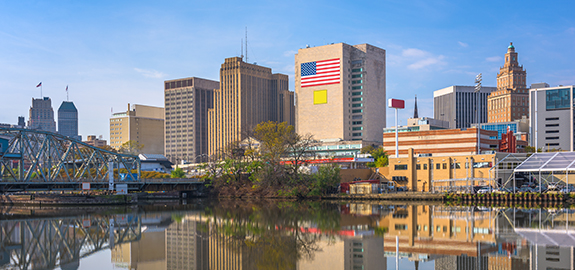 The New Jersey Personal Automobile Insurance Plan – or NJ PAIP – helps high-risk drivers get the state minimum amount of car insurance coverage.
This article will tell you all you need to know about NJ PAIP eligibility and coverage requirements, plus:
New Jersey PAIP Eligibility Requirements
To qualify for the New Jersey Personal Automobile Insurance Plan, you must have tried and failed to obtain car insurance coverage at least twice in the last 60 days.
Insurance companies in the private or voluntary market may refuse to sell you coverage if you rack up too many New Jersey Motor Vehicle Commission (NJMVC) or insurance points. These points are added to your driving or insurance record when you're convicted of certain driving offenses, such as:
| Traffic Violation | NJMVC Points |
| --- | --- |
| Passing a vehicle yielding to pedestrian in crosswalk | 2 |
| Failure to stop for traffic light | 2 |
| Improper U-turn | 3 |
| Reckless driving | 5 |
| Leaving the scene of an accident that results in a personal injury | 8 |
New Jersey insurance providers also can deny you coverage if you:
Have bad credit or no credit
Have a history of not paying your car insurance premiums
Include high-risk drivers on a policy
After you're denied coverage and placed in the state's "assigned risk" pool, you're eligible to buy a policy through the NJ PAIP.
You don't buy car insurance from the NJ PAIP, however. You buy it from an insurance company the NJ PAIP assigns to you.
That insurer must agree to cover you for three years – as long as you pay your policy premiums on time. It doesn't have to continue covering you once those three years are up, though it may do so anyway.
If an insurance company drops you at this point and you can't find coverage elsewhere because of your high-risk status, the NJ PAIP will assign you another insurer.
Assuming you keep up with your premium payments and avoid driving violations, though, you should be able to find cheaper car insurance on the private market after – or even during – your initial three-year period.
Minimum Coverage Requirements in New Jersey
New Jersey is a no-fault car insurance state, which means it requires drivers to carry at least a minimum amount of personal injury protection and liability coverage.
The state's drivers – high-risk or not – can meet this requirement by buying either a Basic Policy or a Standard Policy. Here's how the two coverage options differ:
| Type of Coverage | Basic Policy Coverage Limits | Standard Policy Coverage Limits |
| --- | --- | --- |
| Personal Injury Protection | At least $15,000 per person or accident | At least $15,000 per person or accident |
| Bodily Injury Liability | Not offered | At least $15,000 per person and $30,000 per accident |
| Property Damage Liability | $5,000 per accident | At least $5,000 per accident |
New Jersey drivers who choose a Standard Policy don't have to stick to the limits listed above. If they want, they can buy:
Personal injury protection (PIP) coverage of $250,000 or more per person or accident
Bodily injury liability coverage of up to $250,000 per person and $500,000 per accident
Property damage liability coverage of $100,000 or more per accident
Also, New Jersey drivers who choose a Basic Policy can buy bodily injury liability coverage of $10,000 per accident.
Standard Policy buyers can add uninsured and underinsured motorist coverage up to the amounts they selected for liability coverage, too. Basic Policy buyers can't add this coverage.
Both groups can buy optional collision and comprehensive coverage, though.
NJ PAIP Rates
Although it's impossible to say exactly what you'll pay for NJ PAIP coverage, you should expect to pay more than you would if you bought a car insurance policy on the private market.
Also, you'll pay more for a Standard Policy in New Jersey than you'll pay for a Basic Policy.
The insurance companies that provide coverage through the NJ PAIP will consider the following while setting your rates:
Your gender
Your age
Your marital status
Your driving record
Your vehicle's make and model
Where you live
Something to keep in mind here is you'll probably continue to pay a lot for auto coverage after you leave the state's assigned-risk pool. That's because New Jersey drivers often have to deal with the highest car insurance premiums in the US.
In fact, the National Association of Insurance Commissioners recently reported that New Jersey motorists pay an average of $1,263 per car, per year. The national average for the same time period: $866.
How to Buy a New Jersey Personal Automobile Insurance Plan Policy
To buy car insurance as a high-risk driver in New Jersey, your first step should be to contact the NJ PAIP.
They will then assign you an NJ PAIP Certified Producer. This is just a fancy way of saying they'll pair you with an insurance company that will sell you a policy that meets the state's minimum coverage requirements.
Before an NJ PAIP Certified Producer can sell you a policy, though, you need to show them:
Your New Jersey driver's license
Your New Jersey vehicle registration
Proof of NJMVC or insurance points
The names of the New Jersey insurance companies that have denied you coverage
The NJ PAIP Certified Producer also has to prove any other drivers in your household are insured.
NJ PAIP Payment Plans
The NJ PAIP offers two payment options to the state's high-risk drivers: an Advance Premium Payment option and an Installment Payment option.
If you choose the Advance Premium Payment option, you pay the full premium when you apply for coverage through the NJ PAIP.
If you choose the Installment Payment option, you pay 30 percent of the premium when you apply for coverage. Then you pay the remaining 70 percent in six installments over the next nine months.
Contact NJ PAIP
To learn more about the New Jersey Personal Automobile Insurance Plan, call 856-352-2349. Or visit the NJ PAIP website.
QuoteWizard.com LLC has made every effort to ensure that the information on this site is correct, but we cannot guarantee that it is free of inaccuracies, errors, or omissions. All content and services provided on or through this site are provided "as is" and "as available" for use. QuoteWizard.com LLC makes no representations or warranties of any kind, express or implied, as to the operation of this site or to the information, content, materials, or products included on this site. You expressly agree that your use of this site is at your sole risk.