How to Get Cheap Car Insurance
Take these easy steps to get the best cheap car insurance depending on your age, gender and the car you drive.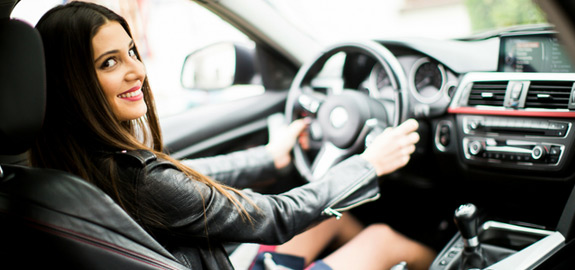 Auto insurance is a major (but necessary) part of a driver's budget. Getting lower car insurance rates cuts your spending and the stress that comes with it. We've compiled a list of ways to get the cheapest car insurance, including shopping around, bundling your policies and more. This article covers:
Steps to take to get the cheapest car insurance
There are several things that factor into your auto insurance premiums, like your age, where you live, and your car's make and model. However, there are simple steps you can take to get the cheapest auto insurance without making any major changes. These are eight easy steps you can take to lower your insurance costs:
1. Shop around to compare rates
Finding the cheapest rates can be as simple as using an online quote comparison site to
compare rates. All you need to do is input data like your location, age, and car make and model to find your car insurance premium estimate. Compare auto insurance rates to find out how much you can save.
2. Look for discounts
Insurance companies offer plenty of discounts, and you may not be taking advantage of them yet. Ask your insurance agent if there are any discounts you qualify for. These are common discounts that most major companies offer:
Good student discount
Safe driving discount
Safety features discount
Membership to certain organizations or groups
Set up auto-pay and online-only documents
3. Improve your driving record and credit score
Insurance companies heavily weigh your driving record and credit score to determine your insurance rates, though the impact of a bad credit score differs between insurers. By improving both of these things, you should see a significant drop in prices. Make sure to pay your bills on time and drive carefully. According to our data, having an excellent credit score will save you $1,882 annually than if you have a bad credit score.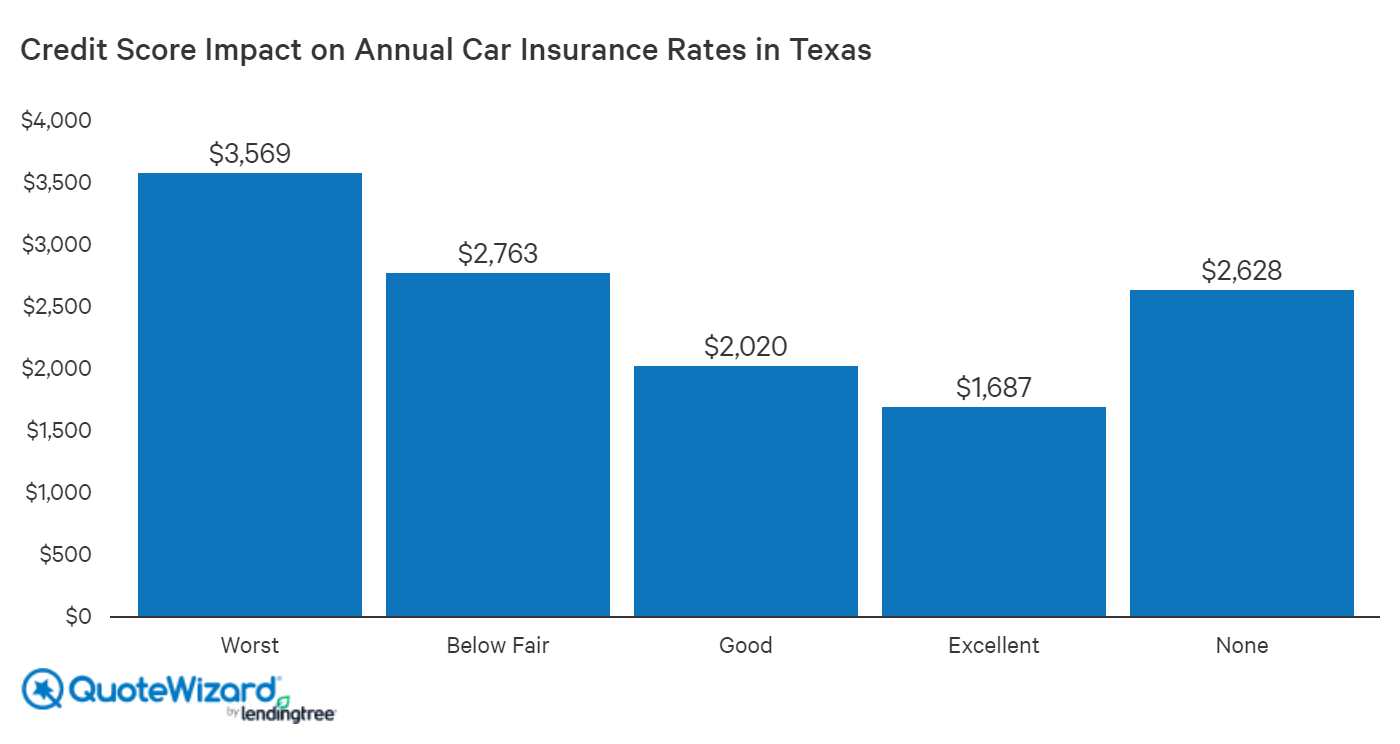 4. Pay your insurance premiums on time
If you don't pay your insurance bills on time, your rates could skyrocket when your policy renewal date comes around, or your insurer could even drop you. To avoid potentially high costs, make sure to pay all your insurance bills on time to keep your rates low.
5. Raise your deductible
If you want to pay less monthly, you have the option to raise your insurance deductible. Your deductible is the amount you'll have to pay in the event that you need to make a claim. Raising it means a higher payment if you're in a crash, but cheaper regular monthly payments.
6. Bundle your insurance policies
Your insurance company likely offers a discount for bundling several different insurance policies. Drivers can save money by bundling their auto insurance with their renters or homeowners insurance policies. Multi-policy discounts are one of the quickest and easiest ways to decrease your insurance spending, especially if you already have two separate policies at the same company. Just call your insurance agent and ask to bundle policies for a multi-policy discount.
7. Review your policy every six months
Because the insurance industry is so full of competition, insurers are always releasing new deals and cheaper rates. If you're with an insurance company for a while, they may be slowly raising their rates. However, other insurers could be cutting theirs or offering savings for new customers. That's why it's a good idea to review your policy every six months and compare rates from other insurers.
Another reason you should regularly review your policy is in case any major life changes have occurred. For example, if you move to a new area or your credit score improves, your rates could be cut significantly. Alert your insurer if any changes are made that could impact your costs.
You may also find that you don't need as much coverage as you originally purchased. For example, if you're desperate to cut costs, you don't drive much or you have an older car, you could save by cutting your comprehensive and collision coverage. Although it's not ideal, you can keep it to your state's minimum coverage amounts.
8. Pay your premiums annually
Insurance companies may offer discounts for paying your entire six-month premium at once, as opposed to monthly. If you have enough cash saved up and want to save money on your car insurance, choosing to pay at once is an easy way to cut costs. Plus, if you pay at once, you won't have any monthly payments to worry about.
Which insurance company is the cheapest?
Insurance companies base their rates on many different factors, so the cheapest company for one driver may be the most expensive company for another driver. That's because drivers have different driving records, ZIP codes, credit scores and more.
We compared the average annual premiums from four major insurance companies in four states. Based on those factors, these are some of the cheapest car insurance companies: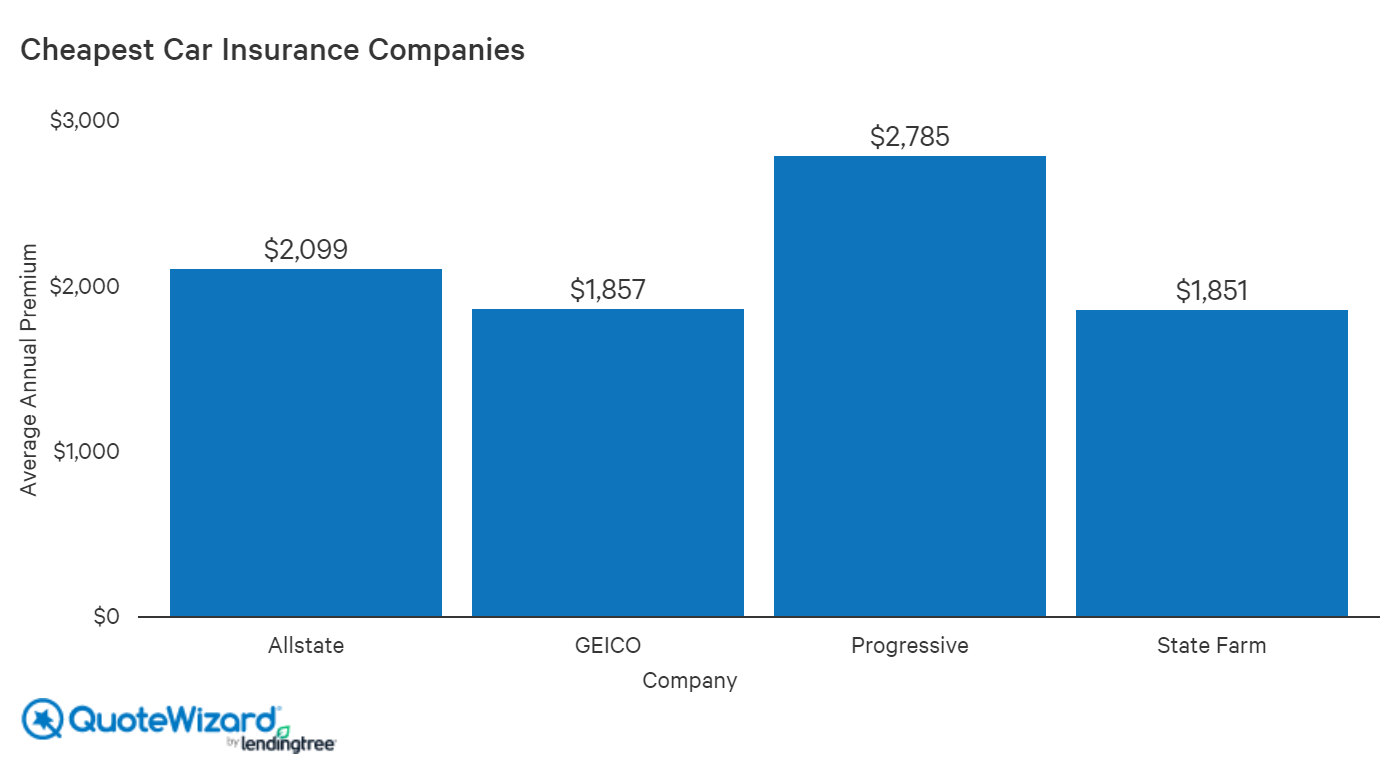 According to our data, State Farm is the cheapest insurance company from those we compared. However, average GEICO prices are only $6 more per year. On average, annual premiums cost $1,851 at State Farm.
Rate methodology
We compared rates from several insurance companies for an employed 30-year-old male in Texas with a 2012 Honda Accord LX. Our rate profiles have a clean driving record and include 100/300/100 coverage. Credit scores were compared from ZIP codes throughout Texas.
We also compared rates from several insurance companies for a 30-year-old with a clean driving record who drives 16,000 miles annually and drives a 2012 Honda Accord LX. Annual premiums were compared from ZIP codes throughout Illinois, New York, Texas and California.
QuoteWizard.com LLC has made every effort to ensure that the information on this site is correct, but we cannot guarantee that it is free of inaccuracies, errors, or omissions. All content and services provided on or through this site are provided "as is" and "as available" for use. QuoteWizard.com LLC makes no representations or warranties of any kind, express or implied, as to the operation of this site or to the information, content, materials, or products included on this site. You expressly agree that your use of this site is at your sole risk.