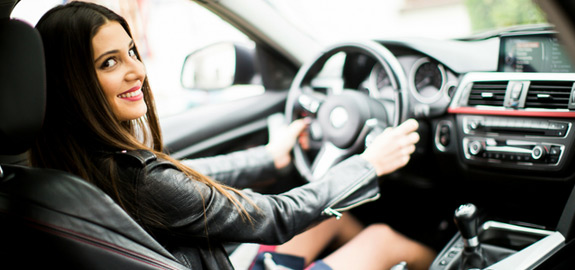 Most people wish they had more affordable car insurance. Fortunately, we have a robust auto insurance industry in America. With a lot of competition.
Insurance companies compete heavily for your dollars. This is great for consumers. However, it's only great for those that actually shop around.
To make this easier for you, QuoteWizard compiled rate data using Survata. Responses came from our own visitors. The following outlines which companies have the cheapest car insurance for you.
Best Car Insurance Companies by Age and Gender
Overall, our survey shows men still pay slightly more than women. The average monthly premium for men was $144. For women, it's $139.
When breaking our data down by age, it's clear there isn't one company who's the cheapest. Turns out, age plays more of a factor than gender. Another reason why shopping around for car insurance is so important.
Men
Women
Cheapest Insurance Company For Women
Age
Insurance Company
Average Monthly Rate
18-34
Country Financial
$100
Esurance
$109
Farmers
$114
35-54
MetLife
$96
Farmers
$106
Progressive
$122
55+
The Hartford/AARP
$83
GEICO
$96
Nationwide
$103
Best Car Insurance Companies by Driving Record
For drivers with car accidents and/or tickets on their record, getting affordable insurance can be a challenge. However, there are a few auto insurance companies willing to take on the risk. Finding a reasonably priced policy is key. Comparing only "with accidents or tickets" versus "without accidents or tickets", here are the lowest rates:
With Accidents or Tickets
Drivers With Tickets or Accidents on Driving Record

| Insurance Company | Average Monthly Rate |
| --- | --- |
| The Hartford | $120 |
| Farmers | $133 |
| American Family | $140 |
Without Accidents or Tickets
Drivers Without Tickets or Accidents on Driving Record

| Insurance Company | Average Monthly Rate |
| --- | --- |
| Farmers | $125 |
| GEICO | $129 |
| Allstate | $132 |
Looking for more information on auto insurance for drivers with a less than pristine record? Please visit QuoteWizard's article titled "Car Insurance for Drivers With Tickets or Accidents".
Rates went up due to a car accident or lots of tickets? Find low rates with top insurance providers!
You can save up to $492/year!
Click Here
Best Car Insurance by Auto Make and Model
Auto policy prices vary based on the make and model of cars. If you're shopping for a new vehicle, consider looking up average policy prices as part of your research. And if a new car isn't in your immediate future, you can still compare.
Look at the below list of lowest auto insurance rates by make and model. Do you see your car there? Are you paying more? If so, it may pay to shop around for a lower rate. They're out there.
Cheapest Car Insurance By Auto Make and Model

| Auto Make/Model | Average Monthly Rate |
| --- | --- |
| Volkswagen Jetta | $108 |
| Buick Century | $110 |
| Toyota Prius | $122 |
| Ford Focus | $124 |
| Jeep Cherokee | $129 |
| Nissan Altima | $129 |
| Kia Soul | $130 |
| Honda Civic | $131 |
| Toyota Camry | $131 |
| Subaru Outback | $133 |
| Honda Accord | $134 |
| Dodge Durango | $135 |
| Hyundai Elantra | $135 |
| Toyota Tundra | $135 |
| Chevrolet Impala | $143 |
| Chevrolet Silverado | $146 |
| Ford F 150 | $149 |
| Chevrolet Malibu | $156 |
| Audi A4 | $165 |
| Dodge Ram | $169 |
| BMW X5 | $187 |
| Mercedes C Class | $188 |
We can see from the data above, rates vary from a low of 108 up to 188. Why the difference in lowest rates by make and model?
Car insurance companies set rates based on risk. This risk can come from various sources. One is the type of car you drive.
Auto insurance companies look through data to determine which cars have the highest number of claims. They also look at car theft data. Higher risk equals higher rates.
Cars with strong safety features are considered a positive risk. They're priced lower than cars without these features. Horsepower also plays a role in determining rates. Lower horsepower corresponds to lower auto insurance.
When shopping for a new car, we recommend avoiding the following, if your goal is low-cost insurance:
Any car on the list of most stolen vehicles
Large SUVs and trucks
High end luxury cars
Expensive sports cars
Our data on the lowest rates by make and model bear this out. The least expensive to insure is the Volkswagen Jetta. Most expensive is the Mercedes C Class.
The Best Way to Get Cheap Car Insurance
Getting a great deal on car insurance is a lot like trying to buy a car. You need to shop around to find the best possible price. If you want the lowest rates for car insurance, you'll need to compare quotes from different insurance companies to find the best price.
Shopping for car insurance is an aggravating process. QuoteWizard makes your life easier by helping you compare quotes to find the best option. Instead of calling individual insurers or filling out dozens of quote forms on each of their websites, you can fill out one quote form on QuoteWizard.
We'll give you quotes from top insurance companies to help you find the right coverage levels for the most reasonable price.
Advice for Everyone on How to Get Cheaper Auto Insurance
Before shopping around for a better car insurance deal, try the following:
Revisit your limits and deductibles – raising deductibles and lowering limits is one way to reduce rates. However, this means more out of your pocket if an accident or theft occurs. If budgets allow, and you hardly ever drive, this could be a great option for you.
Discounts – insurance companies offer all kinds of discounts. Usually related to lower risk, it pays to review your policy with an agent periodically. Especially if things have changed, like you're driving less.
Life events – did you get married? Have a kid? Move to a city with great public transportation? Many companies view these events in a positive light when it comes to risk. And provide lower rates because of them.
Unsure how deductibles and limits work in your auto insurance policy? QuoteWizard has articles with more in-depth information on these topics:
Other ways to reduce your rate include making it easier on the car insurance companies to do business with you. Examples include:
Automatic payments
Automatic and/or early renewal
Bundling insurance policies
Paying for six months' or a year's worth of coverage at one time
Specific ways to bundle, that include a reduction in your policy costs, involve the following:
Having both car and life insurance with the same company
Buy homeowners insurance from your auto insurance company
Insure multiple cars on your policy
Teen drivers typically cost a lot more for auto insurance. However, they can save parents money by being top students. Most car insurance companies offer discounts for students who get above a certain GPA.
If you're a member of a certain club or industry, you may qualify for a reduction on your premium. Most people don't realize this, so it pays to ask your agent about all the discounts offered. Insurance companies use these discounts as a way to increase visibility in their communities.
Certain safety features and types of cars are rewarded with lower premiums. Auto insurance companies have data that show which features reduce costs and risk. Consider an eco-friendlier car. It may save you money on insurance as well.
For more ways to save money, please visit QuoteWizard's article "32 New Ways to Earn Car Insurance Discounts". This article provides in depth information on:
Bundling
Car and safety features
Driving record and insurance history
Student, professional and club memberships
Special circumstances discounts
Miscellaneous discounts
Other articles on discounts include:
Frequently Asked Questions
Q: Do car insurance companies offer discounts for referrals?
A: Yes, some auto insurance companies offer discounts for referring family members and/or friends. Check with your agent to determine if this discount is offered.
Q: How do I know I'm getting the cheapest car insurance?
A: Compare policies and prices across multiple auto insurance companies. There are many comparison websites available. We hope you choose QuoteWizard when searching for more affordable car insurance rates.
A: Most people want great coverage at an affordable price from a customer service oriented company. If you're comparing quotes from companies you don't have experience with, this can be a little scary. Especially if the car insurance company you're currently with provides great service.
Here are a few different ways you can research auto insurance companies before making the switch:
Reputation

Every state has an insurance commissioner. Check your state's insurance commissioner website to determine if the company is allowed to sell auto insurance in your state. Some states offer additional information on complaints and their ratios.
Visit the Better Business Bureau (BBB). The BBB gives letter rankings from A+ to F. Here you can find out how long a company has been in business, what their ranking is and information on customer complaints. This includes any resolutions.

Financial Health

Auto insurance companies with robust bottom lines are more apt to provide top notch customer service. And less apt to nickel and dime you on policy coverage and rates.
Check websites like Yahoo Finance, J.D. Power and A.M. Best for more detailed financial data on car insurance companies
For more information, please visit our article "How to Choose a Car Insurance Company".
QuoteWizard.com LLC has made every effort to ensure that the information on this site is correct, but we cannot guarantee that it is free of inaccuracies, errors, or omissions. All content and services provided on or through this site are provided "as is" and "as available" for use. QuoteWizard.com LLC makes no representations or warranties of any kind, express or implied, as to the operation of this site or to the information, content, materials, or products included on this site. You expressly agree that your use of this site is at your sole risk.