How to Choose Auto Insurance Agents or Brokers
Insurance Agents and brokers can be key to helping you get not only the right types of insurance, but the right amounts, too. Here's some advice related to how you can find a great agent or broker.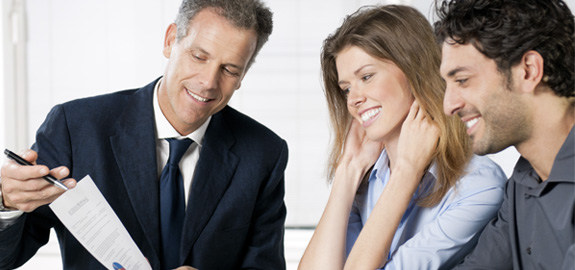 Some insurance coverage is optional; other types are legally required. At the very least, you must meet your state's minimum liability insurance levels.
For many people, buying insurance is a daunting experience. This is understandable because insurance can be complex.
Thankfully, insurance agents and brokers are there to lead people through this often confusing process. The question is, who should you turn to if you're struggling to make heads or tails of all the insurance options?
Once you've made the decision to employ either a broker or agent, how are you supposed to choose one over another?
Read on to find out.
Reasons to Work with an Agent or Broker
The first thing you should know is how agents differ from brokers.
Maybe we should start with what could push you to choose one over the other—or one of them at all.
After all, you don't have to us an agent or broker when you shop for insurance, as a third option is to buy a policy directly from an insurance company.
Buying a policy directly from an insurance company can be a good idea in some cases, such as when you only need a basic insurance policy and can save a few extra dollars because the insurer doesn't have to pay out a commission.
But if your insurance needs are complicated, however, you may want to use the services of an agent or broker. Make sure you compare quotes from multiple agents to find your best insurance rates.
What's the Difference Between an Agent and a Broker?
Here are a few facts that should help you understand the differences between agents and brokers.
For starters, agents represent either one company or a number of companies. They'll only sell you insurance policies offered by the company or companies they have relationships with—that pay their salaries (in some cases) and commissions.
Also, there are two kinds of agents. The first, called "captive" (or direct) agents, work for a single insurer. In fact, they're usually employees of that company. An "independent" agent works with several insurance providers who then pay them commissions.
Brokers provide value to clients by bringing them the best options from all insurers.
A couple of words of warning related to brokers: they usually charge for their services. So, factor that into your calculations if you decide to use a broker rather than an agent.
Deciding Between Agents and Brokers
The option best for you depends on your laundry list of insurance needs and wants.
For example, agents may be able to provide you with lower rates and direct access to the company providing you with your policy. Brokers may be better at finding you a policy that's closer to a "perfect fit" for your current situation.
We're not saying that brokers can't get you a good deal. Some people have found broker pricing to be cheaper than obtaining insurance directly from a provider or one of its captive agents.
Don't feel bad if you want to "play the field" a bit and talk up a few agents and brokers before you make a decision. You can save a lot of time and effort if you take a minute to request an online car insurance quote to shop the competition.
Tips for Finding the Best Insurance Agent or Broker
Deciding between an agent or broker doesn't have to be hard. Here are some simple ways for you to find the best choice for your needs:
Ask family, friends, co-workers, and more for referrals or recommendations
Ask strangers if no family members, friends, or colleagues are handy. Strangers are only likely to pass along the names of brokers or agents they've had good experiences with.
Ask questions about their dealings with agents or brokers. Are they friendly, knowledgeable, and responsive? How do they react to or address questions, problems, complaints, or claims?
Track down and read testimonials
Check these sites while you're on the hunt for information: Yelp, Twitter, LinkedIn, and Facebook.
Look for Twitter feeds or Facebook walls of local business or trade associations, as it's possible you'll come across some similarly useful information there. (And if not, you can always get the conversation started by asking fellow followers what they think of certain agents or brokers, or which ones they've most recommend doing business with.)
Go Online and Investigate Their Reputations
A good example: what's said about the agent or the company he or she works for on the website maintained by your state's insurance department? (That location can be found on the National Association of Insurance Commissioners' site if you need assistance.)
Either your state's insurance department or the NAIC should be able to tell you if consumers have filed any complaints against the agent, broker, or company you're thinking of doing business with.
A few other useful websites are: A.M. Best, the Better Business Bureau, your local chamber of commerce, J.D. Power, and Moody's.
Check out their employers' online presence
The information you find on an insurance company's or an insurance company's own site isn't going to be as useful as the information gathered from unbiased rating services.
Still, there can be perks to spending a bit of time on these pages, too. They can help you get a feel for the company's personality, for instance, plus they can offer up some valuable information on its history, its offerings, as well as its founders, current leaders, and other staff members.
Look for credentials
Does the fact that a few letters are attached to the name of a prospective broker or agent mean they're going to provide you with better prices and better service than men and women who haven't earned any professional designations or certifications? Not necessarily, but it's still information you should consider while searching for someone who can help you obtain an insurance policy that best fits your current (and possible future) needs.
Some of the credentials you're likely to come across while shopping for an insurance agent or broker: AAI (Accredited Advisor in Insurance), ARM (Associate in Risk Management), CIC (Certified Insurance Counselor), and CPCU (Chartered Property and Casualty Underwriter).
Interview some of the candidates
As important as all of the above are when it comes to helping you figure out which agent or broker you should utilize to obtain various kinds and amounts of insurance coverage, something that's likely to be even more vital to achieving that goal is to sit down with—either face to face or over the phone—and have conversations with a number of "candidates."
Some of the questions you should ask these folks include:
How long have you been in this business?
If they're not a captive or direct agent: How many companies do you work with or represent at the moment?
If they're a broker: Will you earn a broker fee as well as a commission If so, how much?
What will happen if I need to file a claim? Will you help me in any way, or will I have to use some sort of helpline or online system?
How often will you review my insurance portfolio?
These interviews should be about more than just getting your questions answered, though; they also should be about you getting a feel for a prospective agent or broker's personality and even integrity and making sure you're going to be comfortable with whoever you decide to hire.
References:
QuoteWizard.com LLC has made every effort to ensure that the information on this site is correct, but we cannot guarantee that it is free of inaccuracies, errors, or omissions. All content and services provided on or through this site are provided "as is" and "as available" for use. QuoteWizard.com LLC makes no representations or warranties of any kind, express or implied, as to the operation of this site or to the information, content, materials, or products included on this site. You expressly agree that your use of this site is at your sole risk.