Distracted Driving is Dangerous Driving
Using your cell phone isn't the only activity that's dangerous when you're behind the wheel. Learn about others, and why they're so distracting—and even deadly.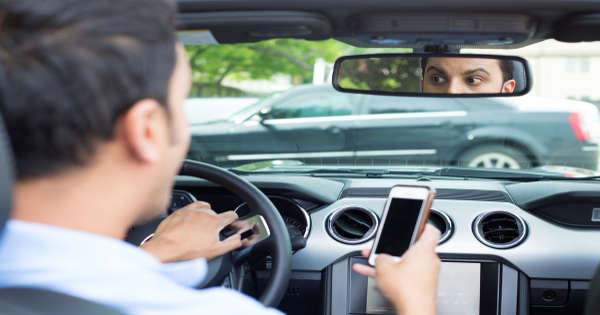 Texting or talking on a cell phone while driving is dangerous, but that's only the tip of the iceberg when it comes to distracting activities drivers engage in when they should be focusing on the road.
In fact, a whole slew of actions that may seem harmless can cause accidents and even death when they're done while you're behind the wheel of a vehicle. Such as:
Adjusting temperature controls
Changing radio stations, or changing MP3s or CDs
Eating
Drinking
Grooming
Interacting with other passengers
Reading maps
Smoking
Using a navigation system
Watching a video
Don't think reaching for a soda or messing with your car's stereo can be not only distracting but also dangerous? According to a National Highway Traffic Safety Administration report, cell phone use accounted for 13 percent of the fatalities in distraction-related car accidents in 2014. But, more mundane activities, like those listed above, were responsible for the other 87 percent! In less serious cases, people are pulled over and can be fined for distracted driving.
Why Distracted Driving is So Dangerous
What makes using your cell phone, texting, talking with other passengers, and other activities so dangerous for drivers? In short, they take a person's attention away from the road, which they should focus on instead.
Specifically, they prompt people to take their eyes of the road, take their hands off the wheel, or take their minds off of driving.
That third issue—taking someone's mind off of driving—is especially dangerous. After all, asking the brain to multitask is a bad idea in most situations. It's an especially bad idea when one of those tasks is driving.
Rather than processing the road in front of you as well as whatever other action you may be doing—maybe it's talking on your cell phone, or reaching for a something on the passenger seat— you force your brain to switch between them quickly.
In other words, when you try to drive and look at your cell phone at the same time or try to drive and fiddle with your GPS system, your brain has a devil of a time doing either (let alone both) things well. This can and often results in missed traffic signals or being slow to hit the brakes while multitasking on the road.
Study Support
You don't have to take our word for this. Numerous studies have proven that being distracted while driving can have dangerous and even deadly consequences.
For example, research conducted a few years ago by Virginia Tech's Transportation Institute found that sending or receiving texts while driving causes drivers to take their eyes off the road for about 5 seconds at a time on average.
If that doesn't sound too bad to you, consider that a car on the highway can cover more than the length of a football field in that time. Also, during those 100 yards, the car is pretty much out of the control of its driver.
Another study, from the University of Utah, showed how dangerous distracted driving is. One of its key findings: using cell phones causes drivers to become sluggish and react more slowly to various traffic situations than they normally would.
What's more, the same study found that "cell-phone drivers may actually exhibit greater impairments (i.e., more accidents and less responsive driving behavior) than legally intoxicated drivers."
FYI: Hands-Free Phones Aren't Any Better Than Hand-Held Ones
That's not the only shocking report that came out of the Utah study. Another called into question the many state regulations that prohibit the use of hand-held cell phones, but permit the use of hands-free ones.
The main reason for this criticism, according to the psychologists who oversaw this study: "no significant differences were found in the impairments to driving caused by these two modes of cellular communication."
Other sources have similar warnings related to cell phone use while driving. Case in point: one study by Carnegie Mellon University discovered that activity in the parietal lobe (the part of the brain that's processes sensory information) goes down by about 37 percent when a person is listening to language.
Another study, from the National Safety Council's "The Great Multitasking Lie," suggests that drivers using cell phones can miss up to half of the environment that surrounds them. In this case, that can mean other cars, pedestrians, and traffic signals.
(To learn more about why hands-free cell phone use while driving isn't any safer than using a hand-held phone, read our article, "Using Cell Phones While Driving is as Bad as Drunk Driving.")
Statistics Related to Distracted Driving
Texting and other cell phone use while driving gets the most criticism from proponents of safe driving. But, many kinds of distracting activities can be dangerous for anyone on the road.
In fact, according to the CDC, more than 9 people are killed, and more than 1,100 people are injured, in accidents that involve distracted drivers every single day.
Here are a few other statistics, courtesy of the National Highway Traffic Safety Administration, that also show just how dangerous distracted driving can be:
In 2012, distracted drivers were believed to be involved in traffic accidents that resulted in the deaths of 3,328 people
In that same year, just over 420,000 people were injured in crashes that involved a distracted driver
In 2011, on the other hand, the number of deaths and injuries related to distracted-driver incidents were 3,360 and 387,000, respectively
It's actually possible that these numbers are even greater than suggested above. Often, it's hard to tell if distracted driving contributed to a crash, or even caused it.
In its "Distracted Driving: What Research Shows and What States Can Do" report, the Governor's Highway Safety Association estimates that your average driver is distracted between one-quarter and one-half of the time they are driving. The seriousness of this issue can hardly be overstated.
Distracted Driving FAQ
Q: If "distracted driving" is so dangerous, why doesn't every state ban all cell phone use while driving?
A: Although no states currently ban all drivers from all cell phone use, many ban some forms of cell phone use. For example, 14 states and Washington D.C. prohibit anyone from using hand-held cell phones while driving, according to the Governor's Highway Safety Association. What's more, 38 states and D.C. prohibit new drivers from using any cell phone in any way.
Even more states have taken a stance against texting while driving, with 45 of them (and Washington, D.C., too) banning all drivers from participating in the distracting exercise.
Q: If I was pulled over for texting while driving, or was hit by a driver who was on their phone, what can I do to prevent my car insurance rates from skyrocketing?
A: The best way to save on car insurance is to compare quotes from multiple companies. You can do this before you buy, or after you already have a policy and feel you're overpaying. Don't let your insurance company bump up your rates.  Comparing car insurance quotes can help you save money, even if you were the one texting.
Q: Why doesn't the federal government make it illegal to use a call phone while driving?
A: Think what you will about Congress, it's not their jurisdiction to deal with this issue. Instead, the states must deal with driving behavior and all laws related to it.
Q: How many people really talk on their phones or text while driving? I can't believe it's as common as you say it is.
A: Well, the AAA Foundation for Traffic Safety has shown that this behavior is quite common. In a survey they conducted, two-thirds of respondents admitted to talking on the phone while driving in the previous month. Also, 35 percent of those same folks said they had read or sent a text message or e-mail while driving during the same month.
Q: I've heard that talking with someone on a cell phone while driving is no different than having a conversation with someone who is sitting in the car with you. Is that true?
A: Actually, according to the National Safety Council, people who use cell phones while driving a car "are more oblivious to changing traffic conditions because they are the only ones in the conversation who are aware of the road."
Plus, there's the fact that when you have another person in your car, you also have an additional pair of eyes and ears on hand that can help alert you to an impending accident—even if you and your passenger engage in a conversation at some point along the way.
References:
QuoteWizard.com LLC has made every effort to ensure that the information on this site is correct, but we cannot guarantee that it is free of inaccuracies, errors, or omissions. All content and services provided on or through this site are provided "as is" and "as available" for use. QuoteWizard.com LLC makes no representations or warranties of any kind, express or implied, as to the operation of this site or to the information, content, materials, or products included on this site. You expressly agree that your use of this site is at your sole risk.