Does Car Insurance Cover A Stolen Vehicle?
Liability insurance will not cover a stolen vehicle. Comprehensive coverage will cover the actual cash value of a stolen car.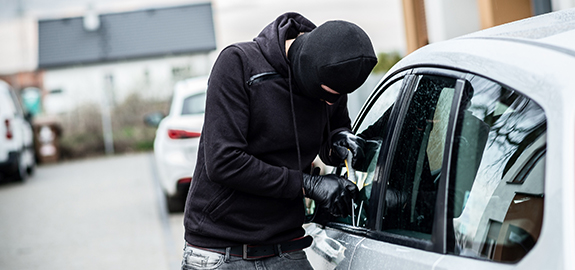 Only comprehensive coverage, a subset of a car insurance policy which can include liability and/or collision coverage, would protect your vehicle against theft. If you only have liability coverage, the minimum insurance the state usually requires, your car is not covered if stolen. In the case of car theft, your comprehensive car insurance would pay out the actual cash value (ACV) for you to be able to replace your car.
This article touches on:
Full Coverage Against Car Theft
To be covered against car theft, you need comprehensive car insurance. Because full coverage, typically a set of policies that include liability, collision, and comprehensive coverage, includes comprehensive protection, it would also be car theft insurance.
What is comprehensive coverage?
Comprehensive auto insurance is an optional addition to your car insurance policy that protects you if your car is damaged by anything other than a collision where you are not at fault.
Events covered by comprehensive auto insurance are often referred to as "Acts of God". These can include, but are not limited to:
Natural disasters
Theft
Vandalism
Damage caused by animals
Riots or other civil disturbances
Comprehensive coverage policies are subject to a deductible, or the amount you pay out of pocket, which can be higher or lower depending on your preferences. Higher deductibles mean lower premiums but greater out-of-pocket expenses when you file a claim. Having a $500 deductible means that if you make a claim for $1,200, your insurance will pay you the claim less the deductible. In total you would receive a payout of $700.
How much does car theft insurance cost?
Comprehensive coverage costs can vary quite a bit. That's why it's smart to compare rates for comprehensive coverage from different insurance companies and to get the lowest rates. We compared rates from four major auto insurance companies to see how much a comprehensive policy costs to add to a basic liability policy.
Company
Liability only (monthly)
With comprehensive (monthly)
GEICO
$58
$65
Allstate
$113
$126
State Farm ®
$51
$57
Average
$74
$83
These quotes are based on a single 30-year-old Seattle man with a good driving record. He owns a 2012 Honda Civic and drives about 10,000 miles a year. Coverage levels include $50,000/$100,000/$50,000 in liability plus $500 deductible for comprehensive coverage.
According to our data, it costs an additional $8.75 monthly on average to add comprehensive coverage to a liability policy. At $13 more monthly, it costs the most to add comprehensive coverage through Allstate. At $7 more monthly, it's cheapest to add comprehensive to a liability policy through GEICO.
My car got stolen - what do I do?
In the case of auto theft, you will need to immediately file a police report, ideally within 24 hours of when your car has been stolen. Doing this will help the police recover your car if possible, and for insurance to cover the theft.
Filing a police report
To file a police report for a stolen vehicle, you will need:
Your Vehicle Identification Number (VIN) and license plate number
The year, make, and model of your car
Details on the theft, such as place and estimated time
Any identifying descriptions of your car, including stickers and paint color
Your Vehicle Identification Number can be found on your vehicle title or insurance documentation. If you can't find it, contact your insurance provider.
Filing an insurance claim
Once you file your police report, you will need to file a claim with your insurance company. When filing a claim with your insurance company, you'll need to provide documentation such as: your Certificate of Title; a description of your vehicle including mileage, service records, options, and upgrades; names and contact information for anyone with access to the vehicle. This list will depend on your provider, so you should contact your agent as soon as you can after the theft.
Replacing Your Stolen Car
If your car is stolen and never recovered, comprehensive insurance will pay out the actual cash value (ACV) of your car. ACV means that your insurer will pay the cash value that it believes your car is worth at the time of the theft, less any deductible. This amount would be equal to the replacement cost of the car (aka the market value of the car), minus any depreciation in value. This value is based on factors such as:
Make
Model
Mileage
Age
Blue Book value
Accident history
Other data
How do custom parts and equipment affect ACV calculations?
Let's say you added custom parts and equipment to your car and want to dispute the actual cash value your insurance company provided. If you have documentation of these upgrades such as receipts or photos, your insurance company may agree to extra compensation.
More likely, you would have needed to disclose these custom parts and upgrades to your insurance provider prior to any theft. With any expensive custom additions to your car, you should ensure they are protected by your insurance policy. Contact your agent to see if you are covered. In cases, you will need custom parts and equipment (CPE) coverage to protect these items.
Auto insurance may cover rental car fees
If you have also added rental car reimbursement coverage, your car insurance will pay your rental fees (subject to a daily limit and per-claim limit) if your car is stolen. For example, State Farm may cover your rental car fees entirely, up to $25 a day. In this example, per loss or per claim, State Farm would reimburse you a total of $600. If your stolen car is considered a total loss, as in it won't be recovered or repaired, your insurance company may limit the number of days of rental car coverage. You should look for a replacement vehicle as soon as possible.
Theft of a financed vehicle
If you leased your vehicle, it is often required that you have purchased a comprehensive coverage policy for stolen car insurance along with collision insurance according to your leasing terms. So in the case of a stolen leased vehicle, your insurance will pay out the actual cash value of the car to the bank that leased the vehicle. This is also the case if you financed your car.
But if the amount the insurer pays out doesn't meet the requirements of the bank, you're on the hook for paying off the remainder. Because the value of a new car depreciates drastically early on, you're likely to owe more than the amount the insurance adjuster values your car. To protect yourself in these instances, you should consider gap insurance if you leased or financed a new vehicle. Gap insurance covers the difference between how much you owe on your car and the amount your comprehensive insurance will pay out in case of total loss.
Recovered stolen vehicles
What happens to your payout if your car is recovered after you file a claim? This is handled on a case by case basis. If your car is found before your claim is paid, they'll decide if your car is repairable. If so, they'll cover the costs of repair. If not, they'll pay out the actual cash value of the car. If your claim has been paid, and your car is recovered after the fact, your insurance policy may take ownership of the vehicle, or they may require the cash to be returned.
How Auto Insurance Coverages Apply to Car Theft
Type of Theft
Insurance That May Protect You
Remember:
Stolen vehicle
Comprehensive Coverage
You'll be paid out the actual cash value of your vehicle, less your deductible, after you submit a police report.
Stolen car part (stock stereos, tires, etc.)
Comprehensive Coverage

Or

Renters/Homeowners Insurance

You're subject to your deductible, or the amount you pay out of pocket before insurance kicks in.

If your comprehensive coverage doesn't cover tires, for example, your renters insurance might.

Stolen custom part (upgraded stereo, custom tires or rims, etc.)
Comprehensive Coverage

Or

Custom Parts and Equipment (CPE) Coverage

Any aftermarket add-ons (such as a more expensive stereo) may be covered, but most likely needs to be disclosed to your insurance company prior to theft. In the case your comprehensive coverage does not protect these add ons, you should get CPE coverage.
Personal belongings (cell phone, wallet, etc.)
Renters/Homeowners Insurance
You're subject to your deductible before insurance pays out for your personal belongings. You may have less coverage for belongings stolen away from home.
Does Car Insurance Cover Theft of Personal Belongings?
Auto insurance does not cover the theft of any personal property left in a car, even if the car has been stolen. This means that if your car is broken into and your phone, tablet, wallet, or any other items are stolen from your car, your insurer will not cover it.
However, these belongings may be covered under renters or homeowners insurance policies, if you have either. Coverage is subject to your deductible and your policy may also have a clause that limits the coverage of items damaged or stolen away from home. Check the terms of your policy and speak with an agent to understand your coverage.
QuoteWizard.com LLC has made every effort to ensure that the information on this site is correct, but we cannot guarantee that it is free of inaccuracies, errors, or omissions. All content and services provided on or through this site are provided "as is" and "as available" for use. QuoteWizard.com LLC makes no representations or warranties of any kind, express or implied, as to the operation of this site or to the information, content, materials, or products included on this site. You expressly agree that your use of this site is at your sole risk.