Does Car Insurance Cover A Stolen Vehicle?
Basic auto insurance doesn't cover car theft. Do you have the right auto insurance coverage if your car gets stolen?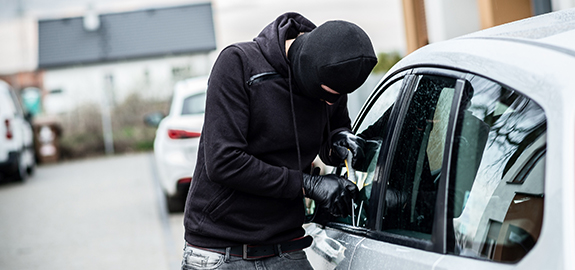 In the event of auto theft, you need to have comprehensive coverage as part of your auto insurance policy if you expect your stolen car to be replaced. A basic auto insurance policy primarily provides liability insurance, which doesn't cover car theft. Fortunately, comprehensive coverage is available as an add-on to your auto insurance policy, should misfortune strike. Comprehensive coverage is sometimes required for a financed car.
Filing a claim for a stolen car can be a lengthy process. Completing a police report and then the claim itself with your auto insurance provider requires a lot of documentation and some back and forth. Also, be aware that your car insurance provider will pay out for a new vehicle based on what the stolen car was worth at the time of the theft, not what you paid for it.
This article discusses:
Does car insurance cover auto theft?
Legal minimum auto insurance policies do not cover you if your car is stolen. Basic car insurance only covers liability, which pays out in the event of you being at fault for injuries or property damage due to a car accident. Car theft falls outside these criteria. In order to have coverage in the event of your car being stolen, you need to buy comprehensive coverage.
How comprehensive coverage covers a stolen car
Comprehensive coverage is a type of car insurance that you can purchase as an add-on to your policy. Comprehensive coverage provides protection against theft or damage to your car due to events other than collision. These perils include:
Falling objects like tree branches
Vandalism
Riot or civil distrubance
The cost of comprehensive coverage varies among insurers. Our research shows that you will pay an average of an additional $8.75 a month to add comprehensive coverage to your car insurance. If you are leasing a car or if you purchased one through a lender, your lender will probably require you to purchase comprehensive coverage in order to protect their investment.
What to do if your car is stolen
If your car is stolen, think of getting a payout for a new car as a two-step process. First comes the police report, then comes the car insurance claim. Additionally, if you are leasing or financing the car, contact your lessor or lender as soon as possible.
Filing a police report after car theft
After your car is stolen, call 911 and file a police report immediately, preferably within 24 hours of becoming aware of the theft.
When filing your police report for the stolen car, have the following information on hand:
Your vehicle identification number (VIN).
The license plate number of the car.
The car's year, make and model.
The location and the estimated time of the theft, as well as any other relevant information.
Identifying details of your car.
If the stolen car has a GPS system in it, such as a LoJack, notify police and your insurer. Make sure you get the police report number and a contact phone number for your auto insurance company to reference before you hang up.
Filing a car insurance claim for a stolen car
Once you are done with your police report, contact your auto insurer. Auto insurers usually have online systems to file a claim quickly, but it is highly recommended that you call and talk to a live agent. This way you can answer any questions they may have immediately and reduce the amount of back-and-forth in an already time-sensitive situation.
When you file your claim, your car insurance company will probably need:
The police report number.
Your certificate of title.
Details such as mileage, service records and any upgrades installed in the car.
Your car insurance provider may require additional information, such as the names and contact information of anyone who had access to your car. It is part of their job to be thorough in the task of recovering the car in order to avoid a claim payout (and you going through the hassle of buying a replacement car), so help them as much as you can.
Along those lines, expect some deep questioning when you file your claim. Fraudulent auto theft claims are common, and this makes insurers jittery about auto theft claims. It's nothing personal. Be as direct as possible with the insurer, and answer their questions as fully as you can.
As an aside, if personal property was stolen along with the car, you'll need to contact your home or renters insurer. As weird as it may sound, your stuff in the car at the time of the theft isn't covered by your auto insurance. The personal property section of your homeowners or renters insurance policy should cover the replacement of your stolen belongings.
How does auto insurance replace a stolen car?
Most car insurance providers have a waiting period, usually 30 days, before they consider the car long gone and a total loss. It's a good idea to add rental car reimbursement to your auto insurance policy for situations like this. Neither a basic car insurance policy nor comprehensive coverage includes the cost of a rental car during the waiting period.
If your car is deemed irrecoverable, your auto insurance provider will pay out on your claim at the actual cash value (ACV) of your car. This means the payout will be based on the current market value of the vehicle, including any depreciation due to age. Your auto insurer will cut you a check for the ACV amount, minus whatever your auto insurance deductible is. If you're leasing or financing the automobile, the payout will go to your lessor or lender.
The fact that auto insurers pay out on comprehensive coverage claims for auto theft at ACV may cause you some potential financial problems, especially if you're leasing or financing a car. Due to depreciation over the course of time, you'll more than likely get a payout worth less than what you owe on the vehicle. This is bad because you will be on the hook for whatever the difference is.
If you are leasing or went through a lender to buy your car, seriously consider investing in gap insurance. Gap insurance covers the difference between the limit of your comprehensive coverage and how much is owed on the stolen car. Ask your car insurance company about the cost of gap insurance when you're buying comprehensive coverage.
If your stolen car is recovered
If your car is found, what happens next is really a case-by-case scenario. If the car is retrieved before your claim is paid out, your auto insurance company will see if any damages are repairable. If so, they will cover the cost of repairs up to your comprehensive coverage limits. If the car is unrepairable when found, they will pay you out at ACV, as discussed above.
If your claim has been paid out before the car is recovered, it depends on your auto insurer. They may take ownership of the car to recoup their costs, or they may require you to return the claim payout.
QuoteWizard.com LLC has made every effort to ensure that the information on this site is correct, but we cannot guarantee that it is free of inaccuracies, errors, or omissions. All content and services provided on or through this site are provided "as is" and "as available" for use. QuoteWizard.com LLC makes no representations or warranties of any kind, express or implied, as to the operation of this site or to the information, content, materials, or products included on this site. You expressly agree that your use of this site is at your sole risk.