What to Do If Your Car Insurance Is Canceled for Nonpayment
Your car insurance company can cancel your policy if you miss a payment. Find out what to do in case of a cancellation.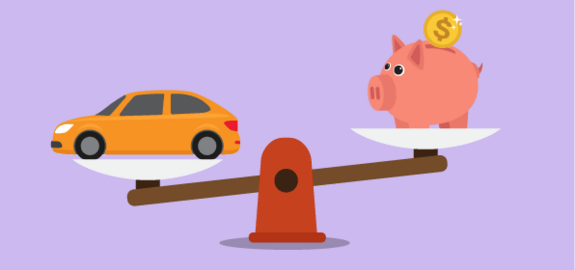 If you don't pay your insurance on time, or you miss a payment completely, your insurer has the right to cancel your policy. Auto insurance cancellations for nonpayment can result in a steep increase in rates and difficulty finding a company that will insure you. For those reasons, it's very important to pay your car insurance bills on time to avoid a cancellation from your insurance company.
In this article, you'll learn about how to handle an auto insurance cancellation due to nonpayment, including:
I missed a payment for my car insurance. Now what?
If you didn't pay for your car insurance, no matter the reason, you face the chance of a canceled insurance policy. Your insurance policy might not be canceled if you only missed a payment by a few days to a week, as that's still within the grace period.
You'll usually be notified of a pending cancellation before it's finalized, at which point you should pay your bill. You will likely have to pay a late payment fee, plus the amount you missed. Not taking action and paying your bill after you're notified will result in a canceled insurance policy. It's very important that you don't ignore notifications from your insurance company or delay payments. That will only make the situation worse and result in lasting consequences for you.
What happens if car insurance is canceled for nonpayment?
If your car insurance is canceled for nonpayment, you should have received a cancellation letter from your insurance company detailing the reason for the cancellation. After receiving notice of an impending cancellation, you generally have a 20 to 45 day grace period to find an alternative insurance provider.
Finding car insurance after a cancellation from nonpayment can be a challenge because many insurers consider you a high-risk policyholder with a history of canceled policies. You may have to find insurance from a nonstandard provider that specializes in policies for high-risk drivers. Policies from nonstandard insurers are generally more expensive than from standard insurers.
How to avoid a car insurance cancellation for nonpayment
Avoiding a car insurance cancellation due to nonpayment is simple enough — you need to make sure to pay your bill on time. Setting up autopay is a good place to start.
If you know you're going to have trouble making an on-time payment, you can contact your insurance company to see if they will extend your billing date. For example, GEICO allows eligible policyholders to postpone their next scheduled payment, as long as it's more than 11 days within the due date. It's important to communicate with your insurer as far ahead as possible to avoid a lapse in coverage from nonpayment. If this is your first time having payment issues, your insurer may be lenient as long as you properly communicate with them.
How to reinstate a canceled auto insurance policy
It's difficult to reinstate your policy with your insurer after they have canceled it for nonpayment. But you can try. First, contact your insurer to explain why you were unable to pay your insurance bill. Explaining your situation may earn you some leniency. If you've been a policyholder for a while, you may be able to arrange something. However, don't expect them to completely forgive a missed payment. You'll likely have to pay a fee, plus the missed amount.
If you can't convince your insurer to reinstate your policy, you may need to contact an entirely new insurance company. Avoiding paying your insurance policy will impact your insurance rates and insurability for years to come.
How canceled car insurance impacts your insurance record
A car insurance cancellation leads to a lapse. Having an insurance lapse on your record is bad for your insurance score, and it can hurt your insurance rates for around five years. The exact impact depends on the insurance company and where you live. If your insurance is canceled several times in a short period of time, you may be deemed high-risk for longer than five years. A few other noticeable repercussions include:
Some DMVs charge daily fees to drivers who aren't carrying insurance. Even a brief lapse in insurance can add up if you don't find coverage quickly. For example, in Delaware, a lapse in insurance means you need to pay $100 per vehicle and $5 per day for the first 30 days.
Your auto insurance rates will increase after an insurance lapse. That's because insurance companies need to know that policyholders will reliably make payments on time.
If you're leasing a vehicle, your contract likely requires you to have auto insurance with no lapses in coverage. Your insurance company will notify your lender when your insurance is canceled, who may then repossess the vehicle
Insurance companies are usually required to notify the state DMV when your auto insurance lapses. Since auto insurance is necessary in most states, your driver's license and car registration could be suspended. That would mean you would lose your driving privileges and could face fines and jail time if you're caught driving without insurance.
Bottom Line
From the time you receive a notice of cancellation from your insurer, you have a grace period of around 20 to 45 days to find alternative coverage. Canceled insurance reflects poorly on your insurability and you may now be considered a high-risk driver.
Not only that, but an insurance lapse may result in fees at the DMV, a suspended driver's licence and vehicle registration, or your lender canceling your contract. To avoid a lapse in insurance due to nonpayment, enroll in autopay and notify your insurer if a late payment in unavoidable.
QuoteWizard.com LLC has made every effort to ensure that the information on this site is correct, but we cannot guarantee that it is free of inaccuracies, errors, or omissions. All content and services provided on or through this site are provided "as is" and "as available" for use. QuoteWizard.com LLC makes no representations or warranties of any kind, express or implied, as to the operation of this site or to the information, content, materials, or products included on this site. You expressly agree that your use of this site is at your sole risk.