The Best Way to Buy a Used Car from a Private Seller
Buying a used car from a private seller is a good way to save money and avoid the stress of a car dealership.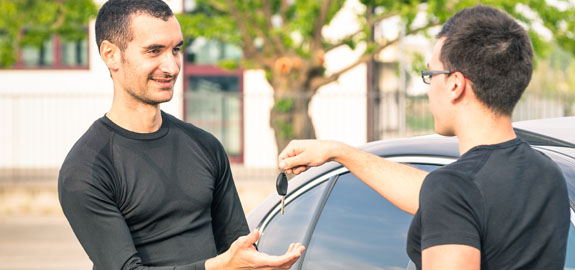 Although there are many reasons to purchase a brand-new car from a dealership, buying a used car from a private owner may be a better option. Purchasing a used car from a private seller can be cheaper and less intimidating for buyers. You can find used cars for sale on websites like Craigslist or through someone you know.
Buying a used car from a private owner can require more preparation and research than purchasing from a dealership. You may also live in a state where lemon law doesn't apply to used cars, only new ones. So, if you're sold a faulty vehicle, you could lose a lot of money with no legal protection. That's why it's important to know the best way to buy a used car from a private seller. This article includes:
How to Buy a Used Car from a Private Seller
After you decide on the car you want to buy and contact the owner, you need to figure out a game plan for how to finish the sale safely and at a fair price. These are things to know when purchasing a used car from a private seller:
Before checking out the car, find a fair purchase price through a site like Kelley Blue Book. KBB offers a broad price for a car after considering the mileage and condition of the vehicle, so it's a good starting point for price negotiation.
Ask the seller for service records and mileage. That way you can get a sense of the car's condition before moving forward.
Make sure the registration matches the title and the seller's ID. If the registration doesn't match, this could be a sign of a scam or could be difficult to get the title changed over. Also check that the VIN (vehicle identification number) on the car is the same as the paperwork.
Check out the car during the day. Rust on the frame is easy to miss in dark lighting.
Get the car inspected. You should bring a mechanic to confirm all small damages are normal signs or wear and tear. Also, to check for any larger issues. Do not trust the seller's mechanic, it's better to get a second opinion.
Use a cashier's check or money orders to purchase the car.
Order a vehicle history report using the car's VIN or license plate number. These reports give you the car's accident history, damages, service and title history, lien history, and open recalls. You can order them from websites like CarFax or AutoCheck, and they usually cost anywhere from $10 to $40.
Don't go alone. For safety reasons, bring a friend when meeting a private seller.
Don't buy a car without test-driving it for a decent amount of time. Test drives can tell you a lot about the vehicle, including how the car handles highway speeds, brake sensitivity, and how smooth it drives. Before going on a test drive, make sure the owner has auto insurance.
Don't bring a large amount of cash with you to the meeting. If possible, meet the seller in a public area – like your bank- with a cashier's check or a money order.
Don't wire money to the seller until you have everything (like the car keys and title) in your hands.
Don't feel pressure to buy anything on the spot. The private seller shouldn't rush you too much, and if they are, it could be a red flag.
What to Look for When Buying a Used Car from a Private Seller
If you don't have the funds to get the car inspected by a mechanic, which usually costs $100 to $200, there are some things you should check yourself. This is a checklist of things you should look at when buying a used car:
Fluids
Lights
Filters
Belts
Glass
Tires
Brakes
Frame
Battery
Radiator
Hoses
Condition of the body
Computerized engine analysis
What to Ask When Buying a Used Car from a Private Seller
It's important that you get as many details as possible from the seller before you purchase the car. These are some questions you should ask when buying a used car from a private seller:
Has this car been involved in an accident?
Why are you selling this car?
How many miles are on the car?
Do you have service records for the car? Can I see them?
Have the airbags ever been deployed?
When was the last time the car had maintenance done?
Has this car undergone any major repairs?
Documents for Buying a Car
One of the most crucial parts of buying a car for sale by the owner is ensuring you receive all the documents necessary to prove formal ownership. This is the paperwork the seller needs to provide:
Title: The car title is the document that states who the owner of the vehicle is. The title must state the seller as the owner, or it won't be able to be transferred under your name. Also, if the owner is attempting to sell the car while it is still being financed, the financing company will be listed in the title. The owner cannot sell you a financed car without the finance company's permission. If they do, the company could take the car back from you.
Emissions paperwork: If you live in a state like California, it's required that the seller has an emissions test done before the car is sold. If it is required in your state, the seller needs to provide documents that prove it was done within a certain time frame of the sale.
Bill of sale: The bill of sale includes the date of the sale, the price, the VIN, the seller and buyer's names and addresses, and the car's make, model, and year. If a bill of sale isn't provided, write all this information down and keep it in a safe place.
Buying a Car Without a Title
If the owner of the car does not have a title, do not buy the car. The title is a document that states who the vehicle belongs to. If there is no title, there is no way to prove that you own the car. There is also no way of knowing that the car belongs to the person claiming to own it now, it could have been stolen. The owner should apply for a duplicate title and provide you with it before you purchase the car.
Getting a Car Loan When Buying from a Private Seller
Chances are, you won't be able to get financing for buying a used car from a private seller. That's one of the reasons why people purchase cars from dealerships. However, if you've been with the same bank or credit union for a while, and have a good relationship with them, there's a chance they'll approve you for a car loan. But that's rare, so you'll likely have to pay with your own cash.
Buying a Used Car in Another State
You should be extra cautious when purchasing a car outside of your own state. Title transfer of ownership laws vary from state to state, so it's important to know what applies in the state you're purchasing the car in. You don't want to get back to your state and realize you missed a requirement to transfer the title.
For example, in Arkansas an odometer reading is required on the title, whereas in Alaska the odometer statement is only required if the car is less than 10 years old.
What to do After Buying a Used Car
After you buy a used car from a private seller, you need to take care of all the paperwork as the new owner. You're going to have to transfer the title and register your new vehicle at the DMV. Depending on the state you live in, the DMV may provide a temporary registration and tags. If the used car you bought still has an unexpired DMV inspection, you may not need temporary tags and can register your car for the regular period (usually one to two years).
Title Transfers
After you purchase the car, you'll need to transfer the title from the previous owner to yourself. This requires both your signature and the previous owner's signature and the date of sale on the title.That's why it's important that the person selling you the car has their name on the title and is the official owner of the car. If this isn't the case, don't buy the car.Depending on your state, you may need to include the odometer reading at the time of sale on the title and have a notary sign off on the title transfer.
Do You Need Insurance to Buy a Used Car?
Although the private seller may not require you to have insurance to buy the car, you're on the hook once it's sold to you. It's not legal to drive a car without insurance. It's important that you're able to drive your new car with at least your state's minimum liability insurance.
Some policies allow a 30-day grace period to notify the insurer that you have a new car if you had coverage for your previous vehicle. Check with your insurer if that applies to your policy. It's recommended that you purchase a policy right away. Compare auto insurance quotes from several companies to find the best deal.
QuoteWizard.com LLC has made every effort to ensure that the information on this site is correct, but we cannot guarantee that it is free of inaccuracies, errors, or omissions. All content and services provided on or through this site are provided "as is" and "as available" for use. QuoteWizard.com LLC makes no representations or warranties of any kind, express or implied, as to the operation of this site or to the information, content, materials, or products included on this site. You expressly agree that your use of this site is at your sole risk.