Compare Car Insurance in Anchorage
41 percent of Alaska's population lives in Anchorage. If you're an Anchorage driver looking for great car insurance rates, we can help you.
Average Anchorage Car Insurance Rates
How much does auto insurance cost in Anchorage, AK? Car insurance rates in Anchorage can be expensive. Partly because of weather hazards like snow and black ice. As such, Anchorage drivers pay a little more than the state and national averages. Auto insurance in Alaska costs on average $872.39 a year. The national average is $889.01.
Your rate will depend on driving record, zip code, and claims filed.
Alaska Average Annual Car Insurance Rates
Coverage
Rates
Liability
$539.68
Collision
$350.81
Comprehensive
$137.26
Total Cost Per Year
$872.3
Price Per Month
$72.70
Source: Facts + Statistics: Auto insurance
The graph below shows the change in average Alaska insurance rates from 2011 to 2015, the most recent year the data is available. According to the III, Alaska car insurance rates actually decreased from $873 in 2011 to $872 in 2015, a $1 dollar improvement, or 0.08 percent.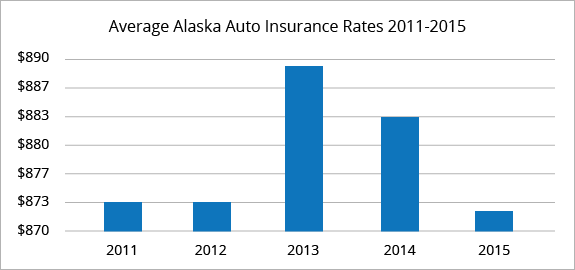 QuoteWizard helps consumers compare quotes from both top national insurance companies and local independent agents. Comparing quotes can help you find cheap car insurance rates near Anchorage, AK and save up to 40% on your premium.
Last year, 8,263 peoples used QuoteWizard to compare car insurance quotes in Anchorage, AK from multiple companies to find the cheapest rates.
Best Car Insurance Companies in Anchorage, AK
These are the most popular car insurance companies reported by QuoteWizard users in Anchorage, Alaska. Of those people, 1056 were uninsured. 
Top 10 Vehicles
These are the most popular car makes and models owned by Anchorage, AK QuoteWizard users.
Ford F-150
RAM 1500
Ford Explorer
Chevrolet Tahoe K1500
Chevrolet Silverado C1500
Chevrolet Blazer
GMC Yukon
Dodge Durango
Jeep Grand Cherokee Laredo
Jeep Grand Cherokee Limited
Minimum Car Insurance Requirements in Anchorage, AK
Anchorage, Alaska requires that all drivers carry minimum liability coverage of 50/100/25. This means your policy must include:
Individual Bodily Injury Liability (BIL) $50,000:
The maximum amount your insurer pays for a person injured in a car accident.
Total Bodily Injury Liability $100,000:
The total your insurer pays for every person injured in a car accident.
Property Damage Liability (PDL) $25,000:
The maximum your insurer pays for property damage caused by a car accident.
Recommended Coverage Levels
Minimum coverage is exactly that: minimal. It covers the basics and it's the cheapest way to get on the road. But you can wind up spending a lot after an accident.
As such, we recommend the following coverage:
Individual Body Injury Liability: $100,000 
Total Bodily Injury Liability: $300,000 
Property Damage Liability: $100,000 
Anchorage Drivers
Living in an area known for bad driving can affect your rates. Our data shows that Alaska is the 35th worst state for driving. We based this ranking on accidents, speeding tickets, DUIs, and citations occurring in Alaska.
Driving Conditions
Bad weather, road conditions, and traffic can lead to rising premiums. How does Anchorage stack up?
Weather
The average annual snowfall in Anchorage is 102 inches per year. This is vastly higher than the national average of 26 inches a year. Snowy roads lead to hazardous driving conditions. On top of heavy snowfall, even a small amount of rain can cause black ice.
Road Conditions
A recent study found that Alaska has fair roads, just above marginal. In Anchorage, expect both paved and unpaved roads. Roadways suffer from cracks and potholes, and recent budget issues have prevented repairs.
Driving on poorly kept roads can cause tire damage, shock absorber failure, and bad wheel alignment. It also affects your premium.
Traffic Congestion
Home to nearly 40 percent of Alaska's population, Anchorage has the state's heaviest traffic.
The Seward highway is currently a source of much congestion and accidents. The Alaska Department of Transportation and Public Facilities is taking steps to make this road and others like it safer.
Moving Violations
Getting tickets and causing accidents will raise your insurance rates. If you have too many points on your record, you may need to buy a high-risk policy to maintain coverage.
Traffic Tickets
The Anchorage Police Department takes speeding very seriously. Tickets can cost you in both time and money in insurance increases. Avoiding speeding is one of the best ways to keep your rates from increasing.
DUI and DWAI Arrests
In Alaska, officers made over 40,000 impaired driving from 2007 to 2016. If you are arrested for a DUI in Anchorage, you're fined a minimum amount of $1500. If it's your first offense, you also face a minimum 72 hours in jail and ten points added to your driving record.
On top of all this, driving under the influence hurts your insurance rates.  Our study shows that drivers with DUIs pay an extra $830 per year for insurance!
SR-22 DUI/DWAI Insurance
If you have a first-time DUI offense in Anchorage, you'll need to file an SR-22 form. That shows financial responsibility in order to get your license unsuspended. You'll need to maintain the SR-22 for five years from the ending date of the offense. On the second offense, SR-22 must be kept for ten years, then 20 years at the third offense.
An SR-22 requirement virtually guarantees a rate increase.
Car Accident Statistics
In 2016, Anchorage drivers got into more than 4500 accidents. That's a big improvement from 2008 with over 7500 crashes. 
Traffic Fatalities
Anchorage had 30.23 percent of all auto fatalities in Alaska between 2000 and 2015. 20 drivers died from collisions in 2016.
Vehicle Theft Rates
Drivers in high car theft areas often pay more for car insurance. That's especially true if their cars are considered a theft risk. Last year, Anchorage saw a 50 percent increase in car thefts over 2016.
Car Insurance Discounts
Looking to save money on your car insurance in Anchorage, AK? There are many routes you can take to lower your premiums. Auto insurance discounts are a great way to lower your rates:
If you're married, insurers often offer discounts to married couples 
Bundle your auto policy with your home or renters insurance, you can reduce your total bill up to 20 percent
Make sure your car as up-to-date safety features and anti-theft devices
There are discount rates for active and retired members of the Military, National Guard, or Reserves
If you're age 55 or over, check to see if there's a senior citizens discount
Take a certified defensive driving course
QuoteWizard.com LLC has made every effort to ensure that the information on this site is correct, but we cannot guarantee that it is free of inaccuracies, errors, or omissions. All content and services provided on or through this site are provided "as is" and "as available" for use. QuoteWizard.com LLC makes no representations or warranties of any kind, express or implied, as to the operation of this site or to the information, content, materials, or products included on this site. You expressly agree that your use of this site is at your sole risk.